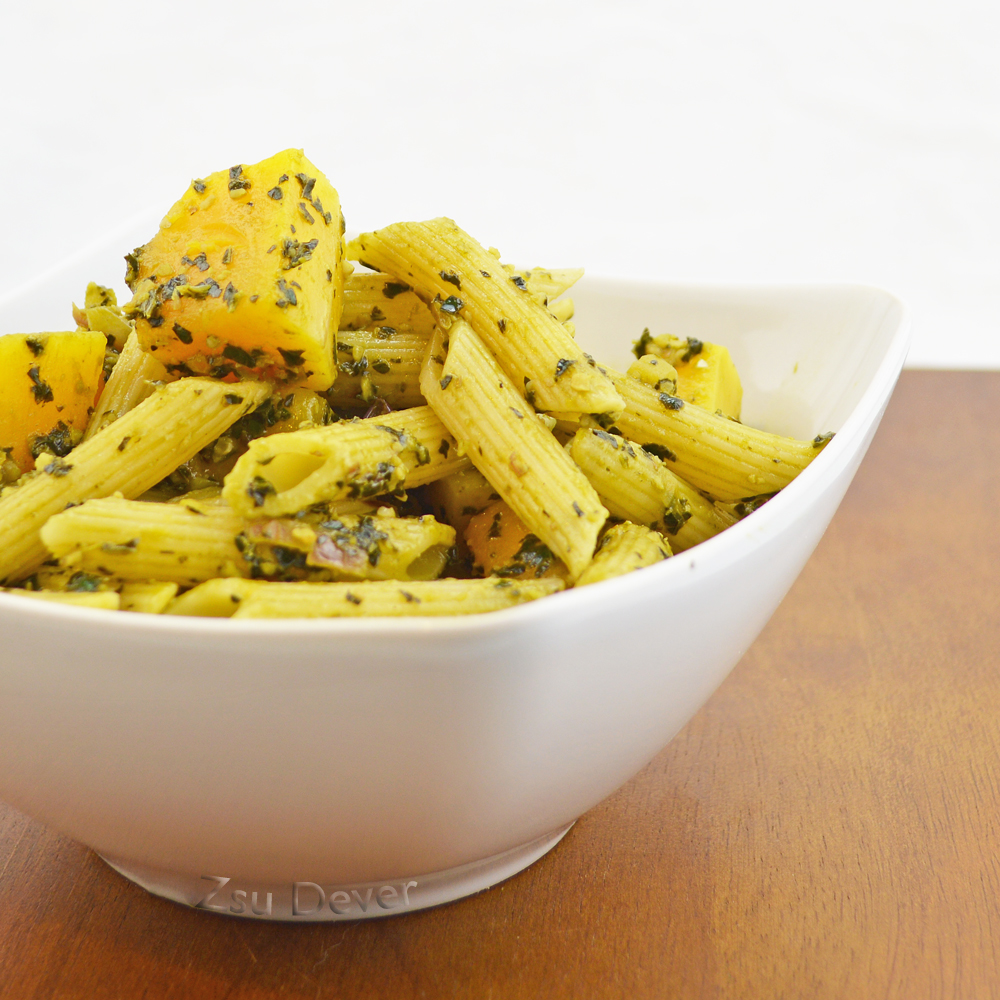 World Vegan Day is especially noteworthy this year because there are now more people adopting a vegan diet and lifestyle than ever before!  And because November is also World Vegan Month, I'm excited to present 30 Days of Vegan Cooking featuring recipes from my upcoming Revised Edition of Vegan Planet. 
There are lots of great ways to celebrate World Vegan Month and my favorite way is to share great vegan food with others to show people how delicious and easy vegan cooking can be! 
Today's featured recipe is Penne and Butternut Squash with Kale Pesto. It's ideal for this autumn weather, and includes several of my favorite ingredients.  Check back here each day during November and be sure to LIKE the Vegan Planet Facebook page so you can pick up that day's recipe! (And tell your friends, too!)
Penne and Butternut Squash with Kale Pesto
from Vegan Planet by Robin Robertson
Serves 4
Ingredients
8 ounces penne
1/2 small butternut squash, peeled, seeded, and cut into 1-inch dice (about 2 cups)
2 garlic cloves, minced
2 cups chopped kale leaves
1/4 cup walnut pieces
2 tablespoons fresh lemon juice
2 tablespoons olive oil
1/4 teaspoon salt
1 small red onion, finely chopped
Directions
1. Bring a medium-size pot of salted water to a boil over high heat. Add the pasta, and when the water returns to a boil, stir in the squash. Cook the pasta and squash together until just tender. Drain well, reserving ½ cup of the pasta water. Return the pasta and squash to the pot; cover to keep warm.
2. While the pasta and squash are cooking, make a kale pesto. In a food processor, combine the garlic, kale, walnuts, lemon juice, 1 tablespoon of the oil, and the salt. Process for 2 minutes until a paste forms. Add the reserved pasta water and continue to process until incorporated.
3. Heat the remaining 1 tablespoon oil in a large nonstick skillet over medium heat. Add the onion and cook for 5 minutes to soften. Add the pesto and cook, stirring, until fragrant. Combine the sauce with the pasta and squash, tossing to combine. Heat through if needed. Serve hot.
I hope you enjoy this recipe!

Here's a list of all the recipes that will be featured in 30 Days of Vegan Cooking:
Friday, November 1: Penne and Butternut Squash with Kale Pesto
Saturday, November 2: Roasted Root Vegetable Chili
Sunday, November 3: Rustic Peasant Loaf with Black Olives and Sun–Dried Tomatoes
Monday, November 4: Lemon-Ginger Tofu
Tuesday, November 5: Three–Onion Appetizer Pie
Wednesday, November 6: Curried Cauliflower Pakoras
Thursday, November 7: Scallion Pancakes with Sesame Seeds
Friday, November 8: Shredded Vegetable Fritters
Saturday, November 9: Tiramisu Cheesecake
Sunday, November 10: Penne Puttanesca
Monday, November 11: Za'tar–Spiced Bean Patties with Coconut–Curry Sauce
Tuesday, November 12: Polenta–Stuffed Red Bell Peppers
Wednesday, November 13: Fresh Peach Crisp with Almond Butter Cream
Thursday, November 14: Chickpeas Vindaloo
Friday, November 15: Crispy Kale
Saturday, November 16: Savory Pumpkin Bites
Sunday, November 17: Three–Flavor Pancit
Monday, November 18: Flax–Berry Pancakes
Tuesday, November 19: Lemony Green Pea Risotto
Wednesday, November 20: Tempting Tempeh Sandwiches
Thursday, November 21: Banana–Split Tea Bread
Friday, November 22: Mahogany Eggplant
Saturday, November 23: Red Bean Cakes with Creamy Coconut Sauce
Sunday, November 24: Curried Lentils with Carrots and Peas
Monday, November 25: Spinach Frittata
Tuesday, November 26: Saffron Couscous Cake with Spring Vegetable Sauté
Wednesday, November 27: Brandy-Apple Pie
Thursday, November 28: Autumn Roasted Vegetables
Friday, November 29: Tofu Yung
Saturday, November 30: Smoky Maple Kale and Black Beans