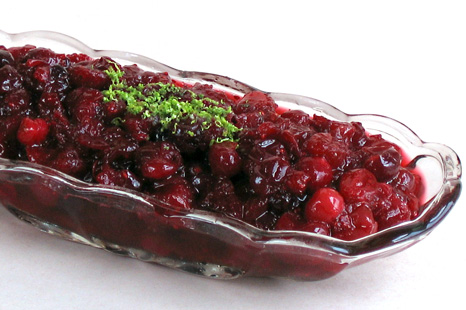 With this crazy weather, it's hard to remember what time of year it is. Just a couple weeks ago it was freezing rain and windy and this past weekend, it was so warm, we enjoyed lunch outside. Can Thanksgiving really be next Thursday?
During the holidays, I get lots of e-mails, especially from new vegans, asking for advice.  So from now until the end of the year, I'm going to post some of my favorite holiday menus, tips, and recipes to help you get through the season deliciously stress-free. Let's begin with my favorite cranberry sauce made with lime marmalade, pictured above.
To launch my Holiday Hotline, I'm also giving away a copy of my holiday (and everyday) cookbook, Party Vegan.  Filled with menus and recipes for everything from casual get-togethers, to potluck dishes, to holiday dinners, Party Vegan is filled with advice for all kinds of entertaining, gleaned from my years of experience as a caterer.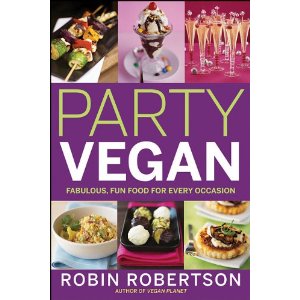 To win a copy of Party Vegan, just leave a comment at the end of this post.  Your comment can be anything from your favorite holiday food, to a question you'd like to see answered in an upcoming post.  You can even leave your own tip for stress-free holidays!
Enter now – the giveaway closes on Friday night 11/16 at midnight.  A winner will be chosen at random and announced on Saturday morning.  Good luck!
P.S. Even if you already own Party Vegan, you should still enter this giveaway.  If you win, that second copy will make a great gift!
P.P.S. FOR A SECOND CHANCE TO WIN:  Link to this giveaway on Twitter or Facebook and then leave a second comment telling me you did so.