Happy New Year, everyone!
I have all the ingredients ready to make my New Year's Day Hoppin' John — a special Southern dish believed to bring good fortune in the coming year.  I still haven't decided whether to go the traditional route or to do something different with it.  In years past, I've made it in a slow cooker topped with chipotle-spiced cornbread.
I've also rolled the Hoppin John in collard leaves, kind of like Southern halupki!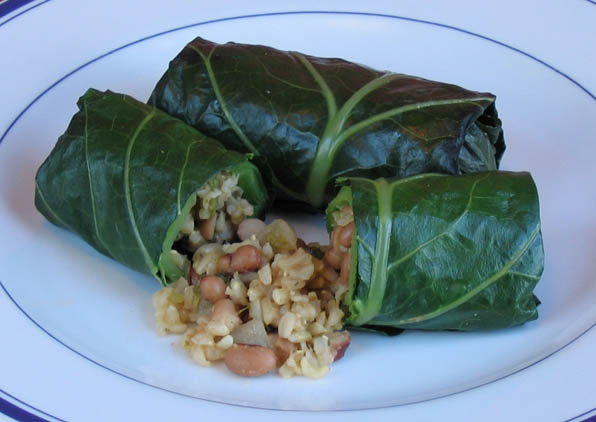 Usually, though, I just make it "straight up" although I typically stir the cooked collards right into the Hoppin' John to make it a one-dish meal.  Whichever way I serve it, I know there will be lots of Tabasco sauce on the side!  Will you be making Hoppin' John for New Year's Day?
Hoppin' John with Collards
Use fresh or frozen collard greens for this recipe. If unavailable, substitute kale or other dark greens.
1 tablespoon olive oil
1 sweet yellow onion, chopped
1 cup long-grain brown rice
2 cups water or vegetable broth
Salt
3 cups cooked or 2 (16-ounce) cans black-eyed peas, drained and rinsed
3 cups chopped cooked collard greens
1 teaspoon Liquid Smoke
1/4 teaspoon freshly ground black pepper
Vegan sour cream, to serve
Tabasco sauce, to serve
Heat the oil in a large saucepan over medium heat. Add the onion, cover, and cook until softened, about 5 minutes. Add the rice and water or broth and bring to a boil. Add salt to taste (the amount of salt needed depends on the saltiness of your broth or if you use water). Reduce the heat to medium-low and cook, covered, until the rice is tender, about 30 minutes.  About 15 minutes into the cooking of the rice, stir in the cooked black-eyed peas. When the rice is cooked, stir in the cooked chopped collards, Liquid Smoke, and black pepper. Add more salt, if needed.
To serve, spoon into bowls and accompany with vegan sour cream and Tabasco sauce at the table.
Serves 4