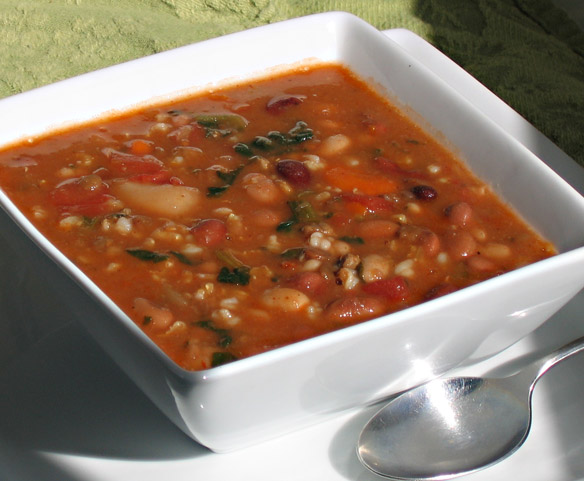 In yesterday's post, I talked about the bean soup I made over the weekend.  I didn't post a recipe because, well, there wasn't one!  As I had mentioned, this was one of those "add a little bit of everything" soups — the ones that often turn out better than one you might have planned.
Due to a number of e-mails, comments, and other virtual arm-twisting that requested the recipe for this soup, I wrote one down and am happy to present it here.  Like most bean soups, the flavor improves every day.  It thickens after it cools, so you should add more liquid (water, broth, or even tomato juice) as you heat up leftovers.  For a spicy tang, add some hot sauce when ready to serve.
Hope you enjoy this as much as we do!
Million Bean Soup
Okay, maybe more like 15 types of beans, but it sure tastes like a million – especially with the added flavor boost from fire-roasted tomatoes, marinara sauce, and liquid smoke.  Use a combination of whatever dried beans you have on hand or use a bag of mixed dried beans labeled for "15-bean soup."
1 large yellow onion, chopped
2 celery ribs, chopped
2 carrots, chopped
2 garlic cloves, minced
1 pound assorted dried beans, picked over, rinsed, and soaked overnight
6 cups water
1 tablespoon vegetable soup base (Better than Bouillon brand)
1 tablespoon soy sauce
1 teaspoon dried basil
Salt and freshly ground black pepper
1 (14.5-ounce) can diced fire-roasted tomatoes, undrained
1 cup marinara sauce
2 cups frozen chopped spinach, thawed
2 cups cooked brown rice
1/2 to 1 teaspoon liquid smoke (to taste)
Hot pepper sauce, to serve (optional)
In a large (6-quart) slow cooker, combine the onion, celery, carrots, and garlic.  Drain the soaked beans and add them to the slow cooker, along with the water, vegetable base, soy sauce, basil, and a little salt and pepper.  Cover, and cook on Low for 8 hours, or on High for 4 hours. Uncover and stir in the tomatoes, marinara sauce, spinach, rice, and liquid smoke.  Taste and adjust seasonings, adding more salt and pepper or vegetable base, if needed. Add a little more water if needed.  Cover and let cook another 30 minutes. Serve hot with hot pepper sauce, if using.
Serves 6