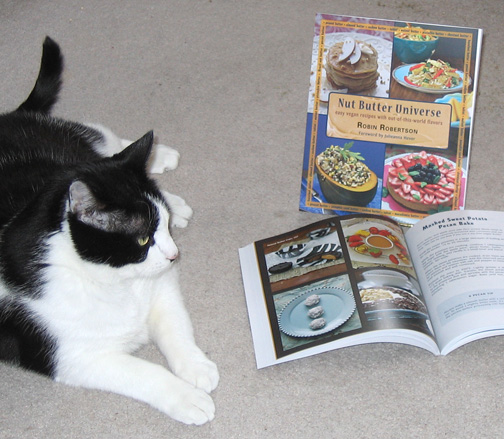 You may not be able to tell from the photo, but Gary is VERY excited to see advance copies of my new book, Nut Butter Universe — and so am I!
I'm thrilled that it was printed a little bit ahead of schedule, so it will be available very soon on Amazon and  where it is available now for pre-order.  You can also buy it through Barnes and Noble or your independent bookstore — please ask your local bookstore to carry it. They can order through Baker & Taylor or direct from the publisher, Vegan Heritage Press.
I hope you will all love Nut Butter Universe as much as I do (and Gary, of course) 🙂
More to come soon about an upcoming blog tour for Nut Butter Universe with lots of recipes, guest posts, and giveaways!