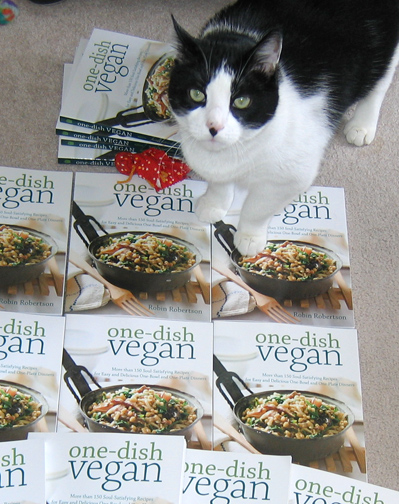 I'm very excited that my latest book, One-Dish Vegan, is now available on Amazon and wherever books are sold.  And as you can tell by the photo, Gary is thrilled about it, too!   One-Dish Vegan, contains 150 recipes that range from easy weeknight comfort food dishes to delicious meals that are special enough for company.
One-dish meals are some of my favorite ways to cook and serve food.  From soups and stews, to casseroles and main-dish salads, I like the idea of preparing something that includes all the components of the meal in one.  Many of these "one-dish" recipes are also "one-pot" recipes, making them especially easy to cook and serve.  Other recipes may take more than one pot to prepare, but the components are combined to be served as one-dish meals.  
 A complete revision of an earlier title, One-Dish Vegetarian Meals, the recipes have been updated and revised, and are now 100% vegan with icons for gluten-free and soy-free recipes, as well as the option to make many of the recipes oil-free. Many of the recipes were first published in my earlier books: The Vegetarian Chili Cookbook; Pasta for all Seasons; and Rice & Spice. In addition, One-Dish Vegan also contains many all-new recipes, such as Mac and Thai, Jamaican-Style Coconut Rice Bowl, and one of my favorites, Banh Mizza – a banh mi inspired pizza.
To celebrate the publication of One-Dish Vegan, I'd like to give you a brief tour of the book.  Here are the chapter titles with several recipes titles listed from each chapter, along with a few tester photos of some of the recipes:
SOUPS THAT MAKE A MEAL:
Chickpea Noodle Soup

 

Caribbean Greens Soup

Mushroom and Quinoa Soup

Indonesian Noodle Soup with Tofu

My Thai Soup with Asparagus

Senegalese-Style Red Lentil Soup

Black Bean Soup with Kale and Sweet Potatoes

Lentil and Butternut Soup

Korean Hotpot
STOVETOP SIMMERS AND STEWS:
Black Bean Two-Tomato Stew with Quinoa

Japanese Vegetable Curry

Risotto Primavera

Indian-Spiced Risotto

Arroz Con Tempeh

Nigerian Black-Eyed Peas and Greens

Risotto with Artichokes and Mushrooms

French Lentils with Sweet Potatoes and Chard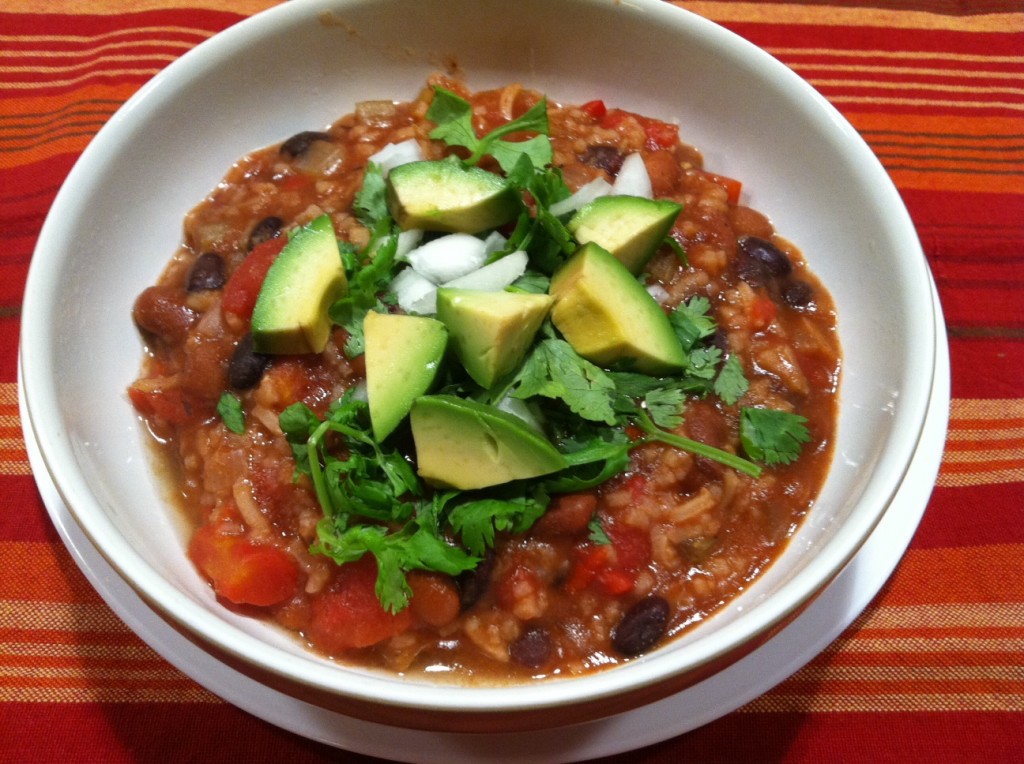 CHILI TODAY:
Garlic Lover's Chili

Orange-Scented Chipotle Chili

Flaming Firehouse Chili

Blazing Bulgur Chili

Devil's Food Chili

Texas Too-Hot Chili w/Cilantro Sour Cream

Beer Chaser Chili

Tequila Sundown Chili

 
SAUTÉS AND STIR-FRIES:
Jamaican-Style Coconut Rice Bowl

Seitan and Asparagus with Tahini-Orange Sauce

 

Black Beans & Quinoa with Shredded Vegetables

Thai Peanut Bowl with Tofu and Asparagus

Seitan-Mushroom Saute with Brandy Sauce

Tofu and Cauliflower Picatta Bowl

Lemony Quinoa with Spinach and Chickpeas

Szechwan Tempeh and Green Beans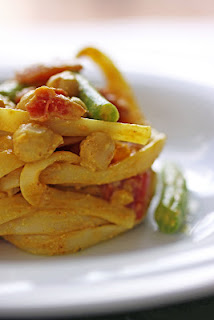 PASTA PLUS:
Ziti with Arugula and Artichoke Pesto

One-Pot Cheesy Mac

Linguine with Red Lentil Sauce

Penne and Broccoli with Creamy Chickpea Sauce

Spinach Alfredo Linguine

Hoisin Tempeh Noodles

Sesame Soba with Tofu and Broccoli

Creamy Noodle Curry
OVEN TO TABLE:
Artichoke Spaghetti Pie

Frittata Puttanesca

Mac and Thai

Italian Deli Pizza

Cremini Butternut Lasagna

Spinach and Quinoa Tart

Chickpea Vegetable Pot Pie

 

Southwestern Mac and Queso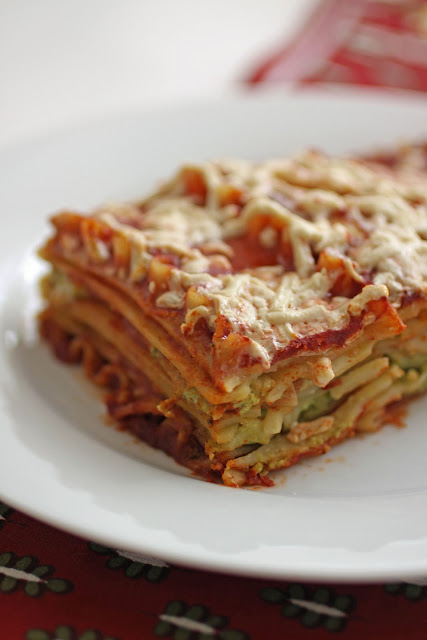 MAIN-DISH SALADS:
Greek Gyros Salad

Antipasto Potato Salad

Smoky Chickpea Salad with Mango and Avocado

Quinoa and White Bean Salad with Watercress

Spicy Soba Salad with Cucumber and Edamame

Chilled Pasta Niçoise

Lime Vermicelli with Edamame and Green Papaya
If you enjoy the ease and convenience of preparing one-dish meals, then I hope you'll love the recipes in One-Dish Vegan as much as I do!