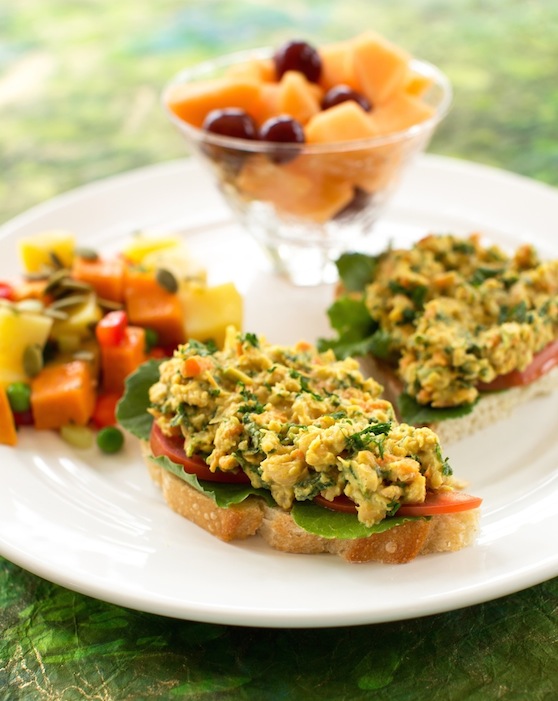 Chickpeas and kale are two of my favorite everyday ingredients.  They're so nutritious and flavorful, but it's their versatility that gives them extra points.  That's why the recipe for Chickpea and Kale Sandwich Spread in Nava Atlas's new book, Plant Power caught my eye.  And it's also why I'm especially happy to share this recipe with you today as part of my friend Nava's blog tour for Plant Power, her latest book.
In addition to featuring over 150 plant-based recipes, Plant Power also serves as a guide to help transform your life with vegan food. Nava's easy and delicious recipes, helpful tips, and welcoming voice, along with lovely photos by Hannah Kaminsky, combine to make this a terrific book for new and longtime vegans alike.
I hope all my fellow chickpeas and kale lovers will enjoy this stop on the Plant Power blog tour with this easy and delicious recipe from Nava Atlas.
Chickpea and Kale Sandwich Spread or Salad
Chickpeas and kale are a tasty team, and this combination makes a great spread for bread, a filling for pita bread or a wrap (along with some tender lettuce and sliced tomatoes), or layered scoop of it on a sturdy flatbread and served open-faced. For a nice warm weather meal, this is great served with a potato salad and a simple fruit medley. Recipe from Plant Power: Transform Your Kitchen, Plate, and Life with More Than 150 Fresh and Flavorful Vegan Recipes by Nava Atlas. ©2014, published by HarperOne, reprinted by permission. Photos by Hannah Kaminsky.
Serves: 4 to 6 (makes 2 to 2 1/2 cups)
• 2 medium kale leaves (any variety), rinsed well
• 1 medium carrot, peeled and cut into chunks
• 2 cups cooked or one 15- to 16-ounce can (drained and rinsed) chickpeas
• 2 tablespoons nutritional yeast (optional, but highly recommended)
• 1/3 cup vegan mayonnaise
• 2 teaspoons yellow mustard
• 1/4 cup fresh parsley leaves or 1 to 2 tablespoons fresh dill leaves
• 1 to 2 scallions, green parts only, cut into large pieces, optional
• 1 to 2 tablespoons freshly squeezed or bottled lemon juice, to taste
• 1/2 teaspoon curry powder, or more to taste
• 1/2 teaspoon ground cumin, or more to taste
• Freshly ground pepper to taste
• Fresh green sprouts (optional
Combine the kale and carrot in a food processor; pulse until finely chopped. Add the remaining ingredients and pulse until the chickpeas are evenly chopped and everything is nicely blended—don't overprocess; leave the mixture a bit chunky.  Transfer to a serving container and serve at once, or cover and refrigerate until needed.
Variation: Use a good handful of baby spinach or arugula in place of the kale.
Nutrition information (per 1/2 cup serving) Calories: 220; Total fat: 7g; Protein: 13g; Carbohydrates: 29g; Fiber: 9g; Sodium: 208mg