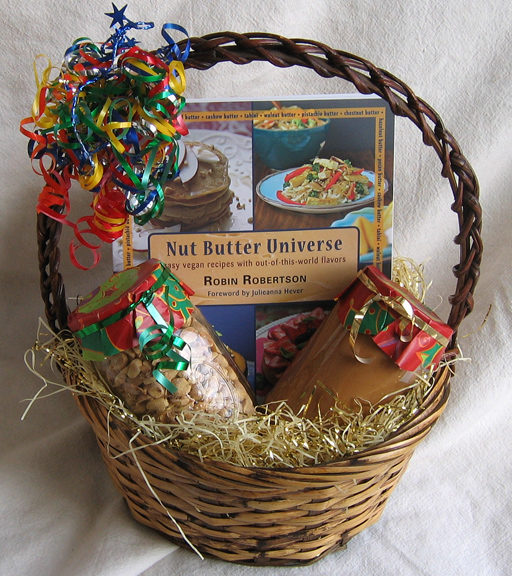 — THIS GIVEAWAY IS NOW CLOSED —
Thank you to everyone who entered!
Tis the season….for a Cookbook Giveaway!  Just in time for the holidays, I'm giving away two signed copies of Nut Butter Universe.  Even if you already have your own copy, you'll want to enter this giveaway because, as you can see in the above photo, it makes a great gift, especially when you put it in a basket with a jar or two of your favorite nuts and/or nut butters.
Best of all, you can enter this giveaway more than once, since there are FIVE ways to enter:
1. Leave a comment at the end of this post telling me your favorite nut butter and how you like to eat it.
2. Subscribe to this blog.
3. Friend me on Facebook or Twitter (I'm @GlobalVegan)
4. Like my Vegan Planet page on Facebook.
5. Spread the word about this giveaway on your own blog or on Facebook, Twitter, or other social medial.
That's it — you can enter once or enter five times, if you want to!   Two winners will be chosen at random on Sunday December 15 at midnight (when the context closes).  Winners will be announced right here on Monday, December 16.  Good Luck!
In the meantime…here's one of the ways I like to eat walnut butter — I think these Spinach Walnut Crostini will be great to serve over the holidays.  To make them even more festive, I'm going to sprinkle some minced roasted red pepper on top to get that "red & green" thing going!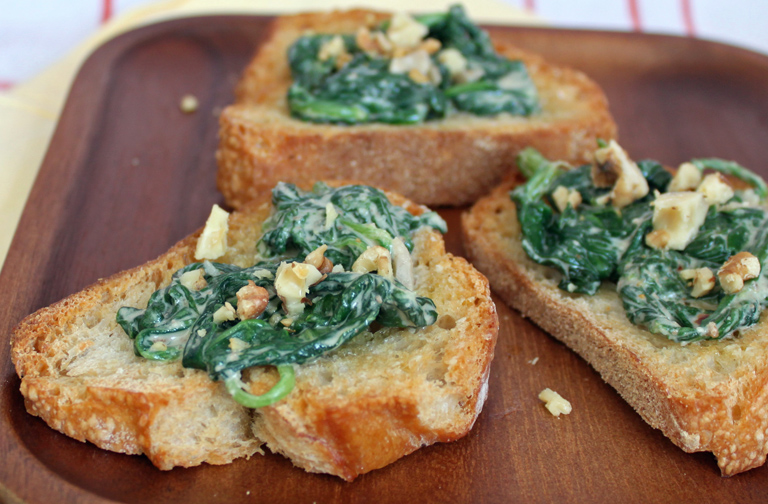 Spinach-Walnut Crostini
This popular Italian appetizer is made with toasted bread rounds that are usually rubbed with a cut clove of garlic and crowned with a savory topping. This recipe is from Nut Butter Universe by Robin Robertson © 2013.
3 garlic cloves
Olive oil
9 ounces fresh baby spinach, chopped
2 tablespoons walnut butter
1/2 teaspoon red pepper flakes
Salt
1 baguette, cut into 1/2-inch-thickslices
2 tablespoons chopped toasted walnuts
2 tablespoons finely minced roasted red bell pepper or sun-dried tomato (for the holidays!)
Finely mince two of the garlic cloves and set aside. Cut the remaining garlic clove in half and set aside.
Heat 1 tablespoon olive oil or 1/4 cup of water in a medium skillet over medium heat. Add the minced garlic and cook until fragrant, about 30 seconds. Add the spinach, stirring to wilt. Stir in the walnut butter, red pepper flakes, and salt to taste, blending the walnut butter into the spinach, stirring until any remaining water is absorbed. Keep warm.
Preheat the oven to 400°F. Brush one side of each slice of bread lightly with olive oil. Place the bread, oiled side up, on a baking sheet and bake until golden brown, about 10 minutes. When the bread is toasted, remove it from the oven and rub the oiled side with the cut sides of the halved garlic clove.
Top each piece of bread with a small amount of the spinach topping. Sprinkle with chopped walnuts red bell pepper.  Serve hot.
 This Giveaway is Now Closed.