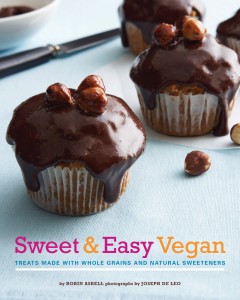 It's time to announce the winner of last week's cookbook giveaway. I thought I'd better get this posted before the storm's fury decides to cut off our power!
The winner of Sweet & Easy Vegan by Robin Asbell is #52 – Thomas Bruno!
Congratulations, Thomas. Please e-mail me with your mailing address so that a copy of Robin's publisher can send a copy of her book out to you.
Thank you to everyone who entered the contest. It was fun to read what everyone's favorite dessert is — they all sound great to me!
I hope that by now everyone in the storm's path has taken every precaution for themselves and their animal companions.  I know we have.  And now we wait….