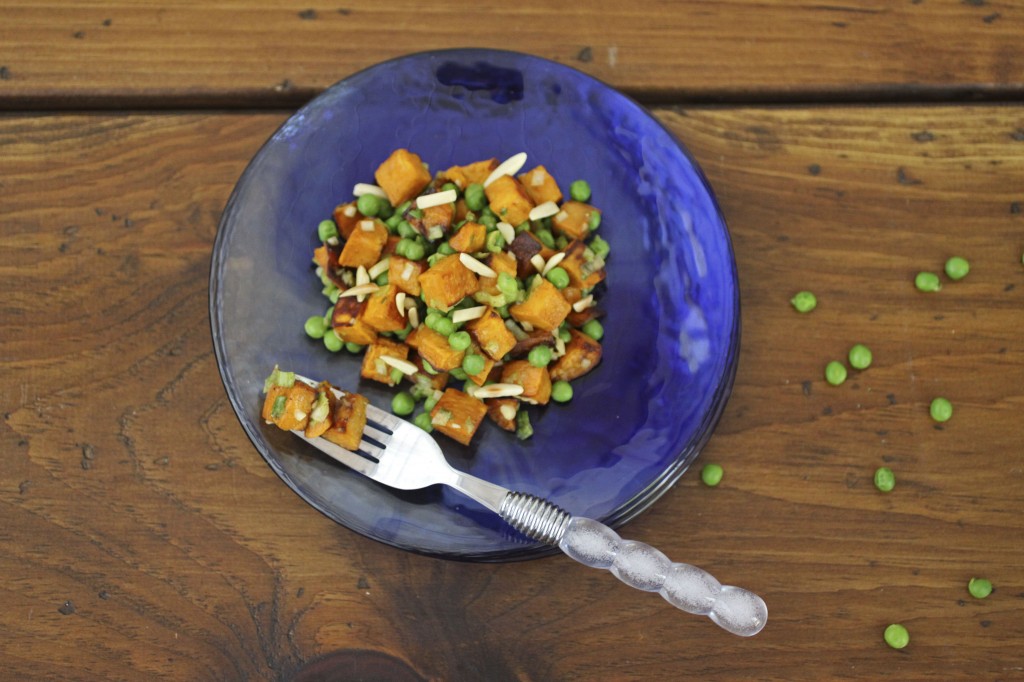 It's hard to be indifferent about sweet potatoes.  Most people either love them or hate them.  I happen to adore them.  I love them baked and eaten "au natural" or maybe topped with a little vegan butter and ground black pepper.  I like to make them as oven-fries, nice and crispy on the outside and soft in the middle, or diced and roasted and then tossed with pecans and dried cranberries.
I never had the childhood misfortune of being forced to eat canned sweet potatoes, least of all topped with marshmallows – I can see where that would make anyone averse to sweet potatoes later in life.  Fortunately, my mother often made them sliced and sautéed in a little olive oil with onion, then tossed with some pitted black olives and lots of black pepper.  It remains one of my favorite ways to prepare them.
I also enjoy making a sweet potato salad, usually combined with green peas because I love the color combination.  In this recipe, they are also combined with toasted almonds and tossed with a luscious slightly sweet dressing made with almond butter. 
Note: The dressing is delicious, but if you prefer a more savory flavor, you can swap out the juice for water, or even omit the dressing entirely and just toss with a little olive oil and vinegar.  If you do so, you might want to also add some pitted kalamata olives. 
This dish is equally good served at room temperature or chilled and, since it can be prepared ahead of time, it makes a great Thanksgiving side dish. 
Roasted Sweet Potato Salad
This recipe is from Nut Butter Universe by Robin Robertson © 2013. Photo by Lori Maffei.

Gluten Free/Soy Free
Serves 4
1 1/2 pounds sweet potatoes
1 tablespoon olive oil
1 cup frozen baby peas, thawed
2 scallions, minced
1/2 cup pineapple juice; or orange juice; or cranberry juice (or water)

1/4 cup almond butter
Salt and ground black pepper
2 tablespoons toasted slivered almonds
Preheat the oven to 400°F. Peel the potatoes and cut them into 1/2-inch dice. Toss with the olive oil and spread on a baking sheet. Roast the potatoes until tender but still firm, about 30 minutes. Allow to cool, then place them in a large bowl. Add the peas and scallions and set aside.
In a small bowl, combine the juice, almond butter, and salt and pepper to taste. Blend well, then pour the dressing over the potato mixture, stirring gently to combine.
Sprinkle with the almonds and serve right away, or cover and refrigerate until ready to serve.