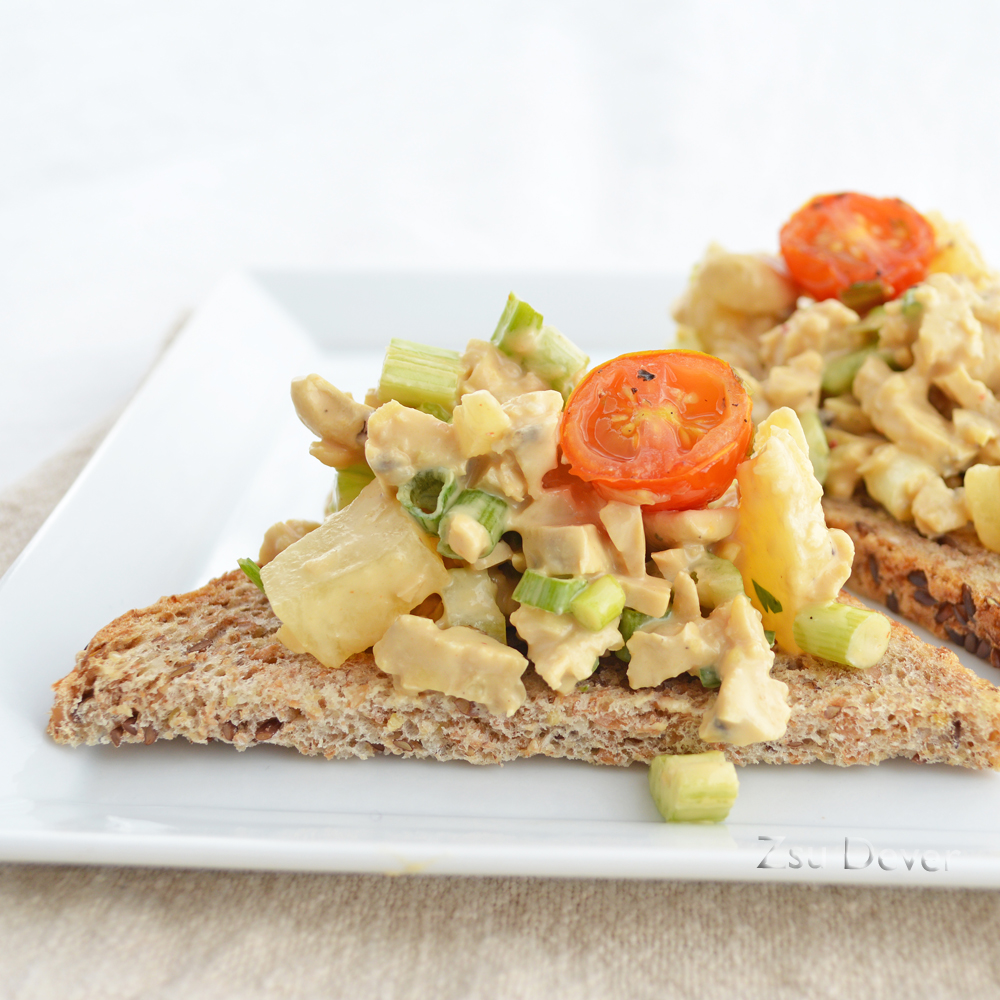 Today's recipe in my 30 Days of Vegan Cooking is for Tempting Tempeh Sandwiches. One taste will tell you they're called "tempting" for a reason!
The flavorful spread, made with tempeh, bits of celery, pineapple, and cashews, and seasoned with a sriracha mayo, will have you licking the bowl when you make it. In addition to using for sandwiches and wraps, the spread is also great spooned into lettuce leaves or celery, or spread on crackers.
Tempting Tempeh Sandwiches
from Vegan Planet by Robin Robertson
Serves 4
If you prefer a finer texture to this spread you can combine all of the ingredients in a food processor and pulse to the desired consistency.
Ingredients
1/4 cup vegan mayonnaise, homemade or purchased
2 teaspoons prepared mustard
2 tablespoons rice vinegar
1 tablespoon low-sodium tamari
1/2 teaspoon sriracha
8 ounces tempeh, steamed and cooled
1/2 to 3/4 cup finely chopped fresh or canned pineapple, blotted dry
2 celery ribs, minced
4 scallions, minced
1/2 cup unsalted dry-roasted cashews, chopped or crushed
1/4 to 1/2 teaspoon salt
1/4 teaspoon freshly ground black pepper
8 slices bread of choice (or 4 wraps)
Lettuce leaves
Directions
1. In a mixing bowl, combine the mayo, mustard, vinegar, tamari, and sriracha. Mix until well blended. Finely chop the steamed and cooled tempeh and add it to the bowl. Stir in the pineapple, celery, scallions, and cashews and season with salt and pepper. Mix well.  The sandwich filling can be used immediately or covered and refrigerated for later use.
2. To make the sandwiches, spread the tempeh mixture onto 4 slices of your favorite bread, top with lettuce leaves and the remaining bread, and serve.