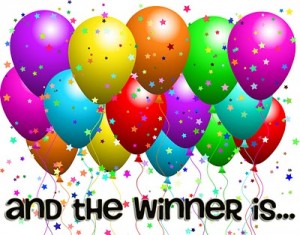 Wow!  What a fabulous response to my 3-book giveaway.  Many thanks to everyone who entered.  It's been great fun reading what you all would do with the books if you won.  All I can say is, thank goodness for the Random.org random number generator, because I never could pick just one winner on my own!
The winning number that was chosen is #31 – Beth Redwood!  Congratulations, Beth.  Please e-mail me your mailing address so that my publisher can send you my three books: 1,000 Vegan Recipes; Vegan on the Cheap; and Party Vegan!
But wait, there's more…..I was personally touched by the comment left by Paris Harvey, who would use my cookbooks in conjunction with the Santa Clara County Activists for Animals group.  Paris, please send me your mailing address, as well.  I'd like to send you some books for this worthy cause.
Thanks again to everyone who entered this giveaway.  There will be more to come!
PLUS….I also have some exciting announcements to make, so stay tuned!