Every casserole has a story.  Well, at least this one does. It begins a few months ago in the Pacific Northwest where some friends of ours stayed at a vegan bed and breakfast. One of the dishes served to them during their stay was a delicious breakfast casserole, shown in this photo: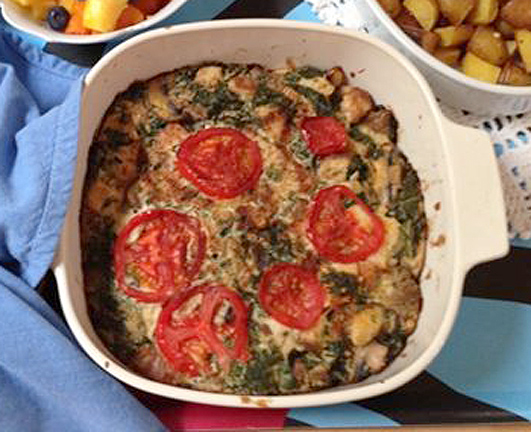 A few weeks later, my friend decided she'd like to serve a similar casserole to their houseguests who were coming the following weekend.  Since she didn't have the recipe, my friend asked for my help in recreating the casserole by looking at the photo.
I could easily see the spinach, tomatoes, and bread, so that's where I began.  As I worked up the recipe, I included onion, bell pepper, and garlic for flavor and also some sun-dried tomatoes to enhance the flavor of the fresh tomatoes on top.  Italian bread and a  flavorful tofu-based batter tied it all together.  Here's a photo of my interpretation of the breakfast casserole: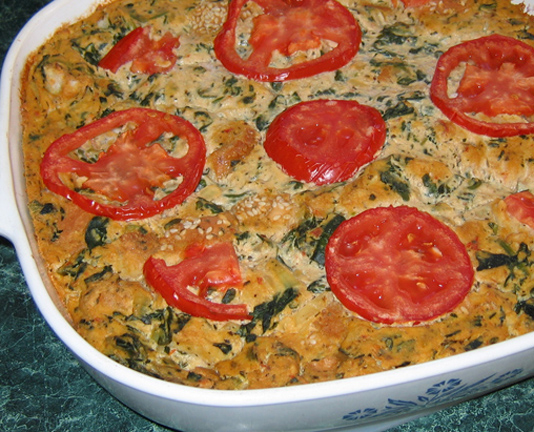 After I made it, I started getting ideas for variations (as I typically do anytime I make anything!)  I told my friend she could substitute a different vegetable for the spinach, such as chopped cooked broccoli, zucchini, or asparagus.  Other ideas include substituting diced cooked potatoes for all or part of the bread; adding a cup of cooked crumbled vegan sausage;  adding some chopped mushrooms when cooking the onion and bell pepper; or sprinkling the top with a bit of shredded vegan cheese, which she did (as you can see in her photo):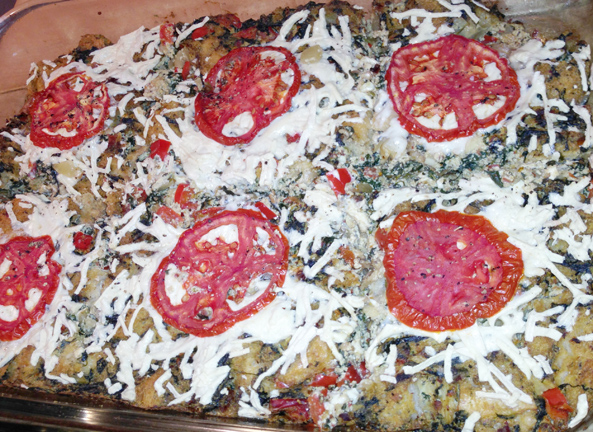 A final hint: Assemble this savory dish the day before, then cover and refrigerate.  It will be ready to bake when needed (bring to room temperature before baking).
Here's the recipe. If you decide to make it, I hope you'll share your experience so the story of this breakfast casserole can continue on.
Versatile Breakfast Casserole
1 tablespoon olive oil
1 Vidalia or other sweet onion, chopped (about 1 cup chopped)
1/2 cup chopped red or yellow bell pepper
3 garlic cloves, minced
1 (10-ounce) package frozen chopped spinach, thawed and squeeze-dried (*See Note)
Salt and freshly ground black pepper
12-ounces medium or firm regular (not silken) tofu, well drained and crumbled
1/3 cup minced oil-packed sun-dried tomatoes
1/4 cup nutritional yeast
1 tablespoon Dijon mustard
1 tablespoon arrowroot or cornstarch
2 teaspoons fresh lemon juice or dry white wine
1 teaspoon dried basil
½ teaspoon dried oregano or marjoram
½ teaspoon baking powder
1 1/2 cups plain unsweetened nondairy milk
4 cups torn (or cut into 1-inch pieces) Italian bread
1/2 cup shredded Daiya cheese (optional)
1 small fresh ripe tomato, thinly sliced and drained on paper towels to absorb liquid
Heat the olive oil in a large skillet over medium heat. Add the onion and bell pepper, cover, and cook, stirring occasionally, until softened, about 5 minutes. Add the garlic and cook 2 minutes longer to soften. Stir in the spinach and season with salt and pepper to taste.  Cook, stirring for 2 minutes longer.  Remove from the heat and set aside.
In a food processor, combine the  tofu, sun-dried tomatoes, nutritional yeast,  mustard, lemon juice, arrowroot or cornstarch, lemon juice, basil, oregano, onion powder, baking powder, 1 teaspoon salt, and 1/4 teaspoon black pepper. Add the nondairy milk and process until smooth and well blended. 
In a bowl, combine the tofu mixture with the spinach mixture, then stir in the bread pieces and set aside.
Lightly oil a shallow 10-inch square shallow baking dish or gratin dish (or other shallow baking dish). Spread the mixture evenly in the prepared baking dish pressing any bread pieces down to submerge. Sprinkle the cheese on top (if using).  If serving right away, set aside for about 20 minutes at room temperature before baking.  If making ahead, cover and refrigerate overnight, then return to room temperature the next day before baking.
Preheat the oven to 375°F. Arrange the drained tomato slices on top of the casserole.  Bake until lightly browned and puffed, 45 to 50 minutes.  
Let stand for 10 minutes before cutting into pieces to serve. Serve warm.
*Note: If you prefer to use fresh spinach instead of frozen, lightly steam 9 or 10 ounces of baby spinach (or wilt it in the microwave).  Squeeze out any water from the spinach, chop, and set aside.