Since yesterday's apple cake post, I've had apples on the brain.  It's no wonder, since I do happen to live in apple country! I got to thinking about all the delicious ways to use apples in recipes and then I realized that some of my favorite apple creations can be found in The Blooming Platter Cookbook: A Harvest of Seasonal Vegan Recipes by Betsy DiJulio, published by Jon's company, Vegan Heritage Press.
I love the creative ways Betsy takes us through the seasons using fresh produce.  Give my love of all things apple, some of my favorite recipes in the book are in the Autumn section, with recipes such as Apple Brandy Cake with Pecan-Praline Frosting; Apple Tart with Peanut Butter Streusel; Braised Cabbage, Apples, and Potatoes; Cabbage, Apple, and Caraway Salad; and, my personal favorite, Baked Apples Baklava with Cider Sauce (recipe below).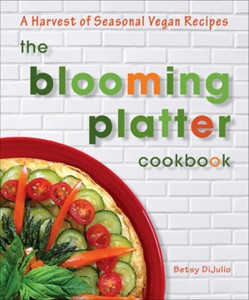 If you don't have The Blooming Platter Cookbook, do yourself a favor and order a copy – it's worth it for the butternut squash recipes alone!  And while you're at it, enter this giveaway to win a copy, too. (it makes a great gift!)
Cookbook Giveaway:  To celebrate this season (and all seasons!), I'm giving away a copy of The Blooming Platter Cookbook: A Harvest of Seasonal Vegan Recipes.  For a chance to win, just leave a comment at the end of this post naming your favorite fall ingredient.  That's it!  The contest closes on Sunday 10/7 at midnight, and a winner will be announced on this blog on Monday, October 8. For extra chances to win, do one or all of the following and leave an extra comment telling me what you did:
1)     Follow me on Twitter.
2)     Follow Vegan Heritage Press on Facebook.
3)     Share the link to this giveaway on your own Twitter, Facebook page, or blog.
Good luck!  Be sure to check back on Monday to see if you've won!  And now here's that recipe….
Baked Apples Baklava with Cider Sauce
Baked apples are one of the wonders of autumn. In this dessert, tender stuffed apple halves are wrapped up like a beautiful package in buttery phyllo dough. The Cider Sauce adds just the right contrast in texture, temperature, and tartness. They are as scrumptious for breakfast or brunch as they are for dessert. This recipe is from The Blooming Platter Cookbook by Betsy DiJulio.
Apples:
1/2 cup finely chopped walnuts
1 tablespoon natural sugar
1/4 teaspoon apple pie spice
2 teaspoons agave nectar or brown rice syrup
2 large McIntosh or other sweet-tart red apples
Juice of one lemon
1/ 4 cup vegan margarine
1/4 cup olive oil
1 teaspoon natural sugar
16 sheets phyllo dough, approximately 8 x 13 inches each, thawed
Cider Sauce:
3/4 cup apple cider
3/4 cup sugar
1/2 cup agave nectar or brown rice syrup
1 tablespoon lemon juice
1 cinnamon stick, halved
Optional Garnish:
Cinnamon stick halves
Chopped walnuts
Apples: Preheat the oven to 350ºF. In a small bowl, combine the walnuts, sugar, apple pie spice, and agave nectar and set aside. Remove the stems of apples and slice in half lengthwise. Using a melon baller, remove the core of the apples in two scoops to make a generous compartment for the filling. Rub the cut surface of the apples with lemon juice. Press one-fourth of walnut filling into each hollowed out compartment. Combine margarine and olive oil in a small bowl. Unroll the phyllo dough and cover it with plastic wrap and a damp towel. Remove one sheet of dough to a flat work surface and brush lightly with margarine-oil mixture. Repeat with three more sheets. Place the apple half, filling side up, in the center of the stacked phyllo. Bring up one corner of the dough over the filling, then the opposite corner. Repeat with the remaining corners, smoothing as you go, to make a tight package. Brush on a little more margarine-oil mixture and place the apples, flat side down, on a baking sheet or stone. Brush the top with a little more of the margarine-oil mixture, smoothing down the edges of the dough. Repeat with remaining apple halves, filling and dough. Sprinkle each with 1/4 teaspoon of sugar. Bake for 30 minutes.
Sauce: In a 1 quart saucepan, combine all ingredients. Bring the mixture to a boil, reduce heat and simmer 15 minutes. Cool slightly or bring to room temperature to serve. Remove the cinnamon stick halves before serving or use them as two of the garnishes.
Assembly: Arrange the baked apples on dessert plates drizzled with the Cider Sauce and garnished with cinnamon sticks and walnuts, if using.
Yield: 4 servings