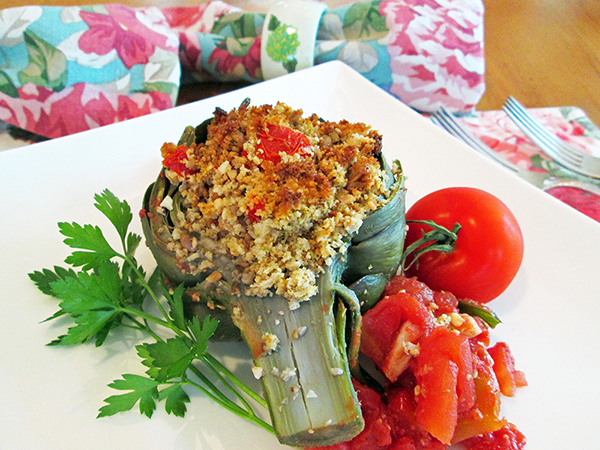 Delicious vegan meals are fun to prepare in your own home kitchen with Laura Theodore's highly anticipated new cookbook, Jazzy Vegetarian's Deliciously Vegan: Plant-Powered Recipes for the Modern, Mindful Kitchen. This modern guide to vegan eating is a 320-page cookbook featuring Laura's recipes (many from her award-winning PBS television show) and includes beautiful full-color photos on nearly every page.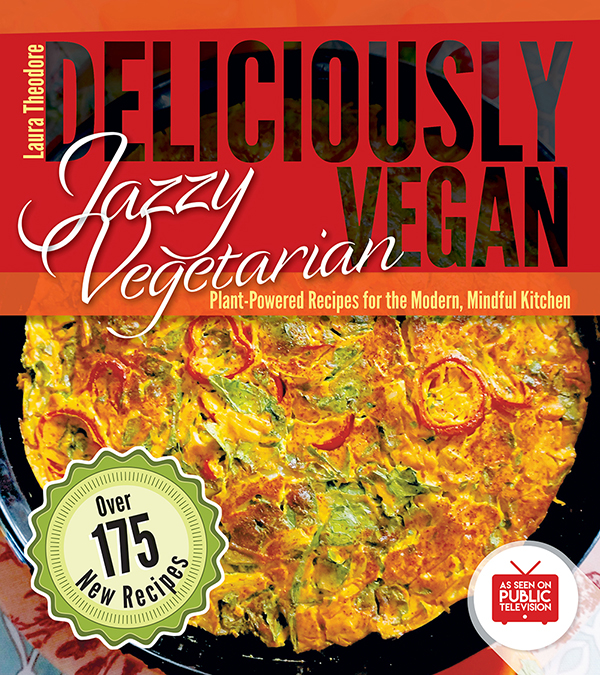 In addition to over 175 flavor-packed, plant-based recipes, Laura helps readers learn what it takes to stock and cook on a daily basis in a well-equipped vegan kitchen, with these essential Top Ten lists:
Ingredients to have on hand at all times in your pantry
Effective egg substitutions for baking
Delicious options for making vegan cheese and cream
Two-ingredient recipes
Herbs and spices to always keep in your kitchen
From simple snack ideas to enticing entrées to mouthwatering desserts, Jazzy Vegetarian's Deliciously Vegan features delectable main dish recipes like Teriyaki Kebabs, Sunny Black Bean Burgers and Gingered Portobello Steaks. Crowd-pleasing party foods include Guacamole Mini Peppers, Chili-Maple Almonds and Miso Hummus. Vegan Burritos with Tofu Queso Fresca, Golden Cashew Milk and Seitan Fajitas round out diverse dinner menus. And for dessert, Laura has plenty of scrumptious sweets to choose from, like Lively-Lemon Cupcakes, Sweet Potato Pie and Divine Chocolate Mousse Cake.
Highlighting holiday entertaining to everyday ideas for preparing quick and delectable plant-based meals for the family, Laura Theodore's  is the ultimate guide for the vegan home chef.
Would you like to own a copy of Jazzy Vegetarian's Deliciously Vegan?  Just leave a comment at the end of this post telling me your favorite easy vegan meal and you'll be entered in the giveaway. The giveaway ends on Monday, March 5th at midnight.  The winner will be announced on Tuesday, March 6th.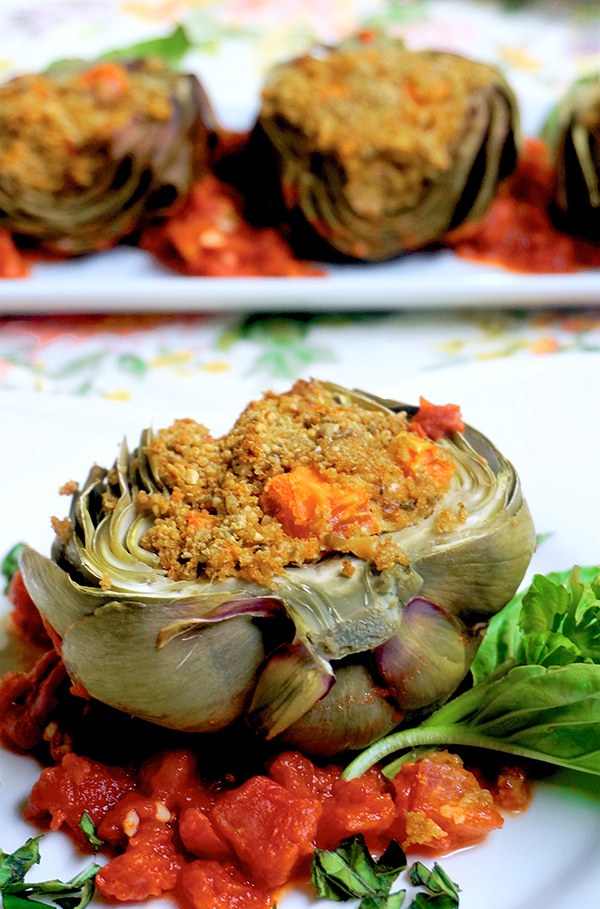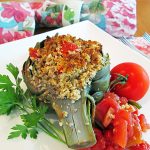 Cashew Stuffed Artichokes
I adore artichokes. I have loved 'em since I was a little girl and whenever I see beautiful varieties in my marketplace, I cannot resist them. This recipe is festive and filling with cashews and sunflower seeds showcased in a flavorful stuffing. I like to serve this colorful dish as a first course, or they do double duty as a luncheon entrée.
Ingredients
1

can (26 to 28 ounces)

diced tomatoes, with juice

2

large cloves garlic. minced

2

slices

whole-grain bread, torn into chunks

1/3

cup

chopped raw or roasted cashews

1/4

cup

roasted, salted sunflower seeds

1

tablespoon

fresh chopped basil, or 1 teaspoon dried basil

1/4

teaspoon

Italian seasoning blend

1/4

teaspoon

sea salt

1

tablespoon

extra-virgin olive oil

3/4

cup

diced fresh tomatoes

4

medium trimmed and cooked artichokes

(see trimming and cooking instructions in Chef's Notes)
Instructions
Preheat the oven to 400 degrees F. Spread the canned tomatoes with juice over the bottom of a 9 by 12-inch or similar sized casserole dish. Sprinkle the minced garlic evenly over the tomatoes.

Put the bread, cashews, sunflower seeds, basil, Italian seasoning and sea salt into a blender or food processor and process into coarse crumbs. Transfer to a medium-sized bowl. Add the olive oil and stir to combine. Add the fresh tomatoes and gently stir, until thoroughly combined.

Arrange the artichoke halves, cut-side up, on top of the tomatoes and garlic in the prepared casserole dish. Stuff each cavity with one-eighth of the cashew/sunflower seed mixture. Cover with foil and bake for 40 to 45 minutes. Uncover and bake for 10 minutes, or until the top of the stuffing is golden brown.

To serve, put some of the tomato sauce from the bottom of the casserole dish on each of eight individual serving plates and top it with 1 stuffed artichoke half (see note). Serve warm or cover, refrigerate and serve cold.
Recipe Notes
Chef's notes:
To trim and clean the artichokes, start by cutting off the top 1/2 to 1 inch of each artichoke to remove the spiky tips. Cut off any remaining spiky tips with kitchen shears. Trim away the tough edges of the stem. Rinse each artichoke under cold running water, spreading the leaves to rinse out any residual dirt or sand.
To cook the artichokes, put 3 to 4 inches of water in a deep saucepan large enough to hold all the artichokes snugly so they remain upright as they cook. Stir in the balsamic vinegar, if using. Add the artichokes, making certain they are standing partially upright. Cover and bring to a boil. Cook the artichokes until crisp tender, about 20 minutes. They are done when an outer leaf peels off easily. Remove the artichokes from the pan using tongs and arrange them upside down on a rack set over a large dinner plate to drain and cool.
Once the artichokes are cooked and cooled, you can remove the "choke." Begin by cutting each artichoke in half, vertically. Scoop out the fuzzy center choke with a grapefruit spoon or teaspoon. If you are cooking the artichokes ahead of time, wrap the artichokes tightly in plastic wrap and refrigerate for up to 1 day before preparing this recipe.
If you are serving this as a luncheon entrée, serve 2 artichoke halves per person.
Recipe by Laura Theodore, from JazzyVegetarian's Deliciously Vegan. Published by Scribe Publishing, ©2018, reprinted by permission.
SaveSave