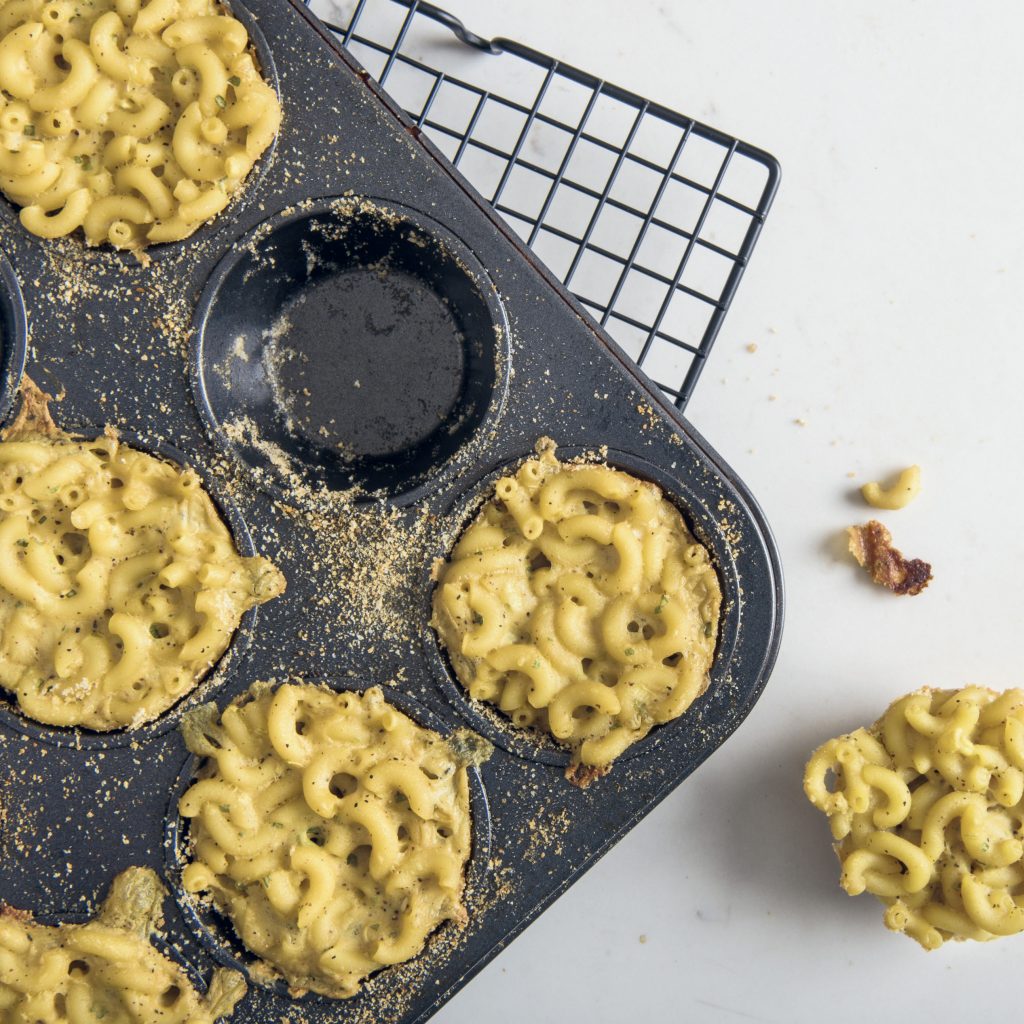 'Tis the season for holiday parties and brunches and I have just the thing to serve at your next get-together.  These Cheesy Mac Muffins from my cookbook Vegan Mac & Cheese are a fun way to enjoy everyone's favorite comfort food.
They're great as is, but the addition of chopped cooked veggies makes them even better.  And of course, this time of year, those veggies should be red and green!
Two of my favorite holiday combos to add to the mac and cheese mixture are: finely minced and sauteed red and green bell peppers OR chopped steamed broccoli and finely minced oil-packed sun-dried tomatoes. (Simply fold in your veggies of choice when you combine the cheese sauce and macaroni.)
These muffins can be made in full-size muffin tins or in those tiny muffin tins for one-bite wonders. Note: If using the tiny muffin tins, you can reduce the baking time by about 5 to 7 minutes so they don't dry out.
Enjoy!
Cheesy Mac Muffins
From Vegan Mac & Cheese: More than 50 Delicious Plant-Based Recipes for the Ultimate Comfort Food by Robin Robertson © 2019, Harvard Common Press.
2 tablespoons vegan butter, plus more for preparing the muffin tin
2 tablespoons dried bread crumbs
2 cups elbow macaroni
3 scallions, white and green parts, minced
2 tablespoons all-purpose flour
1/2 teaspoon salt
1/4 teaspoon ground black pepper
1/3 cup nutritional yeast
1 teaspoon Dijon mustard
2 1/4 cups plain unsweetened nondairy milk
2 teaspoons fresh lemon juice
Preheat the oven to 375°F (190°C). Coat a nonstick muffin pan with butter.
Divide the bread crumbs evenly among the bottoms of the cups. Shake and tilt the pan to coat the cups on the bottoms and sides. Discard any excess crumbs.
Bring a large pot of salted water to a boil over high heat. Add the pasta and cook according to the package directions until al dente. Drain well and return to the pot. Set aside.
In a saucepan over medium heat, melt the butter.
Add the scallions and cook for 1 minute. Whisk in the flour, salt, and pepper and cook, whisking, for 1 minute.
Add the nutritional yeast and mustard and then whisk in the milk. Bring to a boil. Reduce the heat to maintain a simmer and cook, whisking constantly, for 2 minutes, or until smooth and thickened. Stir in the lemon juice. Taste and adjust the seasoning, as needed. Pour the cheese sauce over the pasta and stir to coat. Divide the pasta mixture evenly among the muffin cups and press it down into the cups. Bake for about 15 to 20 minutes.
Remove the muffin pan and set aside for 10 minutes. Run a knife around the outer edge of each muffin and then pop them out of the cups.
Makes 8 to 12 muffins