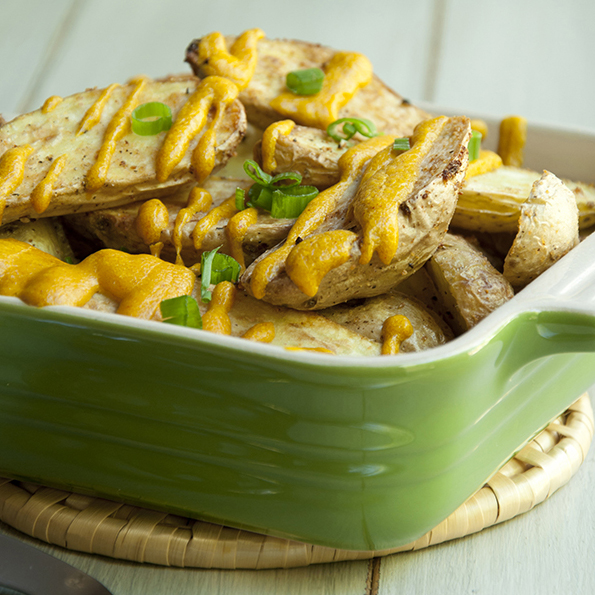 If you love your air fryer as much as I do, you're going to be thrilled to own The Vegan Air Fryer, a new cookbook by JL Fields.  And if you don't yet own an air fryer, I encourage you to page through this book to see what you're missing.
Like many people, the main thing I cook in my air fryer is potatoes — how great it is to have crispy French fries without oil!  But air-fried French fries are only the beginning.  In The Vegan Air Fryer you'll find everything from appetizers to main dishes and even desserts. And for all you potato lovers out there, there are also loads of other recipes for air-fried spuds, including these Cheesy Potato Wedges.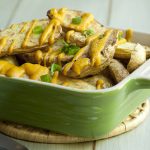 Cheesy Potato Wedges
Try these potato wedges if you love potato skins but want that potato, too. This is a great side dish and also a fun recipe to make for game day noshing. (From The Vegan Air Fryer, copyright © 2017 by JL Fields. Used by permission. Photo by Michelle Donner.)
Ingredients
Potatoes
1

pound

fingerling potatoes

1

teaspoon

extra-virgin olive oil

1

teaspoon

kosher salt

1

teaspoon

ground black pepper

1/2

teaspoon

garlic powder
Cheese Sauce
1/2

cup

raw cashews

1/2

teaspoon

ground turmeric

1/2

teaspoon

paprika

2

tablespoons

nutritional yeast

1

teaspoon

fresh lemon juice

2

tablespoons

to 1/4 cup water
Instructions
Potatoes: Preheat the air fryer to 400°F for 3 minutes. Wash the potatoes. Cut the potatoes in half lengthwise and transfer them to a large bowl. Add the oil, salt, pepper, and garlic powder to the potatoes. Toss to coat. Transfer the potatoes to the air fryer. Cook for 16 minutes, shaking halfway through the cooking time.

Cheese Sauce: Combine the cashews, turmeric, paprika, nutritional yeast, and lemon juice in a high-speed blender. Blend on low, slowly increasing the speed and adding water as needed. Be careful to avoid using too much water, as you want a thick, cheesy consistency.

Transfer the cooked potatoes to an air fryer–safe pan or a piece of parchment paper. Drizzle the cheese sauce over the potato wedges. Place the pan in the air fryer and cook for 2 more minutes at 400°F.
Recipe Notes
No-Oil Option: Omit the olive oil.