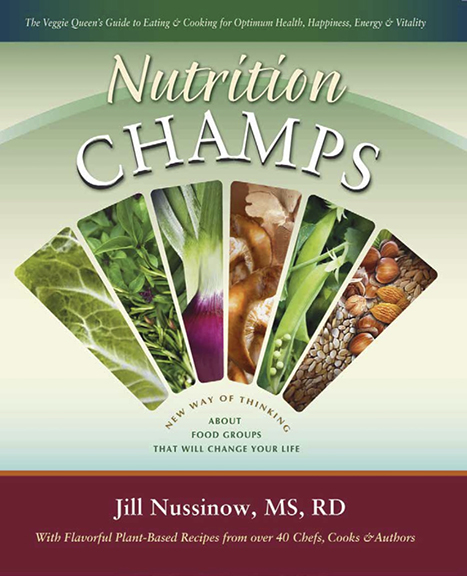 When Jill Nussinow first told me about her book, Nutrition CHAMPS, I was intrigued by the idea of a cookbook dedicated to looking at food groups in a new way.  As Jill explains in the Foreword to her book, the acronym "CHAMPS" is derived from the first letter of six plant-based food groups: Cruciferous, Herbs, Alliums, Mushrooms, Pulses, Seeds (and Nuts). Within these groups are nutritional powerhouses that, when eaten regularly, go a long way to promote good health and vitality.
In addition to being filled with Jill's nutritional wisdom and dietary guidance, Nutrition CHAMPS is jam-packed with recipes created by a stellar group of vegan culinary "champs" — more than 40 cooks, chefs, and authors.  I'm proud to count myself among those who contributed recipes to this important book.  Below is one my recipes that is included in Nutrition CHAMPS – you'll find it in the section devoted to Cruciferous Vegetables featuring my favorite crucifer, cauliflower.  (Be sure to read on after the recipe to enter the giveaway to win a copy of this book.)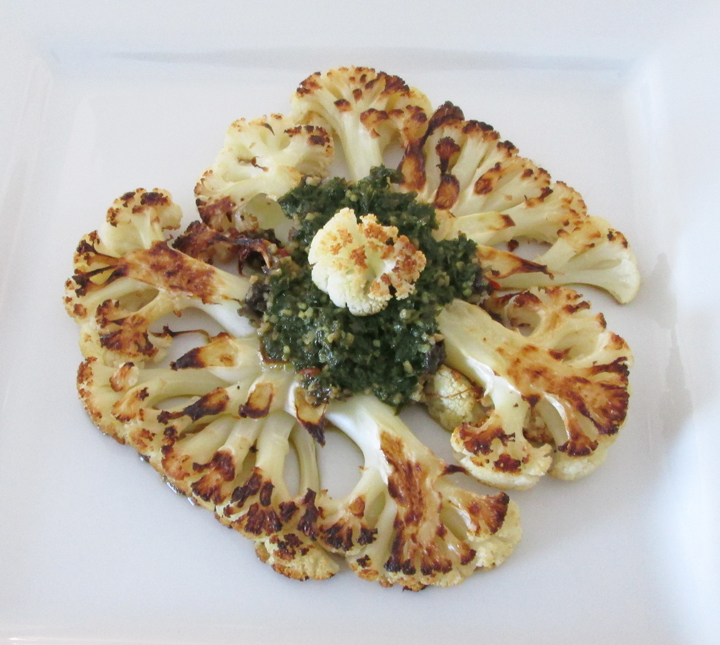 Roasted Cauliflower with Arugula Pesto
Roasting gives cauliflower a deep, almost nutty, flavor that is enhanced by the bold arugula pesto.
Serves 4
 Cauliflower
1 head cauliflower, trimmed, cored, and cut into 1/2-inch thick slices
Olive oil or cooking spray
Salt and freshly ground black pepper
Pesto
3 garlic cloves, crushed
1/4 cup toasted walnut pieces
1/2 teaspoon salt
2 cups coarsely chopped arugula
1/2 cup fresh basil leaves
2 tablespoons olive oil
1 tablespoon lemon juice
1/4 teaspoon freshly ground black pepper
Warm water, as needed
For the cauliflower: Preheat the oven to 425°F. Lightly oil a baking sheet or spray it with cooking spray. Arrange the cauliflower slices on the prepared baking sheet. Spray the cauliflower lightly with cooking spray or brush with a little olive oil. Season with salt and pepper to taste. Roast until just tender, 12–14 minutes, turning once halfway through.
For the pesto: While the cauliflower is roasting, make the pesto. In a food processor, combine the garlic, walnuts, and salt and process to a paste. Add the arugula, basil, olive oil, lemon juice, and pepper, and process to a paste. Add a little warm water, if desired, a tablespoon at a time, to reach the desired consistency.
To serve: Remove the cauliflower from the oven and transfer to a shallow serving platter. Serve hot, topped with the pesto.
I have a copy of Nutrition CHAMPS for one person. (Anywhere in the world!) To enter, leave a comment below telling me what your favorite nutrition "CHAMP" is, and how you like to eat it. (roasted cauliflower, anyone?)  For extra chances to win, follow me on Facebook, Twitter, and Instagram and leave a separate comment for each one to let me know.   This Giveaway ends Monday, March 23, 2015 at midnight, EST.  A winner will be announced on Tuesday, March 24th.