After coming off of a two-week virtual tour for my own new cookbook, Fresh From the Vegan Slow Cooker, that included my guest posts on several wonderful blogs (thanks again to all the amazing bloggers who hosted me!), I'm happy to "turn the tables" today by hosting a guest post about transforming your sweet tooth by the wonderful Chef AJ who, in addition to sharing this tremendous information and her yum-tastic recipe for Peanut Butter Fudge Truffles, is also allowing me to give away a copy of her fabulous book, Unprocessed.
To enter the giveaway, leave a comment at the end of this post.  For more chances to enter you can do any or all of the following and then leave another comment telling me you did so:
follow me on Twitter
follow Chef AJ on Twitter

spread the word about this giveaway (with a link to it) on Facebook or Twitter
I hope you enjoy this informative guest post by Chef AJ, her delicious (and easy!) recipe for Peanut Butter Fudge Truffles, and a giveaway of her amazing book, Unprocessed! Now I will turn things over to Chef AJ….
Transforming Your Sweet Tooth
By Chef AJ
As little as 100 years ago, Americans ate about a pound of sugar a year.  We now eat, on average, 150 pounds a year!  That means that some folks are literally eating their weight in sugar, every single year.  )And since I don't eat any, some of you are probably eating 300 pounds a year! J)  The American Heart Association says that if we choose to consume sugar that we should consume no more than 5% of our total daily calories (approximately 5 teaspoons a day for most of us) from processed sugar a day.  But if most of us are consuming 22 teaspoons of sugar every day (roughly 365 empty calories) how is it even possible to satisfy your sweet tooth and stay within these recommend guidelines?  The answer is to use fruit, like dates.
Dates are a whole food which means that they have vitamins, minerals, phytochemicals, antioxidants, micronutrients, fiber and water.  All refined sweeteners have none of these beneficial qualities and have been linked to the development of numerous diseases.  The date fruit is one of the oldest cultivated tree crops, and has been grown for thousands of years.  By using whole dates, it is possible to satisfy your sweet tooth, healthfully and deliciously, without ever using sugar.  Even though dates are a high sugar fruit, research shows that they are still the most favorable sweetener, and do not raise blood glucose or triglycerides.  (I have the medical journal article if you need it).
One of my favorite ways to us dates in a dessert is with these decadent peanut butter fudge truffle that is easy to make and contains only 5 ingredients.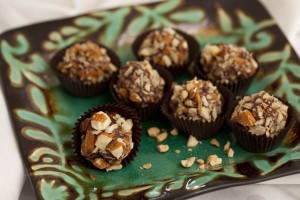 Peanut Butter Fudge Truffles
INGREDIENTS:
One batch of Chocolate Fundue*
Chopped peanuts
METHOD:  Chill FUNdue until firm.  Using a small retractable cookie scoop, drop FUNdue into crushed peanuts and coat evenly.  Bananas are also delicious when dipped in FUNdue and rolled in crushed nuts and then frozen.
For a lower fat version, substitute one can of rinsed and drained cannellini beans for half of the nut butter.
*Chocolate FUNdue
Also delicious when made with raw almond butter, raw sunflower seed butter or tahini
INGREDIENTS:
1 cup peanut butter* (no salt or sugar)
1 cup date paste*
1/2 cup raw cacao powder or good quality cocoa powder
1/2 cup unsweetened non-dairy milk
1 Tablespoon alcohol-free vanilla extract
 METHOD:
Place all ingredients except for the milk in a food processor fitted with the "S" blade and process until ingredients are incorporated, scraping down sides if necessary.  Slowly add non-dairy milk, a little at a time until desired consistency is reached.  You can eat this immediately or chill for a firmer texture.
*raw almond butter, raw cashew butter, raw tahini or raw sunflower seed butter may be substituted for the peanut butter.
 DATE PASTE
Make sure you always have some on hand to create a healthy dessert in no time
INGREDIENTS:
One pound of pitted dates
One cup of liquid (water, unsweetened non-dairy milk, unsweetened fruit juice)
METHOD:
Soak dates in liquid overnight or for several hours until much of the liquid is absorbed.  In food processor fitted with the "S" blade, process dates and liquid until completely smooth.  Store date paste in the refrigerator.
These recipes are from UNPROCESSED copyright 2011
Be sure to leave a comment at the end of this post for a chance to win a copy of UNPROCESSED — the contest closes Thursday, September 27 at midnight.  The winner will be announced on Friday, September 28.  Good luck!
UPDATE:  THIS CONTEST IS NOW CLOSED.  CONGRATULATIONS TO THE WINNER!!!