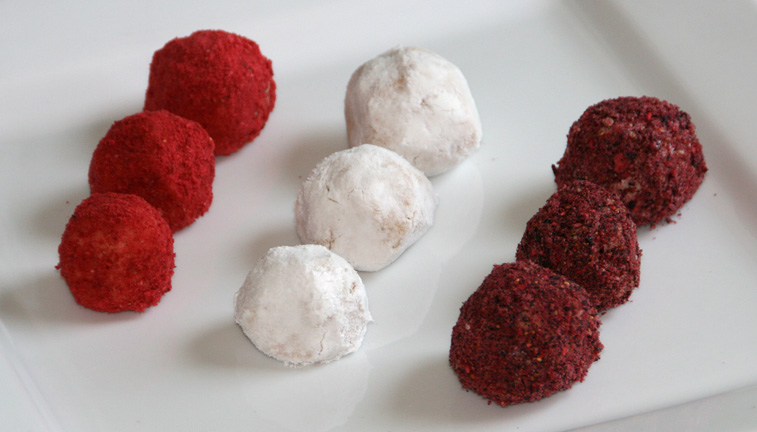 Because Friday night's crazy storm caused us to lose power, our Internet was down until today.  That means, among other things, that I missed out on posting about my latest pizza creation in honor of Vegan Pizza Day on Saturday.  Since it now seems anticlimactic, I'll save the pizza post for another time.  What I really want to talk about today is the 4th of July!
I want to serve something light, fun, and easy for dessert this year — and also red, white, and blue. I think I came up with the perfect solution with these Red White and Blueberry Bites.  I had some dehydrated strawberries and blueberries in the pantry and also some coconut powder.  After grinding the strawberries and blueberries separately in a dry food processor to make a powdery "dust," I had my three colored coatings ready for the bites.
The bites themselves are made with only 3 ingredients. Because the white chocolate in the bites is so sweet, these don't need any added sugar. They're quick, easy, and taste fabulous.  We've already gone through two batches — and it's not even the 4th of July yet!
Look for dehydrated fruit online or in natural food stores or well stocked supermarkets.  I've even seen them at Target!  Coconut powder is available in Asian markets in small packets, but you could instead grind some dried coconut too. If you don't care about the red white and blue idea, you can just roll the bites in ground nuts, shredded coconut, or cocoa.
Red White and Blueberry Bites
For the bites:
1/2 cup vegan white chocolate chips
1/2 cup raw cashews
1 cup vegan dry rice cereal (such as krispies, chex, or flakes)
For the coating:
1/2 cup freeze-dried strawberries, finely ground
1/2 cup freeze-dried blueberries, finely ground
1/3 cup coconut powder
Melt the white chocolate over low heat or in the microwave.  Set aside.
In a dry food processor, grind the cashews to a powder.  Add the cereal and scrape the melted chocolate on top, then process until well combined.  The mixture should hold together when pinched between your fingers. If the mixture is too crumbly, add about 1 teaspoon of vegan butter or melted white chocolate and process again.  If the mixture is too moist, add a little more cereal and process again.  Roll the mixture between your hands into 1-inch balls and set aside.
Place the coconut powder and the ground dehydrated strawberries and blueberries into three separate shallow bowls.  Roll one third of the balls into each of the three coatings.  Transfer to a serving plate.  If the balls need firming up, refrigerate for 30 minutes.  Serve at room temperature.