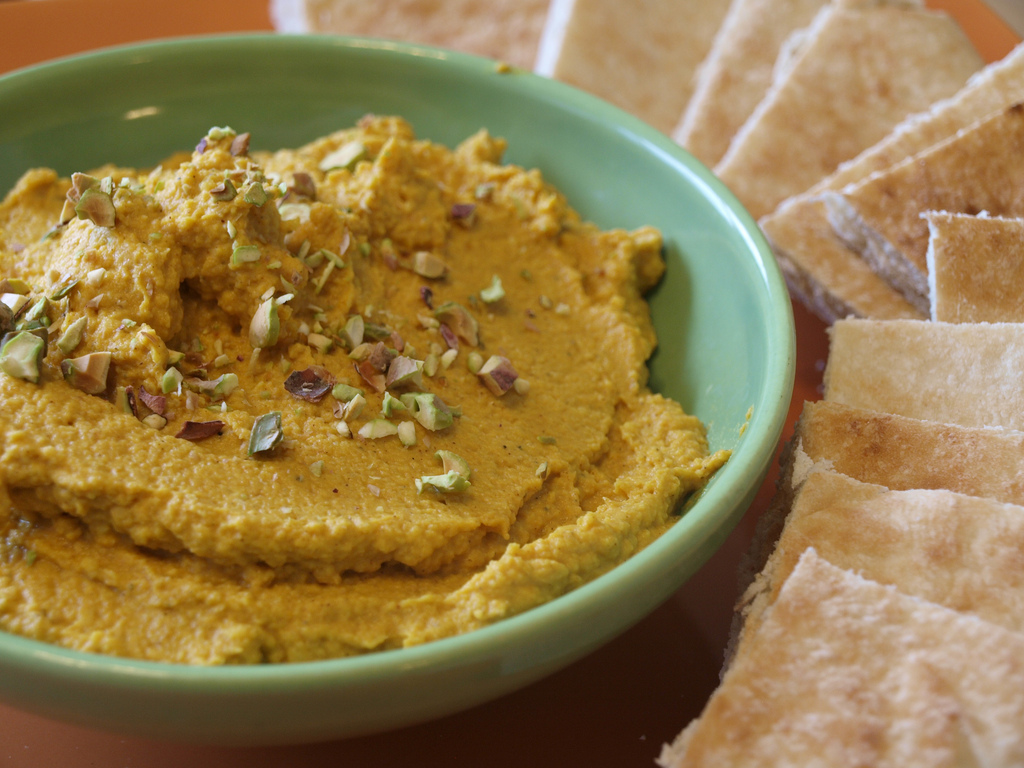 On a day when many people eat more than their share of food at one sitting, serving an appetizer before Thanksgiving dinner may seem like a bit much.  The only times I serve a Thanksgiving appetizer are when I've got a crowd coming over and I knew a few of them would be arriving a little later than others.  In such a case, it's nice to put a little something out for the early arrivals to nibble on with drinks while you finish getting dinner ready.  A tasty appetizer before dinner is also a great way to put those omnivore guests at ease — the first bite of a stuffed mushroom or vegan cheese ball will prove to them that they won't starve!
The top photo (photo by Andrea Weaver) shows my Moroccan Spiced Pumpkin Hummus from Quick-Fix Vegan. The traidtional pumpkin imbued with nontraditional (for Thanksgiving) flavors hits all the right notes.  Other great options are the Warm and Creamy Artichoke-Spinach Dip or the Savory Mediterranean Cheesecake below (photo by Debbie Cowherd) from Fresh from the Vegan Slow Cooker: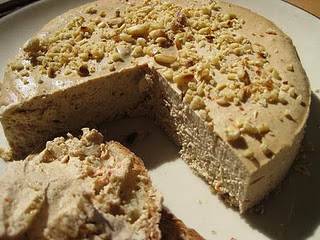 If you're short of time, you can simply put out a bowl of nuts, or maybe a plate of these easy peppadews stuffed with tapenade — you can buy peppadews at a supermarket salad bar and use ready-made tapenade to save time. If you can't find peppadews, you can stuff cherry tomatoes instead or just serve the tapenade with crackers or raw veggies.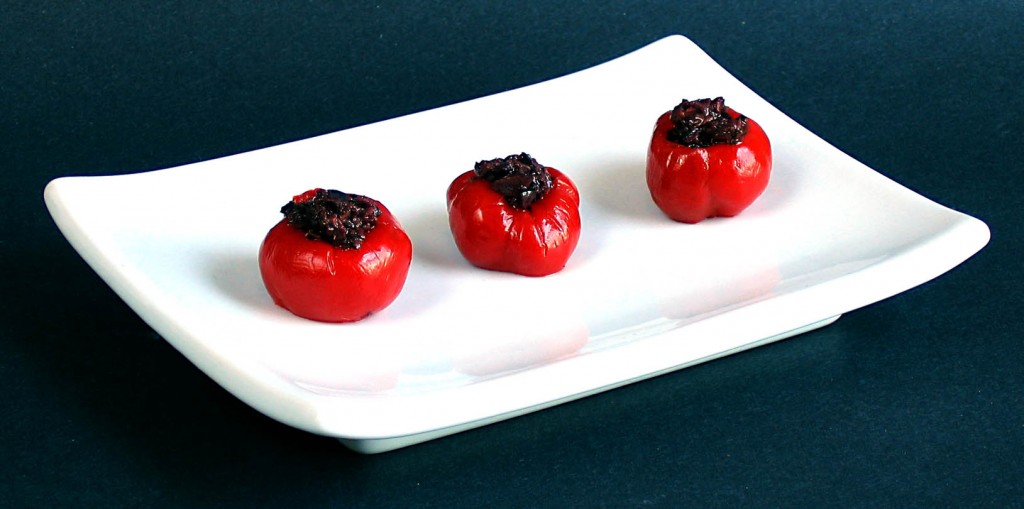 BONUS COOKBOOK GIVEAWAY:  Thanks to the generosity of my publisher, I'm giving away a SECOND copy of Party Vegan this week!  To enter this second giveaway, answer the following question in a comment at the end of this post:
QUESTION: If you were a vegan attending dinner at a non-vegan home for Thanksgiving, and they asked how they could accomodate you, what would you say? (For example, use vegetable broth in the stuffing, or make extra sweet potatoes?)   Or,  if a non-vegan host WANTED to make a special vegan dish for you, what would you suggest?
Enter NOW — this giveaway ends at the same time as the other one: midnight tomorrow!  Winners of both giveaways will be announced on Saturday.  You can enter both giveaways — and you can enter them both TWICE — just by telling others about these giveaways and then leaving an additional comment telling me about it.
Good Luck!