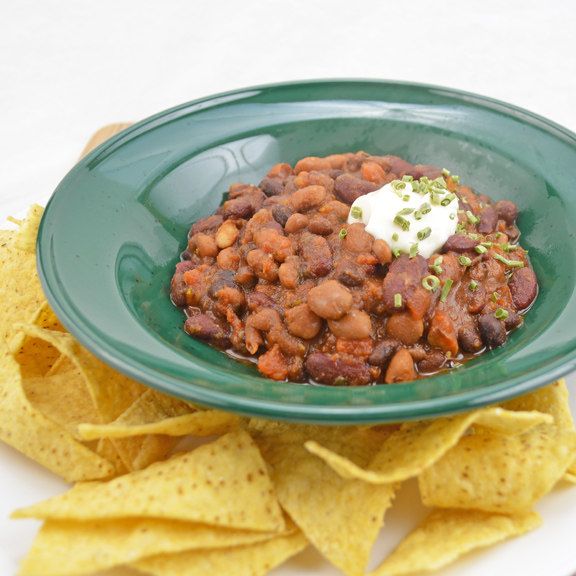 It's been great to hear from so many of you who have been loving the recipes in my newest book, More Quick-Fix Vegan.  One of the new features in this book that has been getting lots of attention is the chapter of "Pantry Makes Perfect" Recipes.  
While all the recipes in More Quick-Fix Vegan can be prepared in 30 minutes or less, the recipes in this chapter go one step further by using only pantry ingredients.  After all, sometimes we're too busy to shop for ingredients to make dinner — even a quick one.  
The recipes in the "Pantry Makes Perfect" chapter provide easy meal solutions because the ingredients to make them are as close as your own pantry.  There are recipes in that chapter for hearty main dishes, such as Pantry Paella, Artichoke-Walnut "Quiche," Pantry Burgers, and even a few "pantry-perfect" dessert recipes including Pantry Black Forest Cake.
Here's the recipe for one of my favorites from the chapter — Three-Bean Pantry Chili (photo by Zsu Dever) .  This is my go-to chili when time is short. 
Three-Bean Pantry Chili
Serves 4
A selection of canned beans combined with a jar of salsa and some chili powder are combined here for an almost effortless pot of chili.  Vary the beans according to what's on hand (lentils are great in this!) and add some TVP or chopped Soy Curls, if you like.  The optional corn kernels make a tasty addition.  Naturally, if you have any chili toppings on hand such as avocado, scallions, or vegan sour cream, feel free to use them at will. This recipe is from More Quick-Fix Vegan by Robin Robertson (c) 2014, Andrews McMeel Publishing.
1 (15.5-ounce) can black beans, drained and rinsed
1 (15.5-ounce) can dark red kidney beans, drained and rinsed
1 (15.5-ounce) can pinto beans, drained and rinsed
1 (24-ounce) jar salsa (hot or mild)
2 to 3 tablespoons chili powder
1 (8-ounce) can corn kernels, drained (optional)
Combine all the ingredients in a saucepan, reserving half the corn, if using.  Cook over medium heat, stirring occasionally, until heated through and long enough to cook off any raw taste from the chili powder, 15 to 20 minutes. Add up to 1 cup of water if the chili is too thick. Serve hot, garnished with the remaining half of corn kernels.