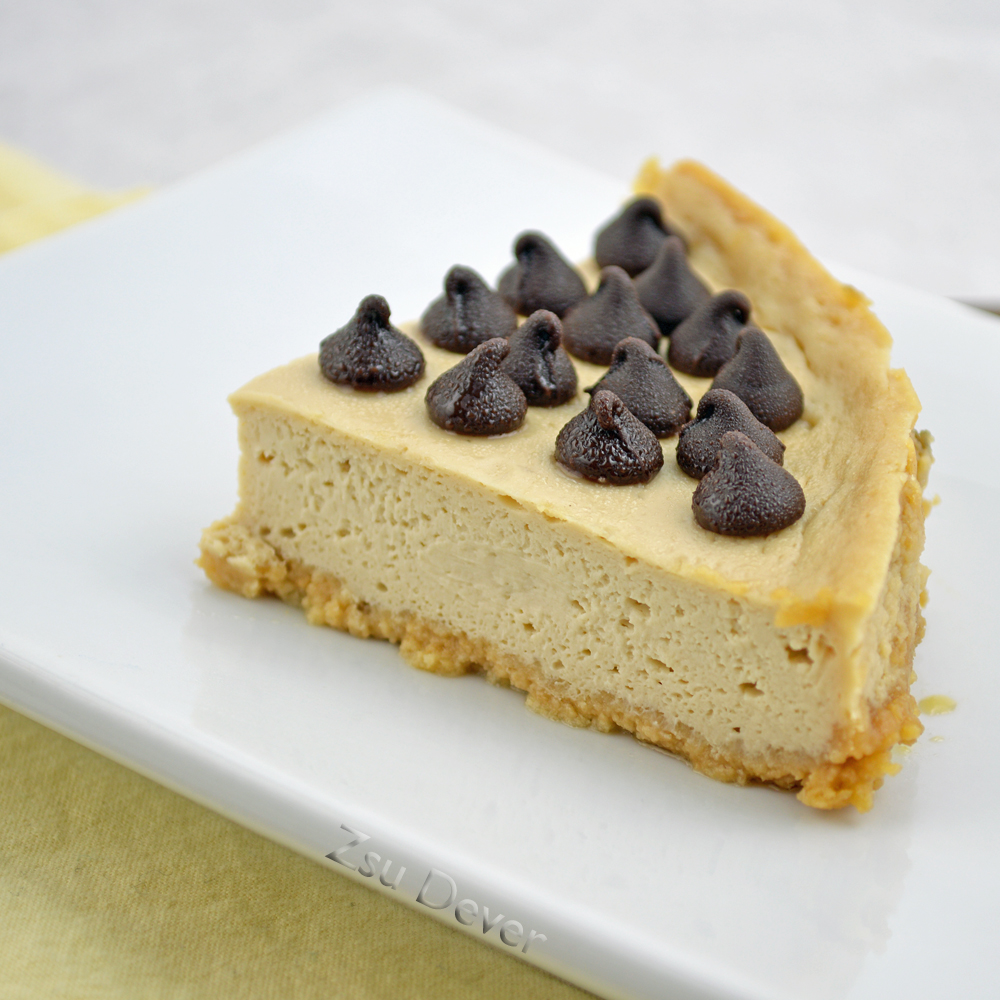 30 Days of Vegan Recipes continues today with dessert!  Specifically, a Tiramisu Cheesecake that has everything you love about tiramisu combined with a great cheescake texture.
Mascarpone cheese is traditional in tiramisu, but I use tofu and vegan cream cheese (you can use storebought vegan cream cheese or make your own with the recipe provided below)  to transform the classic dessert into an amazing dairy-free cheesecake with bold flavors reminiscent of the classic "pick me up" dessert. You can garnish it with chocolate curls or shaved chocolate, dust it with cocoa powder, or top it with chocolate chips as shown in the photo.
Tiramisu Cheesecake
from Vegan Planet by Robin Robertson
Serves 8
Ingredients
1½ cups vegan vanilla wafer crumbs
3 to 4 tablespoons vegan butter, melted
16 ounces vegan cream cheese, homemade (below) or purchased
1 (12- to 16-ounce) package firm silken tofu, drained
¾ cup natural sugar
2 tablespoons cornstarch
2 tablespoons strong brewed coffee
1 tablespoon brandy, rum, or Kahlúa or 1 teaspoon brandy extract or rum extract
Shaved vegan chocolate
Directions
1. Bring all of the ingredients to room temperature. Preheat the oven to 350°F. Lightly oil the inside of an 8- or 9-inch springform pan.
2. In a small bowl, combine the crumbs and as much of the melted butter as needed to moisten the crumbs when stirred with a fork. Press the crumb mixture evenly into the bottom and up the sides of the prepared pan. Bake for 5 minutes, then set aside to cool.
3. In a food processor, combine the cream cheese and tofu until smooth. Add the sugar, cornstarch, coffee, and brandy. Process until smooth.
4. Scrape the mixture evenly into the prepared crust. Bake on the center oven rack until firm, about 45 minutes. Turn off the oven and leave the cheesecake inside for 10 minutes. Remove from the oven and set aside to cool to room temperature. When the cheesecake is completely cool, cover and refrigerate for at least several hours or up to overnight.
5. To serve, remove the sides of the pan, using a knife to loosen it if necessary. Scatter the shaved chocolate over the top of the cheesecake, and cut into wedges.
Vegan Cream Cheese
Makes about 2 cups (about 10 ounces)
Easy to make at home, this vegan cream cheese is more economical than buying it ready-made. You can use this in any recipe calling for vegan cream cheese.
Ingredients
1 cup raw cashews, soaked for at least
3 hours or up to overnight, then drained
1½ tablespoons fresh lemon juice
1½ tablespoons apple cider vinegar
1 teaspoon mellow white miso paste
1 teaspoon agave nectar
6 ounces firm silken tofu, drained and blotted dry
½ teaspoon salt
Directions
Combine the drained cashews, lemon juice, vinegar, miso, and agave in a food processor or high-speed blender and process until smooth. Add the tofu and salt and process until completely smooth and well blended. Transfer to a container with a tight-fitting lid, cover, and refrigerate until needed. Properly stored, it will keep well for up to 4 days.