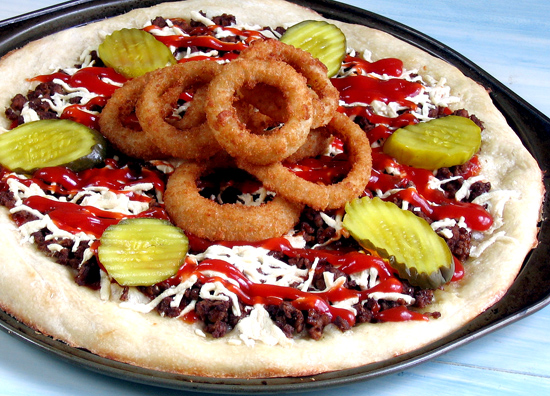 I want to make Jon something special for Father's Day this year. After all he is the cat-father to our two wonderful felines, a step-dad to our outdoor kitty, and and a dedicated foster father to the countless ducks, groundhogs, squirrels, birds, deer, and other wildlife who share our property.
I thought it would be fun to make him an ultimate "guy-food" pizza and so the idea for the Cheeseburger Pizza was born. Originally I had planned to make it from scratch (and I still may on Sunday) but for my first try (pictured above), I wanted to see just how easy it would be to make one using prepared ingredients. That way, the pizza could easily be prepared by kids who want to make something special for their dad on Father's Day (or by a mom who is too busy to cook from scratch!) Just assemble and bake! (and then devour….)
Feel free to substitute homemade versions of each ingredient used in this pizza: for example, you can use a homemade crust; substitute ground seitan, tempeh, or TVP for the burger crumbles, use a homemade cheesy sauce instead of Daiya, and so on. (You could even make homemade ketchup and pickles, if you want!) Next time, I think I'll include some cremini mushroom bacon (recipe here) as one of the toppings, too.
Happy Father's Day to all the dads out there!
Easy Cheeseburger Pizza
This recipe uses ready-made ingredients for ease of preparation, but you can substitute homemade ingredients for any or all of the components. You can also add additional (or different) toppings as desired.
1 prepared pizza dough (I used Trader Joes), at room temperature
Tomato ketchup, as needed
3/4 to 1 cup vegan burger crumbles (I used Yves Meatless Ground Round)
1/2 cup shredded vegan cheese (I used Daiya)
Baked onion rings (optional topping) (Ore-Ida brand is vegan)
Sliced pickle chips (optional topping)
Preheat the oven to 450 degrees F.  Stretch the dough onto a 12-inch pizza pan. Lightly drizzle the top of the dough with a thin line of ketchup, then sprinkle with the burger crumbles. Top the crumbles with a sprinkling of vegan cheese. Place the pizza on the bottom rack of the oven and bake until browned and crisp on the bottom, 12 to 14 minutes. At the same time, if using the onion rings, arrange several rings on a separate baking pan and place on the upper rack of the oven to bake while the pizza is baking. When the pizza is ready to serve, cut the pizza into 8 slices, drizzle with a little more ketchup, arrange a few pickle slices on top, if using, and mound the baked onion rings in the center. Serve immediately.