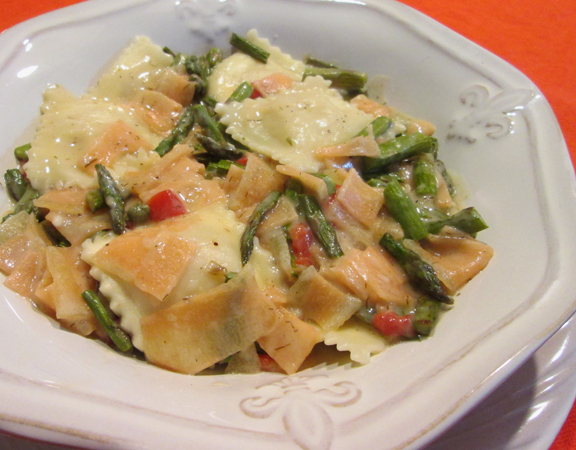 On a recent trip to civilization (what I call any place that has decent (vegan) food shopping and restaurants), I picked up some vegan smoked salmon made by Sophie's Kitchen. I like to try new vegan products and I was curious to discover how they translated the high umami flavor of smoked salmon.
We first put it to the test on bagels with cream cheese, capers, and sliced tomato. The flavor of the vegan salmon was fairly mild and the texture was about what you'd expect from products made with konjac, a Japanese plant. (If you've tried those shirataki noodles you'll know what I mean, as they are also made with konjac.)  All in all, we enjoyed the bagels, especially since we hadn't had real lox and bagels since 1986.
I also wanted to try the vegan salmon in a recipe, so I made Vegan Ravioli and Roasted Asparagus with Smoked Salmon Cream Sauce and wow – it really worked.
The secret to getting the desired flavor was amplifying the smoky/salty flavor of the vegan salmon by adding a tiny bit of liquid smoke and some capers. I think you could actually make the sauce without the salmon and it would still be wonderful – I hope so, since that's how I plan to make it next time, now that I'm all out of the vegan salmon!
Here's the recipe:
Vegan Ravioli and Roasted Asparagus with Smoked Salmon Cream Sauce
Instead of ravioli, feel free to substitute your favorite pasta. For an even more decadent sauce, blend a few tablespoons of vegan cream cheese or sour cream into the sauce, along with a little more nondairy milk.
Makes 2 servings
8 ounces fresh asparagus, cut into 1-inch pieces
8 ounces vegan ravioli or your favorite pasta, freshly cooked
2 tablespoons Earth Balance (vegan butter)
2 tablespoons all-purpose flour
1/4 teaspoon onion powder
1/4 teaspoon salt
1/8 teaspoon ground black pepper
2 cups plain unsweetened almond or soy milk
2 tablespoons chopped fresh dill or 1 teaspoon dried dill weed
1 1/2 teaspoons capers
1/2 teaspoon Liquid Smoke
4 ounces Sophie's Kitchen vegan smoked salmon, chopped
1/4 cup chopped roasted red bell pepper (optional)
Preheat the oven to 425 degrees F. Arrange the asparagus pieces in a single layer on a lightly oiled baking sheet. Season with salt and pepper and roast until tender, about 10 minutes.
Cook the ravioli or pasta according to package directions.
While the pasta and asparagus are cooking, make the sauce: Melt the vegan butter in a 1 1/2-quart saucepan over low heat. Stir in flour, onion powder, salt, and pepper. Cook over medium heat, stirring constantly, until mixture is smooth and bubbly; remove from heat. Gradually stir in the milk and heat to a boil, stirring constantly. Cook, stirring for 1 minute to thicken. Stir in the dill, capers, Liquid Smoke, salmon, and roasted bell pepper, if using. Taste and adjust the seasonings, adding more salt if needed. For a thinner sauce, stir in a little more milk. Keep warm.
When the asparagus is cooked, stir it into the sauce. When the ravioli or pasta are cooked, drain well and return to the pot, then divide between 2 shallow bowls. Spoon the sauce on top and serve hot.