I'm excited to participate in the 2013 Virtual Vegan Potluck with my recipe for Spicy Walnut Green Beans.  At the bottom of this post, you can link to recipes from the more than 100  other Potluck participants!
This recipe is one of my favorite ways to prepare green beans — they're loaded with flavor from the luscious sauce made with walnut butter.  If you don't want the heat of the red pepper flakes, there's no need to pass on this dish – it's very flavorful without them.  Mirin is a sweet Japanese cooking wine made from rice.  To make this soy-free, use coconut aminos instead of tamari. For added crunch, top with a few tablespoons of toasted walnut pieces.

Spicy Walnut Green Beans
Ingredients:
1 1/2 pounds green beans, trimmed
2 tablespoons walnut butter *(see note)
2 tablespoons wheat-free tamari
2 teaspoons toasted sesame oil
1 tablespoon mirin or water
1/2 teaspoon sugar
1 tablespoon neutral vegetable oil
1 large clove garlic, minced
1 teaspoon minced fresh ginger
1/2 teaspoon red pepper flakes, or to taste
Preparation:
Steam the green beans just until tender, about 5 minutes. Rinse under cold water to stop the cooking process. Drain and set aside.
In a small bowl, combine the walnut butter, tamari, sesame oil, mirin, and sugar and set aside.
Heat the oil in a wok or large skillet over medium-high heat. Add the reserved beans in batches and stir-fry for 30 seconds, transferring the cooked beans to a platter.
When all the beans have been removed, add the garlic, ginger, and red pepper flakes to the same pan and stir-fry for 10 seconds.
Return the beans to the pan and stir-fry for 30 seconds.
Add the reserved walnut butter mixture and stir-fry until the beans are hot and coated with the sauce, about 30 seconds.
 Serves 4
*Note: To make homemade walnut butter, simply grind a handful of walnuts to a paste in food processor or high-speed blender.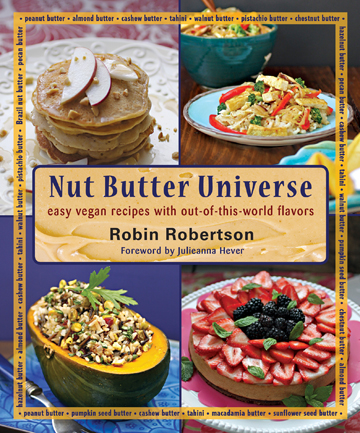 This recipe is from my cookbook, Nut Butter Universe by Robin Robertson. ©2013 Robin Robertson. Used by permission from Vegan Heritage Press. Photo by Lori Maffei.