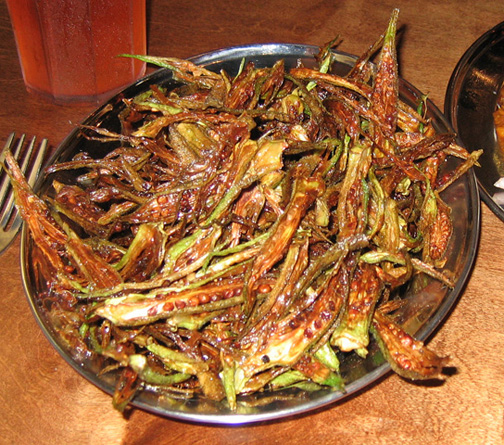 To celebrate our anniversary last week, we decided to take a few days away from our crazy-busy schedules to drive down to Asheville, NC.  If the 25th anniversary is silver, and the 40th is ruby, then surely the 42nd must be okra fries and corgies — at least for us!  The okra fries were a highlight of our "eyes are bigger than our stomachs" lunch at Chai Pani (more on that later), and the two adorable corgies are the wonderful "greeters" at the gorgeous 1898 White Gate In where we stayed. (They kindly provided us with vegan breakfasts.)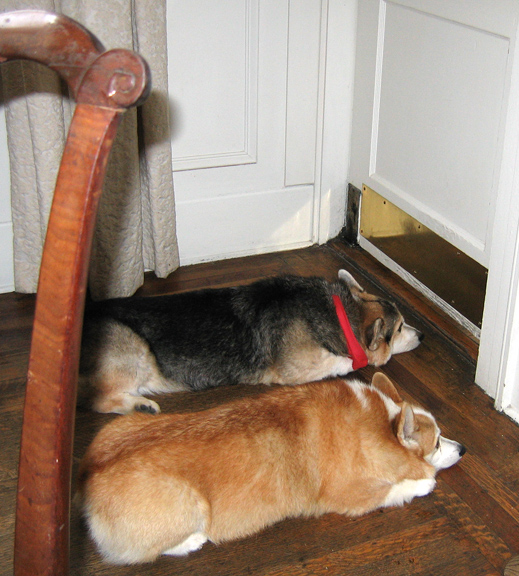 Asheville is a vegan food lover's paradise — a surprising oasis of fun, food, and culture in western North Carolina, with breathtaking mountain views and lots of things to do and see.  We love visiting this gem of a city and it's a lovely and very scenic drive to get there.  Now about the food….
Our first stop was dinner at Plant.  All the great things I've heard about this place are true.  The food at this all-vegan restaurant is top-notch in terms of freshness, flavor, presentation, and creativity.  We began with the Blistered Shishito peppers, served with vegan cream cheese, shiitake bacon, and focaccia. So good….
Our other appetizer was a selection of of vegan cheeses with fruit, rosemary amber, olives, and black garlic oil, and house made bread. Extremely yummy!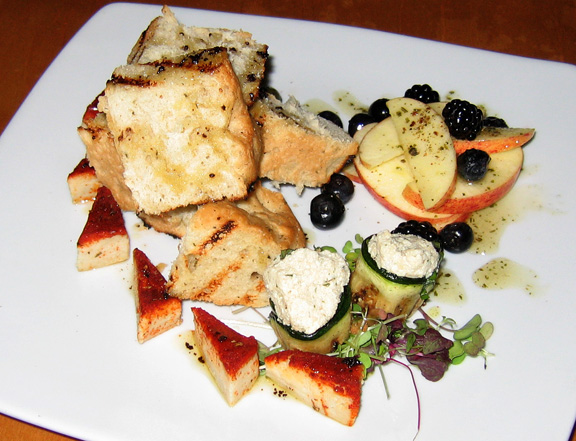 As much as we like ordering different dishes so we can try more things, Jon and I both had the same entree, because neither one of us could resist the Hazelnut Crusted Seitan served with whipped cauliflower, grilled rapini and romesco, pickled onions, and shiitake bacon.  Wow.  Just wow.
Even though we were stuffed, we HAD to order dessert! Who could resist the Cherrybomb Cheesecake with cocoa crust, cherry syrup, and toasted almond-chocolate ice cream?  Not me, obviously!
After dinner, we had a chance to chat with Jason, the chef, who is super-nice.  If you get to Asheville, you must have dinner at Plant!
There are lots of  other vegan and vegetarian restaurants in Asheville that we enjoy going to every time we're there — we even had to skip a few this trip, for lack of time.  We always hit Chai Pani for lunch for the aforementioned okra fries (!) and a selection of the delicious chaat on their menu.  This trip we enjoyed the bheli puri, dahi sev papdi (ask them to hold the yogurt — and bring your own vegan yogurt, if you can), and the samosa and chickpeas — again, hold the yogurt.   We also had to stop by Laughing Seed for their insanely delicious Banh mi sandwich served with a side of their signature jalapeno and onion fries. OMG.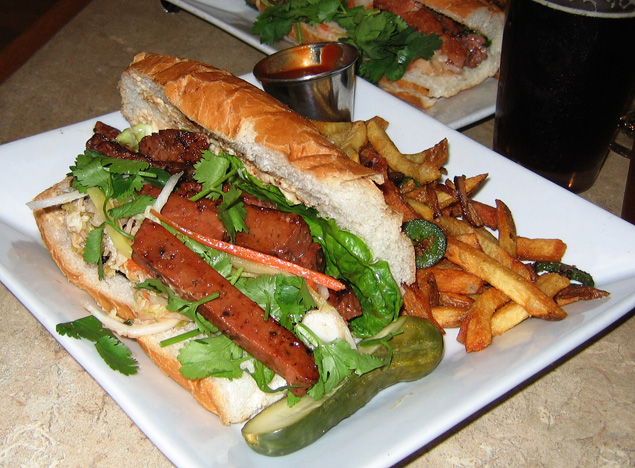 We did manage to stop for tapas at Zambra.  It was the only non-veg restaurant of our entire stay, but they had a nice selection of vegan choices including chickpeas with garlic, lemon, and spinach, sauteed mushrooms with sweet potato wontons, spicy potatoes, and (surprisingly!) this crispy tofu served with harissa and hummus: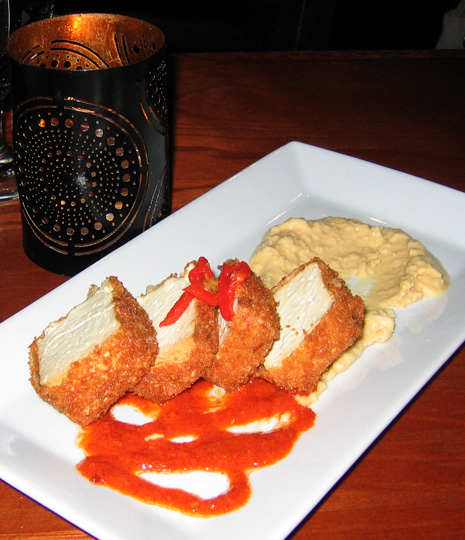 It was definitely an anniversary to remember!  Especially the okra fries and corgies!  Can't wait to see what's in store for #43!