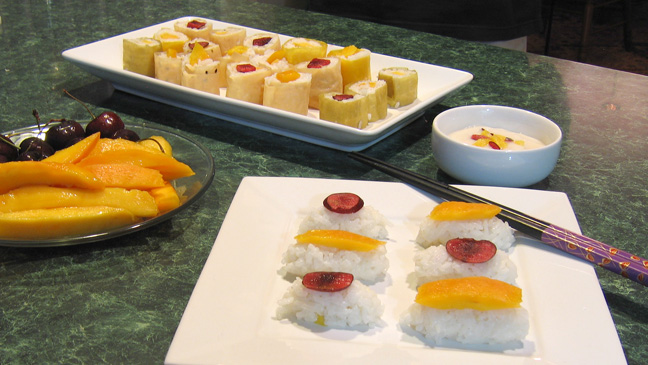 I had originally planned to make dessert spring rolls, filling softened rice paper wrappers with strips of ripe mango, sweetened cellophane noodles, and mint leaves.  But then, while rummaging in my pantry for the rice paper and noodles, I found some colored soy paper sushi wrappers (soy wrappers) that I had leftover from the last time I made sushi.
I also had some extra cooked jasmine rice on hand, so it seemed like the universe was telling me to make sushi instead of spring rolls.  Who was I to argue?  I decided to use only the papers colored with sesame and turmeric (leaving the ones colored with spinach and paprika for savory fillings).
In an effort to duplicate the flavors of the sensational Thai dessert, Mango Sticky Rice, I flavored the rice with coconut milk powder and confectioner's sugar to sweeten it a bit, and cut strips of mango, along with a few cherries, just for an accent color.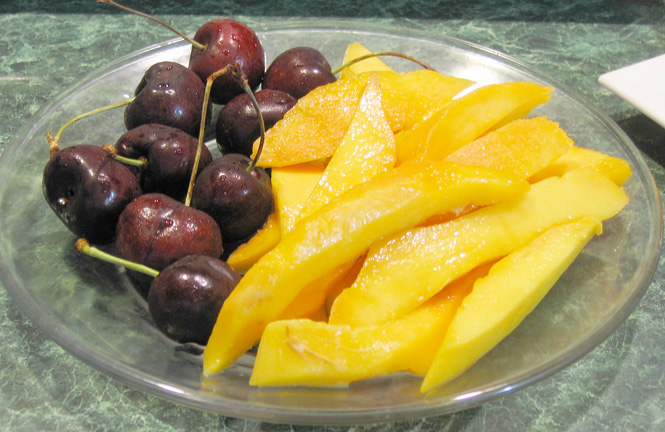 Here's a plate of maki — it's kind of creepy how much the cherries look like pieces of tuna, isn't it?
I also made several nigiri sushi, topped with pieces of mango and cherry:
This makes a really fun dessert, especially after an Asian meal.  I served them with a coconut yogurt sauce. You really do need the soy wrappers though — dessert is no place for nori!
Next time, I'll definitely make dessert spring rolls — if dessert sushi was this good, I can only imagine how great dessert spring rolls will be.  Stay tuned.