Corn and tomatoes are the quintessential summer vegetables.  These days, it's possible to get fair produce of many kinds almost all year round,  but not so when it comes to these two summer favorites.  So we like to feast on them when they're in season.
We usually go to at least two different farm stands for our produce. This weekend we got several different types of tomatoes — not just for the beautiful colors, but also because we wanted to do a taste test to compare the different varieties.  Margaret was given the taste of choosing which tomatoes would go into the salad and I think she did an excellent job.
Here's the tomato salad at serving time, sprinkled with salad and fresh basil and drizzled with just a bit of olive oil.  Pure heaven.  All the tomatoes were quite good.  We expected to like the red one the best, but it turned out the blackish-maroon one had the most flavor!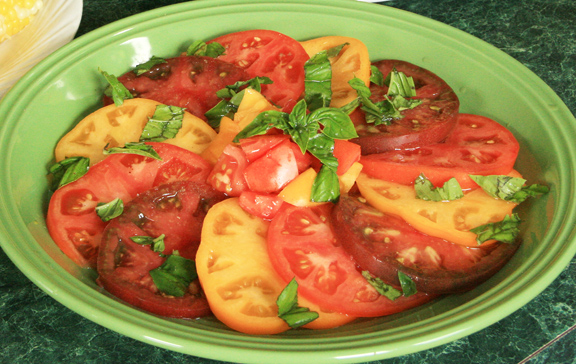 Now about the corn:  we bought two kinds of corn — one from each of the farm stands we frequent:  one group was grown in Virginia and the other group was grown in Pennsylvania.   Being from Pennsylvania originally, I always thought the best corn came from there so it didn't surprise me that the Pennsylvania corn was far superior in both flavor and size.  What did surprise me was how drastically different they were.  The ears of Virginia corn (on the right) were smaller in size and almost tasteless.  The larger ears of Pennsylvania corn were so sweet and delicious they didn't need anything on them.  No salt. No Earth Balance.  Nothing.  In fact, the Pennsylvania corn was so good, we went out the next day and bought some more! Sorry Virginia, Pennsylvania corn has you beat by a mile.  No contest.
So how about you?  Where do you get really, really good corn?