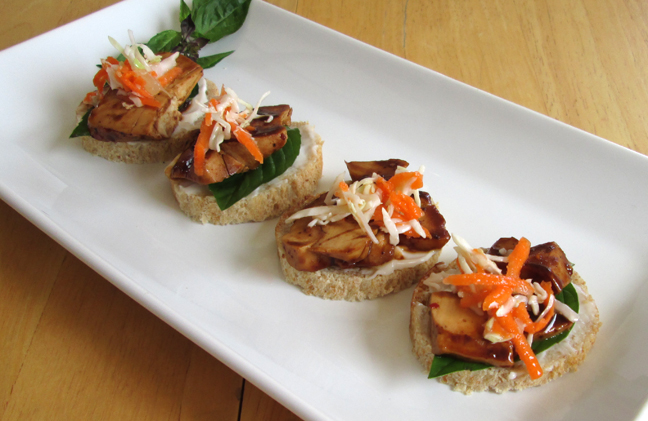 It was just a matter of time before I reinterpreted the elements of the classic Vietnamese banh mi sandwich to make these tasty little crostini. l For those of you who are keeping track, so far I have translated the beloved sandwich into a pizza, a salad, a noodle dish, spring rolls, and now… crostini.
This latest variation uses thin slices of baguette and piles the various fillings on top, for little mini open-faced sandwiches.  They're great alone or do as I did, and serve them as an accompaniment to a bowl of pho noodle soup.
Banh Mi Crostini
8 ounces extra-firm tofu, cut into thin slices
2 tablespoons hoisin sauce
1/4 cup vegan mayonnaise (I use Just Mayo)
1 teaspoon sriracha sauce, or more to taste
1 cup shredded cabbage and carrot (you can use some shredded slaw mix to save time)
2 teaspoons chopped pickled jalapeños
1 tablespoon rice vinegar
1/4 teaspoon salt
1/4 teaspoon sugar
1/2 cup fresh cilantro leaves (or Thai basil leaves)
1 baguette, cut into 1/4-inch thick slices, lightly toasted
Coat a nonstick skillet with cooking spray.  Add the tofu and hoisin and cook over medium-high heat, turning the tofu to coat with the hoisin.  Remove from the heat and set aside. 
In a small bowl, combine the mayonnaise and sriracha. (You can omit the sriracha if you don't like the heat.)
In a small bowl, combine the shredded cabbage and carrot with the jalapenos, vinegar, salt, and sugar.  Toss to combine, then taste and adjust the seasoning, if needed.
Spread the mayonnaise mixture onto one side of the baguette slices.  Top with the cilantro or Thai basil, followed by some tofu, and then some of the slaw. Arrange on a plate and serve.
Serves 4
So what do you do if you have extra ingredients?  I guess you could do what I did:  make a banh mi sandwich!