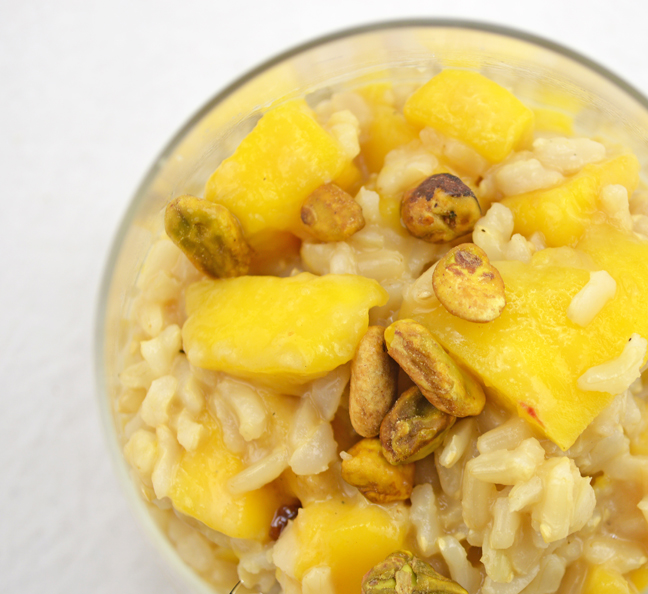 This recipe came about when I was in the mood for the mango sticky rice you get at Thai restaurants, but not in the mood to make it from scratch.  I happened to have a couple of ripe mangoes and some cooked basmati rice on hand (although jasmine rice would be more authentic).  I got the idea to make a quick skillet "stir-fry" of the rice and mangoes, with coconut milk and sugar, topped with a sprinkling of pistachios for a bit of crunch. (photo by: Zsu Dever)
You'll find this recipe (along with 149 other new "quick and easy" recipes) in my new book More Quick-Fix Vegan. 
FUN FACT:  More Quick-Fix Vegan (with the asparagus on the cover) is a completely different book from my earlier book Quick-Fix Vegan (with the eggplant on the cover) — so if you like Quick-Fix Vegan, you'll LOVE More Quick-Fix Vegan.
Another fun fact: Quick-Fix Vegetarian (with the tomato on the cover) is another  completely different book as well!  That makes THREE separate books filled with recipes that require 30 minutes or less of your time to make!
Now, here's the recipe for Mango Fried Rice Pudding.  If you make it, come back and let me know what you think!
Mango Fried Rice Pudding 
Serves 4
This twist on rice pudding  (and fried rice) is made with leftover cooked rice that gets stir-fried with chopped mangoes and a little sugar.  You them stir in as much coconut milk as you like to make it firm or creamy to your own taste. This recipe is from More Quick-Fix Vegan by Robin Robertson (c) 2014, Andrews McMeel Publishing.
1 tablespoon vegan butter
3 to 4 tablespoons light brown sugar or palm sugar
2 fresh ripe mangoes, peeled, pitted, and chopped
2 cups cold cooked basmati or jasmine rice
1/2 cup unsweetened coconut milk
2 tablespoons chopped pistachios, optional
Melt the butter in a medium skillet over medium heat.  Add the sugar and stir until melted.  Add the mangoes and the rice.  Stir-fry until heated through. Stir in the coconut milk. Spoon into dessert glasses to serve. Sprinkle with pistachios, if using.