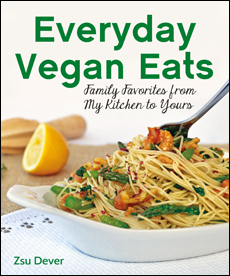 5/23/14 update:  THIS GIVEAWAY IS NOW CLOSED.  Thank you to all who entered!
I'm super-excited to be part of the blog tour for Everyday Vegan Eats by Zsu Dever, not only because Zsu is a longtime recipe tester of mine and I'm thrilled to see this talented lady's recipes in print, but also because my husband's company, Vegan Heritage Press published her new cookbook.  And what a great cookbook it is! 
Everyday Vegan Eats is filled with Zsu's very own family favorite recipes – the ones she's been making for her family for more than a dozen years that keeps them happy and healthy vegans.  The book is ideal for both beginners and longtime vegans. Some of my favorite recipes (so far) are:  Broccoli Cheese Soup, Bánh Mì Burgers (a girl after my own heart!), German Potato Salad, Maple-Chipotle Crispers, Blueberry Scones, and the Soft Pretzels.   There's loads of other delicious comfort food recipes in the book, some of which you saw this week, if you've been following the blog tour.  If you haven't had time to do so yet, here are the links to the other posts so you can catch up:   
Monday, May 12th – Canned Time
Tuesday, May 13th – VeggieGirl
Wednesday, May 14th – Cadry's Kitchen
Thursday, May 15th – Vegan Appetite
Like the other blog tour participants, I'm also hosting a giveaway for this book (details below).  Be sure to increase your chances to win by entering all five giveaways!
The recipe from Everyday Vegan Eats that I'm sharing with you features quinoa and fresh herbs.  I love this recipe because I'm always looking for an easy and delicious way to serve this super-grain and I'm also keen on any recipes that uses more than one herb to pack a real flavor punch.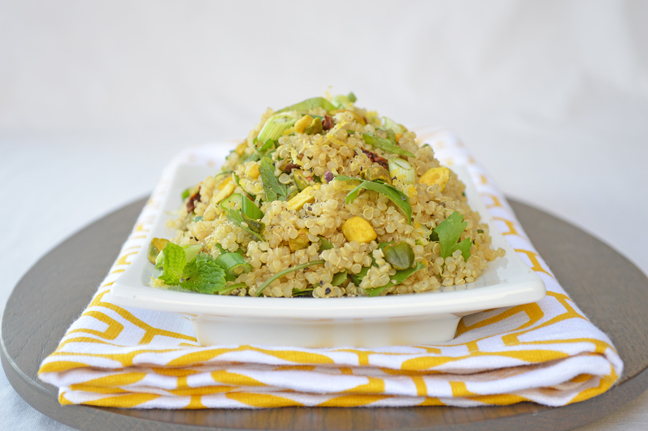 Another thing I like about this recipe is its versatility – you can add cooked (or canned) chickpeas or cannellini beans for extra protein, or even some sautéed tofu or seitan, and add in some extra veggies, if you feel like it for a fabulous one-dish meal.  It's equally good served cold or room temperature as a salad (with a drizzle of olive oil and a little lemon juice).  Try it yourself and see what I mean.  And don't miss Zsu's quinoa cooking tip in the headnote!
Mediterranean Quinoa with Fresh Herbs
SERVES 4
QUICK & EASY
GLUTEN FREE
SOY-FREE
Most recipes call for cooking quinoa in a 1:2 ratio—1 cup quinoa to 2 cups liquid. This leads to soggy and over-cooked quinoa. This recipe produces fluffy, tender quinoa. If your package of quinoa doesn't specify that it is rinsed, make sure to rinse it well in a fine mesh strainer. This recipe is from Everyday Vegan Eats by Zsu Dever © 2014, Vegan Heritage Press.
1 cup quinoa, well rinsed
1 1/2 cups vegetable broth
1/4 teaspoon sea salt
2 garlic cloves, minced, divided
1/4 cup minced scallions or 2 tablespoons minced fresh chives
2 tablespoons finely chopped parsley
2 tablespoons finely chopped basil
2 tablespoons finely chopped mint
2 tablespoons finely chopped soft sun-dried tomatoes
1 tablespoon olive oil (optional)
1/2 teaspoon lemon zest
1 tablespoon fresh lemon juice
2 tablespoons minced pistachios or other nut
salt and fresh ground black pepper
Combine the rinsed quinoa, broth, 1/4 teaspoon sea salt and 1 clove minced garlic in a medium saucepan. Bring the broth to a boil, reduce to a simmer, cover, and cook for 15 minutes.
After 15 minutes, remove the saucepan from the heat and set the pan aside, still covered, for another 10 minutes to steam. Fluff the quinoa with a fork. Add the scallions or chives, parsley, basil, mint, tomatoes, oil, zest, lemon juice, and nuts to the quinoa fluffing the mixture with a fork. Add additional lemon juice, salt, and black pepper to taste.
Two for One Cookbook Giveaway: Since there are already  lots of giveaways going on for this book this week, I decided to "sweeten the pot" and host a double giveaway!  One lucky winner will receive TWO books: a copy of Everyday Vegan Eats by Zsu Dever PLUS a copy of my new book, More Quick-Fix Vegan.  That's a lot of great recipes in one prize.
To enter, leave a comment at the end of this post listing your favorite "everyday" meal.  That's it!  A winner will be chosen on Thursday May 22 at midnight and announced on my blog on Friday morning, May 23.  Good luck!