Thanks to everyone who entered my two-book giveaway to win a copy of my new book, MORE Quick-Fix Vegan (a new book in the "quick-fix" series) as well as a copy of Everyday Vegan Eats a terrific new book by Zsu Dever.  It was fun to see  what all of your favorite "everyday" meals are!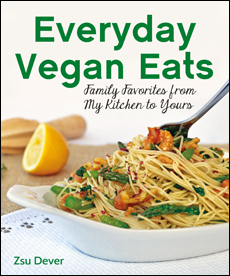 The winner of this giveaway, chosen at random, is Rika at Vegan Miam whose favorite go-to meals are "creamy kale salad….fried rice…[and] noodle soups!" Congratulations!!! Rika, please e-mail me with your mailing address and I'll get these books out to you.
I'll leave with with a super-easy recipe from More Quick-Fix Vegan that would make a great dessert over this holiday weekend.  It's the Peanut Butter and Banana Ice Cream. With only three ingredients, no dairy, no added sugar, and no ice cream maker, this ice cream treat seems almost too good to be true — but it is. 
Peanut Butter and Banana Ice Cream
This recipe is from More Quick-Fix Vegan by Robin Robertson (c) 2014, Andrews McMeel Publishing.
3 to 4 very ripe bananas, peeled, cut into small chunks, and frozen
1/2 cup peanut butter
2 tablespoons almond milk
Remove the frozen banana chunks from the freezer about 5 minutes before using and place them in a food processor.  Pulse to break up the bananas, then add the peanut butter and almond milk and process until well mixed, scraping down the sides of the food processor, as needed. 
Scrape the mixture into a container. If you like soft-serve ice cream, it could be eaten immediately.  If you prefer it a bit firmer, cover tightly and place in the freezer for 30 minutes to an hour, depending on how soft you like it.  For a firmer ice cream, keep in the freezer for 3 to 4 hours or longer. If it freezes longer than 4 hours, it will be quite hard, in which case it should be removed from the freezer for about 10 minutes before serving so it can temper and become slightly softened.
I hope you all have a safe and relaxing Memorial Day weekend.