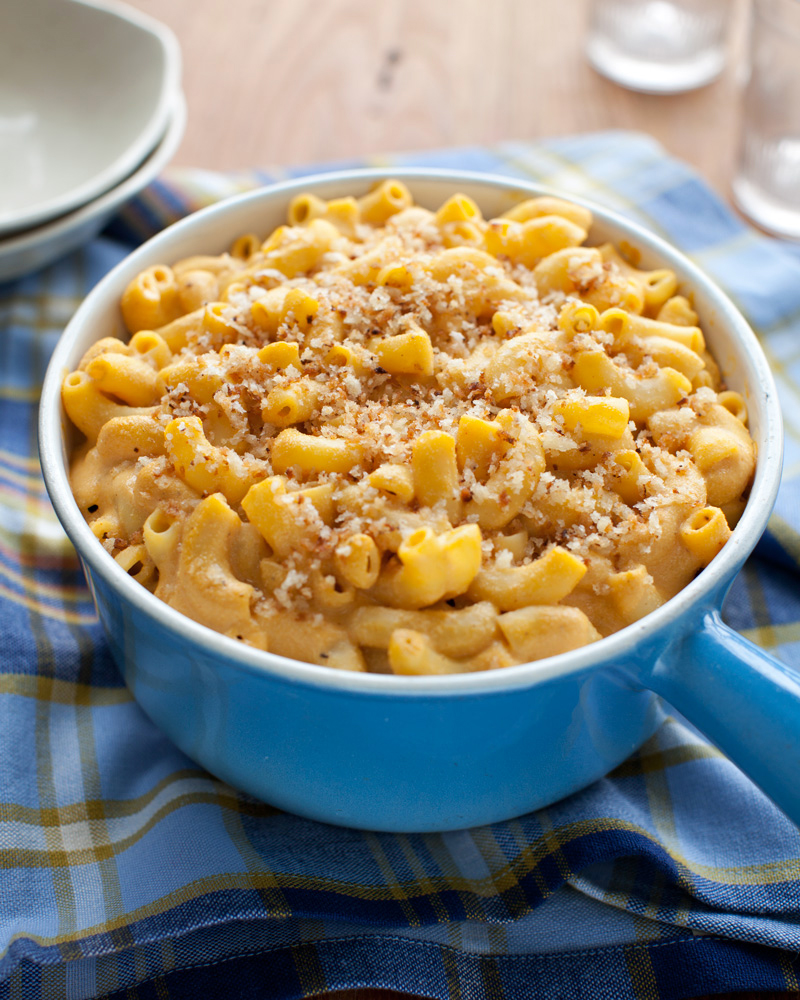 Cozy comfort food has been on my menus lately, and mac and cheese tops the list this weekend.  I plan to make one of our favorite versions, the Butternut Mac and Cheese from Vegan Without Borders. Butternut squash is the secret ingredient in the creamy rich sauce made with cashews and an arsenal of spices. I will most likely add in some cooked green vegetables, such as roasted asparagus or steamed broccoli to make it a one-dish meal.
This recipe calls for steamed butternut squash but, in fact, I usually put aside some roasted butternut squash when I make it with this recipe in mind.  A cup of canned pumpkin puree also fills in nicely for the squash, if you're pressed for time.
Butternut Mac and Cheese
Few dishes are more classically American than mac and cheese and this version is one of my favorites.  To make this gluten free, use
gluten-free pasta and bread crumbs. This recipe is also soy-free and oil-free. This recipe is from Vegan Without Borders by Robin Robertson (c) 2014, Andrews McMeel Publishing.
1 cup diced butternut squash
8 ounces elbow macaroni or other bite-size pasta
½ cup raw cashews, soaked overnight and drained
2½ cups plain unsweetened almond milk
2 tablespoons freshly squeezed lemon juice
1 teaspoon Dijon mustard
½ cup nutritional yeast
2 tablespoons cornstarch
1 teaspoon salt
1 teaspoon onion powder
½ teaspoon garlic powder
½ teaspoon smoked paprika
¼ teaspoon freshly ground black pepper
¼ cup panko bread crumbs
Steam the butternut squash in a steamer pot with a perforated basket over boiling water until tender, about 8 minutes. Set aside. Cook the macaroni in a pot of boiling salted water until it is al dente. Drain and return to the pot. Preheat the oven to 375°F. Lightly oil a 9-inch baking dish.
In a high-speed blender, combine the drained cashews and ½ cup of the almond milk and process until smooth. Add the cooked squash, lemon juice, mustard, nutritional yeast, cornstarch, salt, onion powder, garlic powder, paprika, and pepper, along with the remaining almond milk and blend until completely smooth and creamy.
Add the sauce mixture to the drained macaroni and stir to combine. Taste and adjust the seasonings, if needed. Transfer the mixture to the prepared baking dish and sprinkle with the panko. Bake for 20 to 30 minutes, or until bubbly.
Serves 4
Although I won't be watching the Super Bowl, that's no reason not to snack!  This Sunday we'll be munching on GH Cretors popcorn while we watch Downton Abbey. I was lucky enough to get some samples of this popcorn and it's really delicious.  I think it tastes as good as fresh-popped!  Best of all, this healthy indulgence is made with non-gmo organic corn and is seasoned with olive oil and/or sea salt.  If you see this popcorn, you might want to give it a try.