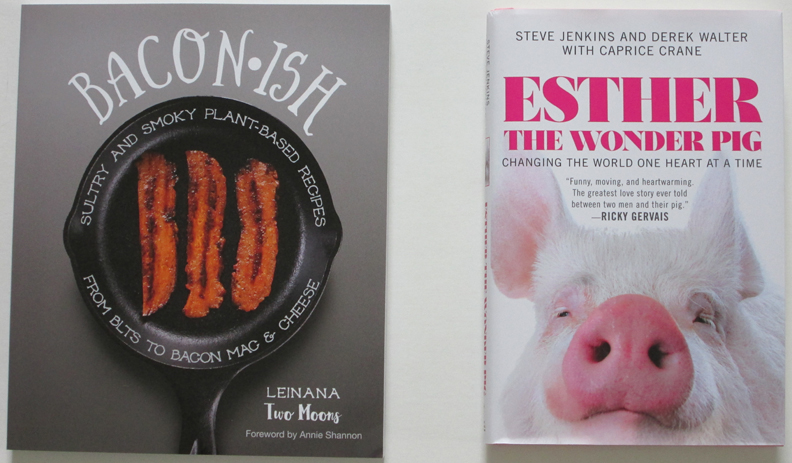 I haven't done a giveaway in a while and this one is very special.  It's a two book giveaway (to one lucky person) to win a copy of Esther the Wonder Pig: Changing the World One Heart at a Time, the long-awaited story of the eponymous Internet sensation and animal ambassador, as told by Esther's dads, the men who love and care for her, Steve Jenkins and Derek Walter.
PLUS… you'll also win a copy of Baconish: Sultry and Smoky Plant-Based Recipes from BLTs to Bacon Mac & Cheese by Leinana Two Moons, an amazing new cookbook featuring recipes for plant-based bacon made from mushrooms, carrots, eggplant, chickpeas, tofu, tempeh, seitan, and coconut, along with loads of delicious recipes that use them such as Pasta Carbonara, Cauliflower Bacon Gratin, and Maple-Bacon Doughnuts.  Best of all, Baconish is "Esther-approved!"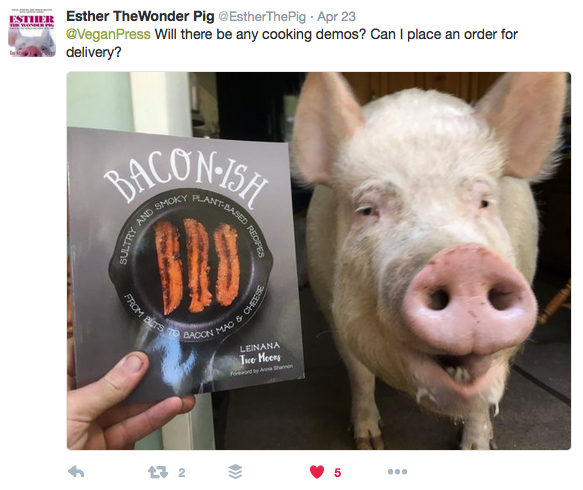 If, like so many of us, you've been captivated by Esther and her winning smile, you'll love reading the touching, funny, and inspiring story of Esther and her dads.  I love Esther and the way she has captured the hearts of so many fans.  She does a great job in showing people how funny, smart, and deserving of respect pigs (and all animals) are.  My hope is that thanks to Esther, more people will stop eating animals as they make the connection between the wonderful sentient beings and the food on their plate.
And as many of us already know, you can enjoy the salty, smoky crispy taste of bacon without the cruelty inherent in animal products and the recipes in Baconish show how to do it deliciously.
Would you like to own a copy of Esther the Wonder Pig AND Baconish?  Just leave a comment at the end of this post telling me your favorite way to enjoy plant-based bacon (mine is in a BLT with avocado!) and you'll be entered in the giveaway.  BOTH books go to ONE lucky winner.  The giveaway ends on Wednesday, June 8th at midnight.  The winner will be announced on Thursday, June 9th.
While you wait to see if you've won, why not make a batch of tasty roasted chickpea bacon from Baconish? It makes a great snack or salad topper!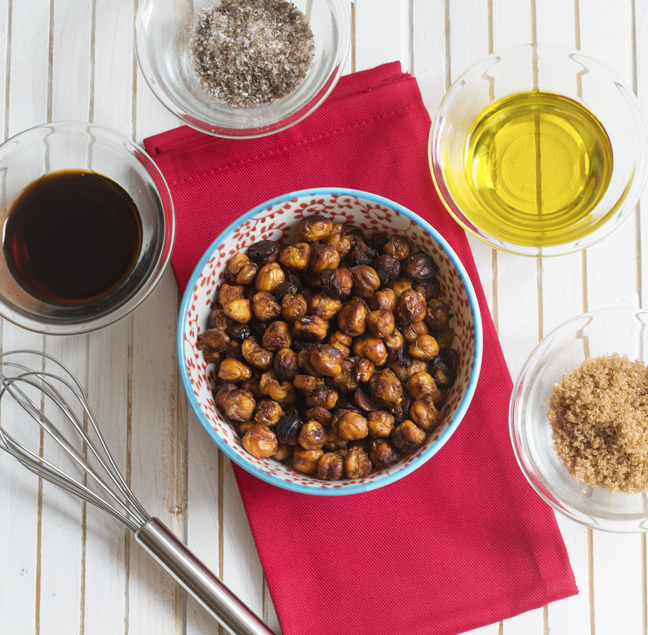 Roasted Chickpea Bacon
Makes 1 1/4 cups
Move over, hummus! There's a much more glamorous chickpea dish in town. Here, the humble chickpea shows the world how it can transform into a smoky, salty, crunchy, utterly addictive delight, with just a hint of sweetness from brown sugar. These are perfect for topping salads, soups, adding to sandwich wraps, or just munching straight from the bowl. In fact, you might find yourself making double batches just to keep plenty of these snacks on hand.
1 (15-ounce) can chickpeas, drained and rinsed
1 tablespoon plus 1 teaspoon olive oil, divided
2 tablespoons tamari
1 teaspoon liquid smoke
1 teaspoon brown sugar
1/4 teaspoon smoked salt
Preheat the oven to 425ºF. Line a small baking sheet with parchment paper. Using paper towels or a clean dishcloth, pat the chickpeas as dry as possible. The drier they are, the crunchier they will get. If there are any loose skins, pick those out and discard them. In a medium bowl, whisk together 1 tablespoon of the oil, tamari, and liquid smoke. Add the chickpeas and toss until they are evenly coated.
Transfer the chickpeas to the baking sheet and arrange them in a single layer. Bake for 20 minutes, take them out to stir, and then bake another 10 minutes or until the chickpeas are dark brown and crunchy.
In another medium bowl, combine the remaining 1 teaspoon oil, brown sugar, and smoked salt. Add the warm chickpeas and toss until evenly coated. Serve warm or at room temperature. These will last a couple of days in an airtight container stored at room temperature but will lose their crunch, so it's best to eat these immediately.
Recipe from Baconish by Leinana Two Moons © 2016 published by Vegan Heritage Press. Used with permission.