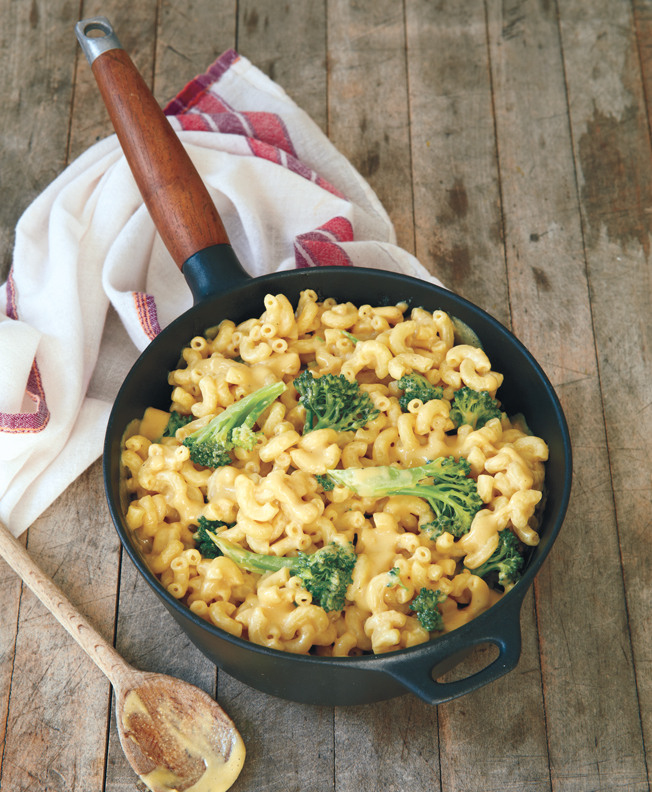 Today's recipe is for my quickest and easiest mac and cheese — it's the one I make when I don't want to dirty the blender or turn on the oven or use a ton of ingredients.  Even though the recipe calls for two pots, I confess that I usually make it in just one pot (allowing the macaroni and broccoli to sit in the colander after draining while I make the sauce in the same pot and then add them back in).  I'll share the recipe in a minute, but first, let's get to the business at hand: announcing the two winners of the spectacular two-book giveaway!
One copy of Esther the Wonder Pig + one copy of Baconish with go to: Stephanie, who loves plant-based bacon on a BLT with avocado!
AND …. to double the pleasure of this great two-book giveaway, a second set of these two books will go to: Jennifer — who loves her plant-based bacon on Loaded Potato Soup!
Congrats to Stephanie and Jennifer — please contact me ASAP with your mailing addresses and I'll see that the books get out to you both pronto. Thank you to all who entered the giveaway — I hope you get ahold of both of these books — I highly recommend them!
Now, how about some Stovetop Brocolli Mac and Cheesy???
STOVETOP BROCCOLI MAC AND CHEESY
Serves 4
This quick and easy cheesy mac is made on top of the stove, so there's no need to heat up the oven. However, if you don't plan to serve it right away, you can always put it in a casserole dish and keep it warm in a low oven. This recipe is from 100 Best Vegan Recipes by Robin Robertson © 2016. Photo (c) Lucy Schaeffer.
12 ounces elbow macaroni or other bite-sized pasta
4 cups small broccoli florets
3/4 cup nutritional yeast
1/3 cup all-purpose flour
2 cups plain unsweetened almond milk
1 tablespoon soy sauce
1 tablespoon fresh lemon juice
Salt and freshly ground black pepper
Cook the macaroni in a pot of boiling salted water, stirring occasionally, until it is al dente. During the last 2 or 3 minutes of the cooking time, add the broccoli to the pasta and cook until it is almost tender.
In a saucepan over medium heat, combine the nutritional yeast and flour, and cook, stirring, for 1 minute. Slowly add the almond milk, stirring until smooth. Add the soy sauce, lemon juice, and salt and pepper to taste. Continue stirring until smooth and thickened.
When the pasta and broccoli are cooked, drain and return to the pot. Add the reserved sauce and stir until well mixed. Serve hot.