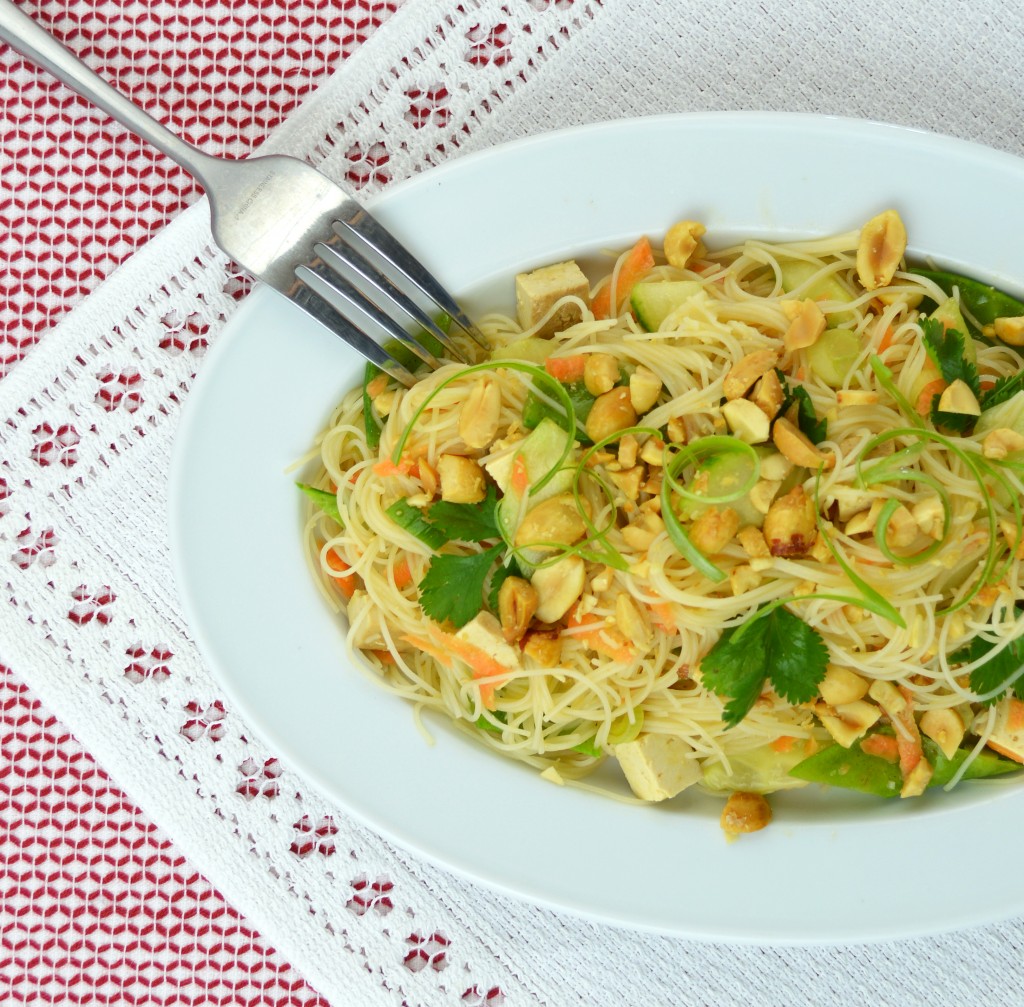 I just realized it's been over a month since my last post — I guess I must be really busy or having a lot of fun.  Actually, it's been a little of both.  During these hot summer days I've been favoring chilled make-ahead meals that I can get ready in the morning.  It's great to have a satisfying meal ready to eat at the end of the day.
One of my favorites is this recipe for Chilled Glass Noodles with Snow Peas and Baked Tofu.  The recipe is from my latest book, 100 Best Vegan Recipes. (Thanks to Zsu Dever for the photo.)
This light but satisfying salad should be prepared at least 30 minutes ahead of time for the best flavor. Made from mung bean flour, glass noodles are also called cellophane noodles, bean thread noodles, and harusame. You can make your own marinated baked tofu or buy it ready-made at well-stocked supermarkets and natural foods stores. Look for one marinated with Thai or Asian flavors for best results. If you're not a fan of tofu, leave it out and add cooked shelled edamame instead. (You can also sub other veggies for the sno peas — it's great with lightly steamed broccoli!)
Here's the recipe.  I hope you enjoy it!
CHILLED GLASS NOODLES WITH SNOW PEAS AND BAKED TOFU
This recipe is from 100 Best Vegan Recipes by Robin Robertson (c) 2016.
4 ounces glass noodles
1 (8-ounce) package marinated baked tofu, cut into 1/2-inch dice (or 1 1/2 cups cooked shelled edamame)
1 1/2 cups snow peas, trimmed and diagonally cut into 1-inch pieces (lightly blanched, if desired)
1 English cucumber, peeled, seeded, and thinly sliced
1 carrot, grated
1/4 cup minced scallions
2 tablespoons chopped fresh cilantro
1/2 cup unsalted roasted peanuts, crushed or chopped
3 tablespoons dark (toasted) sesame oil
2 tablespoons fresh lime juice
2 tablespoons rice wine vinegar
1 tablespoon soy sauce
1 garlic clove, minced
1 teaspoon sugar
Bring a saucepan of water to a boil. Add the noodles and remove from the heat. Let the noodles soak in the hot water until soft, 8 to 10 minutes. Drain well and rinse under cold water. Cut the noodles into thirds and place them in a large bowl. Add the tofu, snow peas, cucumber, carrot, scallions, cilantro, and peanuts. Set aside.
In a small bowl, combine the sesame oil, lime juice, vinegar, soy sauce, garlic, and sugar, stirring to blend well. Add the dressing to the salad and toss gently to combine. Refrigerate for at least 30 minutes to chill before serving.