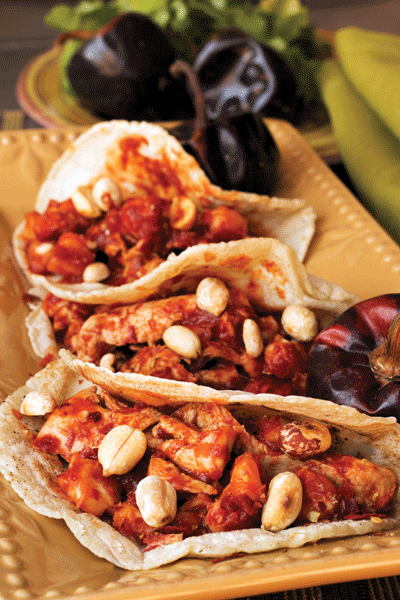 It gives me great pleasure to be the first stop on the Vegan Tacos Blog Tour.  Jason Wyrick's amazing ode to all things taco is due to hit the shelves tomorrow — it's already flying off the virtual shelves on Amazon: a quick check this morning shows it ranking in the top 10 of vegan cookbooks and #1 of Mexican cookbooks.
Because Jon's publishing company, Vegan Heritage Press, published Vegan Tacos, it means I've had that much more time to drool over Jason's fantastic recipes.  I admire Jason's vast knowledge on the subject of Mexican food and his ability to share what he knows in a warm and friendly way so that it feels like he's right in the kitchen with you as you cook.
Living in the South for over half my life, it's no wonder the recipe for Hominy and Seitan Tacos in Roasted Garlic Cascalbel Sauce caught my eye immediately. Around here, hominy can be found on the shelf of every supermarket. If you don't have access to hominy, I recommend using fresh or thawed frozen corn kernels.  If you're not a fan of seitan, Jason has provided several alternatives in the recipe headnote below.
If you love Mexican food and want to learn how to make all kinds of authentic tacos (including dessert tacos!) as well as salsas and other toppings, do yourself a favor and get a copy of Vegan Tacos.  You'll be glad you did!
Hominy and Seitan Tacos in Roasted Garlic Cascabel Sauce
(Tacos de Pozole y Seitan en Salsa de Chile Cascabel y Ajo Asado)
I love using cascabel chiles in this taco for their pure red chile flavor. They are a nice looking chile, so I always put a few on the plate for presentation. The contrasting flavor of the hominy (aka pozole), with the chewier seitan, all work together to make a very rustic-flavored taco. This is one of my favorite taco creations. Make them low-fat by simmering the seitan and hominy in the sauce instead of sautéing in oil. If you don't want to use seitan, substitute potatoes, zucchini, chayote, mushrooms, or any vegetable that will provide a substantial texture. Just sauté the vegetables at a medium heat long enough to brown them before adding the sauce. You can even use pinto beans (but don't sauté them).
Makes 8 Tacos
Heat Level: 3
Ingredients:
The Filling (choose either seitan strips or portobellos)
* 10 cascabel chiles or 4 guajillo chiles
* 1/2 cup rehydrating liquid (after rehydrating the chiles)
* 10 cloves garlic, pan-roasted
* 1/2 teaspoon dried oregano
* 3/4 teaspoon salt
* 1 tablespoon olive oil
* 2 cups seitan strips or 2 portobello mushrooms, cut into 1/2-inch thick strips
* 1 cup cooked, rinsed hominy
The Tortillas
* 8 thick (5 to 6-inch) corn tortillas
The Toppings
* Rough salted chile powder
* A sprinkle of chopped roasted and salted peanuts per taco
Preparation:
1. Bring a small pot of water to a simmer, add the cascabels, and simmer until soft, about 10 minutes. Reserve 1/2 cup of the simmering liquid and remove the stems from the chiles. In a blender or food processor, puree the chiles, roasted garlic, reserved simmering liquid, oregano, and salt. Set aside.
2. Heat the oil in a sauté pan over medium heat. Add the seitan and sauté until lightly browned, about 5 minutes. Add the reserved sauce and hominy and simmer until the sauce thickens, about 5 minutes.
3. Warm the tortillas. Fill them with the seitan hominy mixture and finish them off with a rough salted chile powder to taste and a sprinkle of chopped roasted salted peanuts.
From Vegan Tacos by Jason Wyrick. © 2014 Jason Wyrick. Used by permission from Vegan Heritage Press.