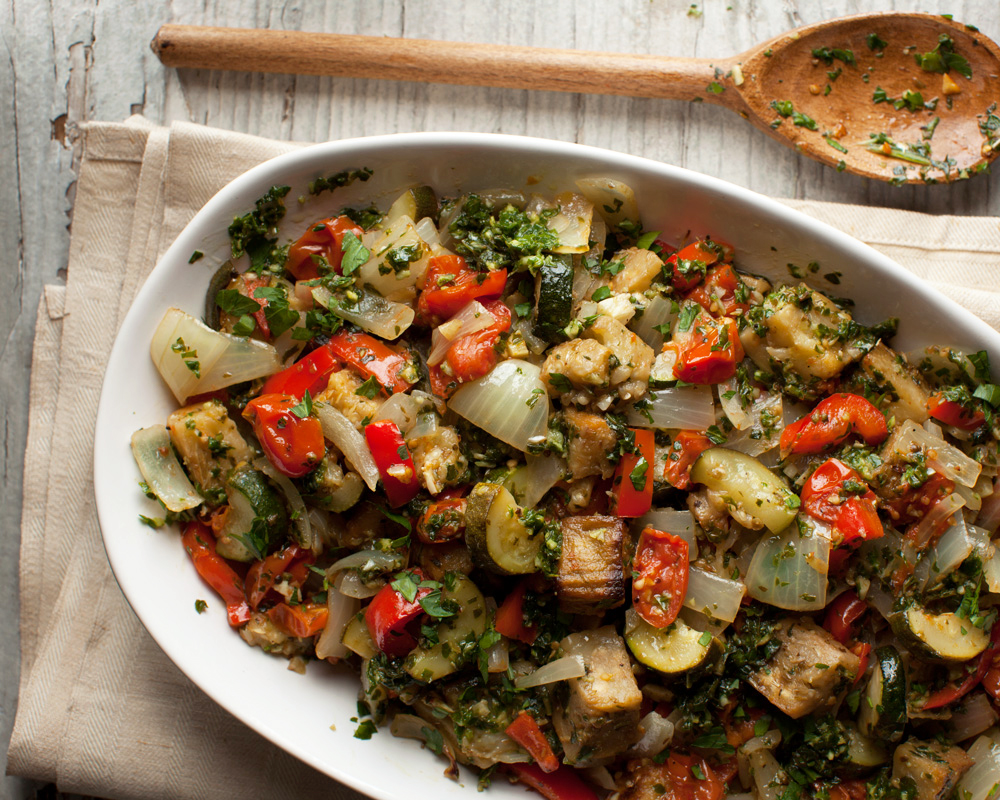 Today is the day that my new book, Vegan Without Borders, officially hits the shelves and I couldn't be more thrilled.  I don't like to play favorites, but this book is forcing me to do so.  For one thing, it's a gorgeous hardcover filled with gorgeous photos by the super-talented Sara Remington. For another, it's  beautifully designed and filled with some of my favorite recipes in the world — with an emphasis on world, since the book is like a culinary tour of the most flavorful cuisines on earth.  Each section gives you several recipes from each region — kind of like having several "mini cookbooks" from around the world, all in one book.  As an example, the French section of the book contains the following recipes:
Brandy-Laced Onion Soup
Pâté au Champignon
Pissadalière
Portobellos with Béarnaise Sauce
Potato Gratin Dauphinoise
Green Beans Provençal
Vegetable Pan Bagnat
Roasted Ratatouille with Basil Pistou
Mousse au Chocolat
Because we're still enjoying the last of the summer produce, I thought I'd share the recipe for Roasted Ratatouille with Basil Pistou. Roasting the vegetables in this classic French mélange deliciously intensifies the flavor of the dish which is further enhanced by the addition of basil pistou. It's delicious on its own or served with a warm crusty baguette. I hope you enjoy this recipe (and the rest of the book!) as much as I do.
Roasted Ratatouille with Basil Pistou
from Vegan Without Borders by Robin Robertson (c) 2014, Andrews McMeel Publishing.
1 large yellow onion, chopped
1 eggplant, peeled and cut into 1/2-inch dice
2 zucchini, halved lengthwise and cut into 1/4-inch slices
1 red bell pepper, seeded and chopped
2 cups cherry or grape tomatoes, halved lengthwise
3 cloves garlic cloves, chopped
1 teaspoon dried thyme
1 teaspoon dried marjoram
1/2 teaspoon dried oregano
Salt and freshly ground black pepper
2 tablespoons olive oil
3 tablespoons Basil Pistou (recipe follows)
2 tablespoons chopped fresh flat-leaf parsley
Preheat the oven to 425 degrees F. Lightly oil a large baking dish or roasting pan.
In a large bowl combine the onion, eggplant, zucchini, bell pepper, tomatoes, and garlic. Sprinkle on the thyme, marjoram, and oregano and season generously with salt and pepper to taste. Drizzle on the oil and toss to combine. Spread the vegetable mixture into a large baking pan. Roast until the vegetables are tender, about 45 minutes, turning once or twice to cook evenly. To serve, transfer to a serving bowl, add the pistou and parsley and toss to combine. Serve hot.
Serves 4 to 6
Basil Pistou
Pistou is the French version of basil pesto. Made without cheese or pine nuts, pistou can be used in the same ways as pesto: as a pasta sauce, in salad dressings or soups, or to flavor vegetable dishes, as it does in the Roasted Ratatouille. Best of all, it freezes well, so portion it into 1- or 2-tablespoon amounts and freeze for later use.
2 cups packed fresh basil leaves
4 cloves garlic cloves, chopped
1/4 cup olive oil
1/2 teaspoon salt
A few grinds of freshly ground black pepper
In a food processor, combine the basil leaves, garlic, olive oil, salt, and pepper. Process until thoroughly blended, scraping down the sides as needed. Transfer to a container with a tight-fitting lid. Use immediately or cover and refrigerate until needed.
Makes about 2/3 cup