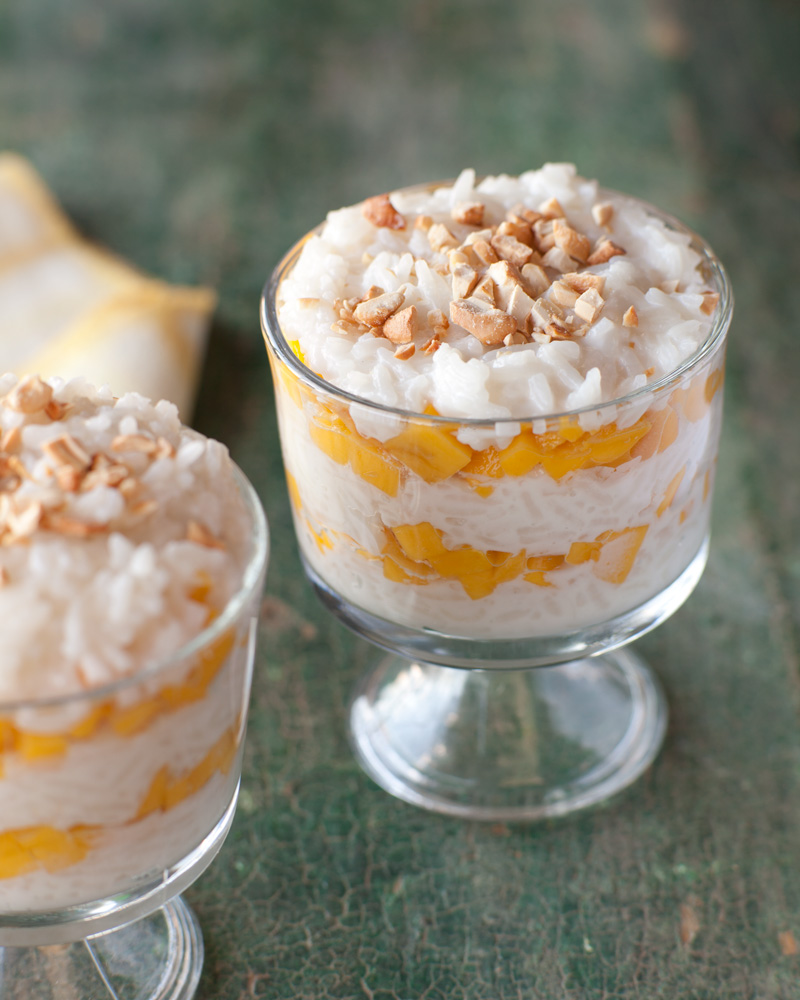 I love the mango and coconut rice dessert served at Thai restaurants, as I was reminded when I saw an order of it being served at the next table during a recent Thai meal out with friends.  I rarely prepare it at home, either, since I only make dessert when company's coming and I haven't served a Thai-themed dinner in awhile.
That may change soon as I really want to make a Thai dinner for friends using  some of the recipes from Vegan Without Borders.  Among the recipes I'll choose from are: Tom Yum Soup and possibly Miang Kam or Eggplant Satays for starters.  For an entree, it will either be Thai Hangover Noodles with Tofu and Thai Basil or Panang Vegetable Curry, although Pineapple Fried Rice with Edamame and Bangkok Street Cart Noodles sound like good choices as well. There's one thing I am sure of though, and that's dessert!  I'll be making Mango and Rice Verrines, inspired by the mango and rice dessert that started this whole craving to begin with!
As you know, this dessert is traditionally served on a plate. My new spin opts for a more unusual presentation, by layering the ingredients. The term verrine indicates that the ingredients will be layered in clear glass dessert or parfait bowls or wine glasses. A verrine originally referred to a small glass container with no base that could hold a layered appetizer or dessert, which allows for a vertical and visually appealing presentation. Wine glasses work especially well for this dessert.
Enjoy!
Mango Rice Verrines
This recipe is from Vegan Without Borders by Robin Robertson © 2014, Andrews McMeel Publishing; photo by Sara Remington.
1 (13.5-ounce) can unsweetened coconut milk
1/2 cup natural sugar (try organic coconut sugar)
2 1/2 cups cooked jasmine rice
1 1/2 teaspoons pure vanilla extract
1/8 teaspoon salt
2 to 3 ripe fresh mangos, peeled pitted, and finely chopped
1/4 cup roasted unsalted peanuts or cashews, crushed
In a large saucepan, combine the coconut milk and sugar, and bring almost to boil, stirring to dissolve the sugar. Add the cooked rice, vanilla, and salt, and simmer over medium-low heat for 15 minutes, or until desired consistency is reached, stirring occasionally. Set aside to cool. Spoon a small amount of the rice into the bottom of 4 clear dessert or parfait glasses (wine glasses are good for this). Top each with a layer of chopped mango, followed by another layer of rice, until the ingredients are used up (or the glasses are nearly full). Sprinkle the tops with the crushed nuts. Refrigerate until serving time. Serve chilled.
Serves 4