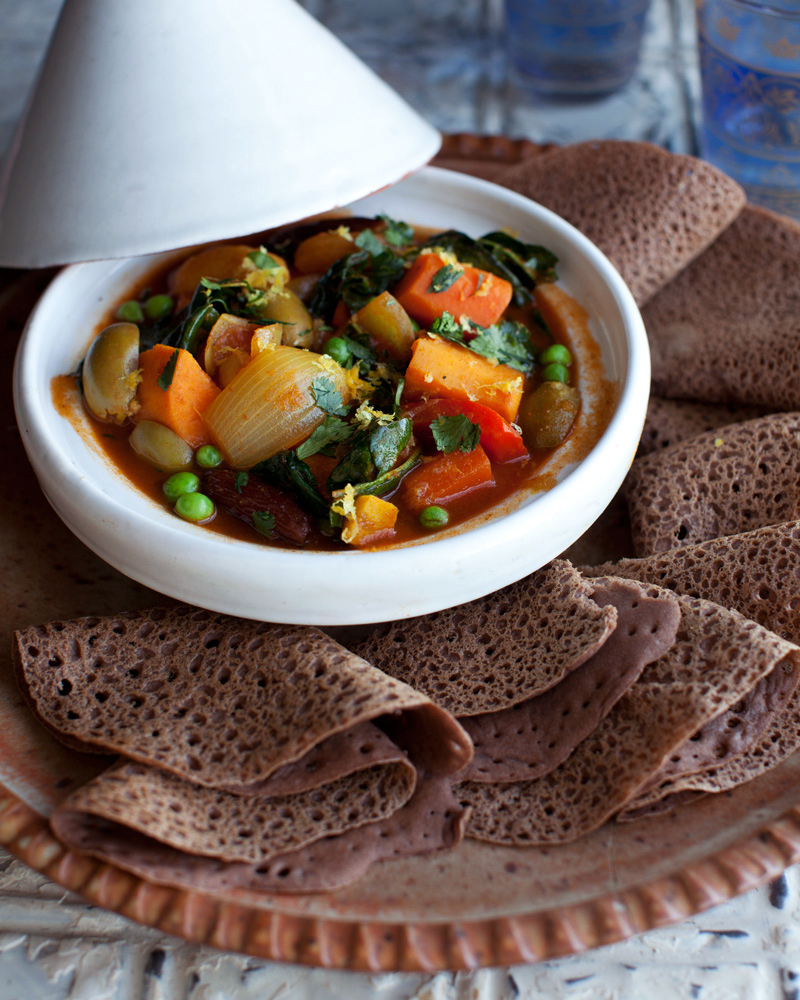 Thanks to all who participated in my spontaneous online poll yesterday in helping me decide which part of the world to visit for today's recipe from Vegan Without Borders. The majority of votes went to various regions of Africa, and there were a lot of great recipes to choose from, including the Vegetable Tagine shown above (photo by Sara Remington). Here's a list of the recipes from Africa in Vegan Without Borders:
Moroccan Chickpea and Lentil Soup
Harissa Sauce
Spicy Lemon Chickpeas (Fasting Eggs)
Chickpea and Kale Wat
Injera
Vegetable Tagine
Black-Eyed Pea Fritters
Berbere-Spiced Crackers
Falafel Pie
Spicy Couscous with Carrots and Chickpeas
Caakiri Pudding with Pineapple
I chose to share Chickpea and Kale Wat (photo by Zsu Dever) for a number of reasons. The recipe for this Ethiopian stew is super quick and easy and a great way to get a lot of flavor out of your basic "beans and greens." The recipe is also versatile, in that you can swap out different beans or legumes for the chickpeas, or use other vegetables to replace the kale. The recipe is gluten-free, soy-free, and low in oil (you can make it "no oil" if you water-saute the veggies).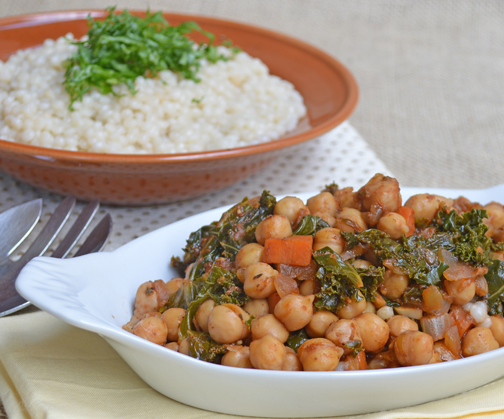 Chickpea and Kale Wat
Serve the wat with injera (shown in the photo with the Vegetable Tagine – a recipe for injera is also in the book) or on a bed of cooked rice or couscous. This is a spicy dish, so I've made the cayenne optional if you prefer less heat. You can also use less red pepper flakes, if you wish. This recipe is from Vegan Without Borders by Robin Robertson © 2014, Andrews McMeel Publishing.
1 tablespoon olive oil
1 large sweet onion, finely chopped
2 carrots, chopped
3 cloves garlic, minced
1 teaspoon grated ginger
2 teaspoons garam masala
1 teaspoon smoked paprika
1 teaspoon dried thyme
1 teaspoon natural sugar
1/2 teaspoon red pepper flakes
1 teaspoon salt
1/4 teaspoon freshly ground black pepper
1/4 teaspoon ground cumin
1/4 teaspoon cayenne (optional)
2 tablespoons tomato paste
1 1/2 cups water
4 cups chopped kale (tough stems removed)
3 cups cooked chickpeas, or 2 (15-ounce) cans, drained and rinsed
Heat the oil in a large pot over medium heat. Add the onion and carrots. Cook until softened, about 5 minutes. Stir in the garlic and ginger, then add the garam masala, paprika, thyme, sugar, red pepper flakes, salt, pepper, cumin, and cayenne, if using. Stir in the tomato paste and 1/2 cup of the water. Add the kale and simmer for 3 to 5 minutes to wilt the kale. Add the chickpeas and the remaining 1 cup of water and bring to a boil. Decrease the heat to low and simmer, covered, until the vegetables are tender and the flavor is developed, about 20 minutes, adding a little more water, if needed, so the stew doesn't dry out or burn.
Serves 4
If you are already loving Vegan Without Borders, please help spread the word and post a review on Amazon.  If you don't have your copy yet, here's the link.