After spending a fun Saturday afternoon at a "pick your own" pumpkin patch, I couldn't resist doing a pumpkin-related post. Today's recipe is for Savory Pumpkin Bites with Green Chile Aioli (shown above) from the new edition of Vegan Planet.  I'll share the recipe in the minute, but first I thought you might like to see where all the pumpkin picking took place: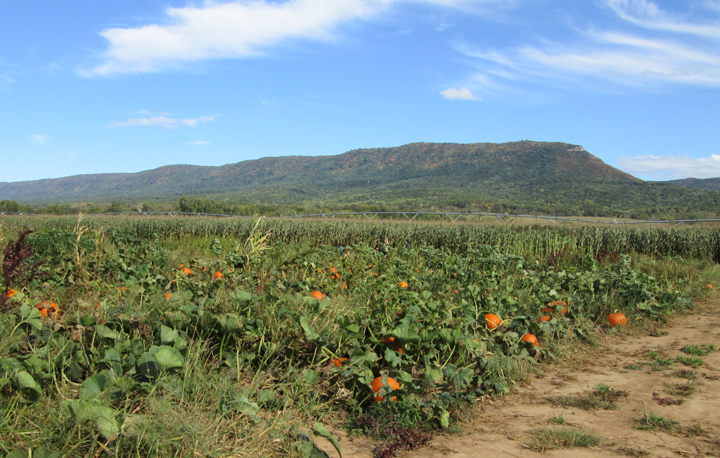 Here's what we (and our friends) picked — $35 for the whole wheelbarrow load!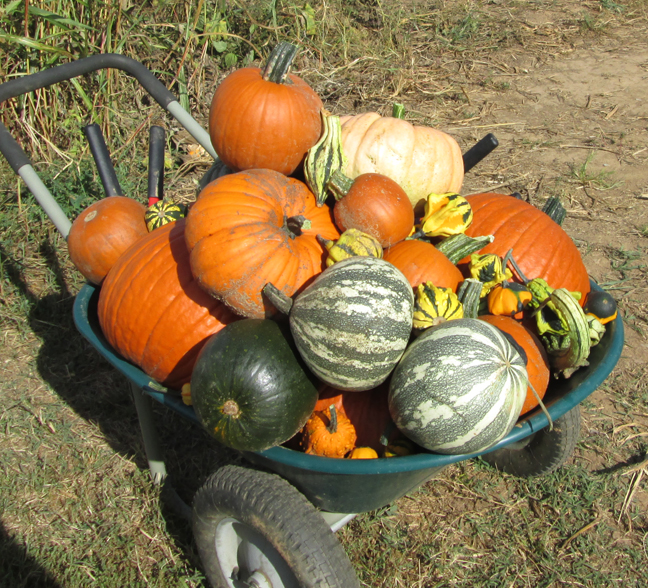 And here's our front porch after festooning it with pumpkins, gourds, and mums: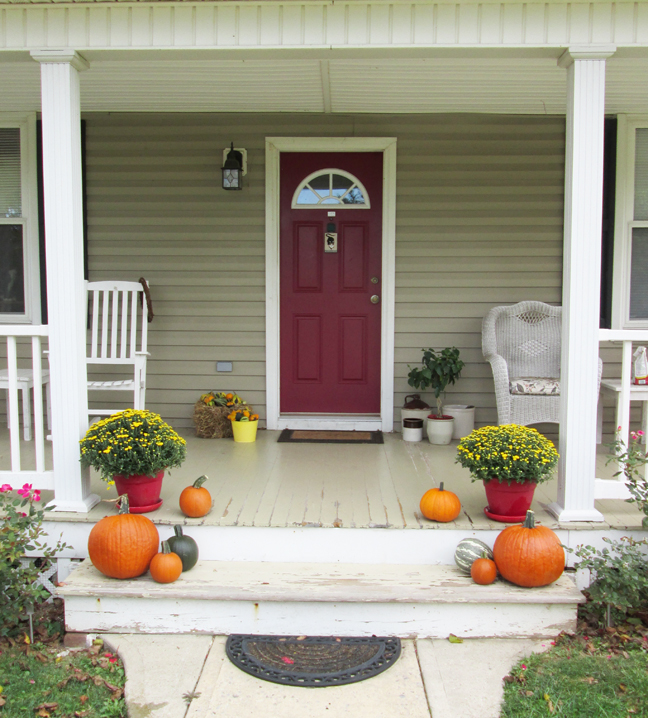 I love the change of seasons — and I especially love cool autumn weather!
Now here's that recipe I promised.  Hope you enjoy!
Savory Pumpkin Bites with Green Chile Aioli
Pumpkin, walnuts, and sage combine to give these tasty bites a rich depth of flavor. But it's the accompanying green chile aioli that sends them over the top. From Vegan Planet by Robin Robertson (c) 2014.
1 tablespoon olive oil or 1/4 cup water
1/2 cup chopped onion
2 garlic cloves, minced
2 teaspoons chopped fresh sage
1/2 cup old-fashioned rolled oats
3/4 cup finely ground walnuts
2/3 cup canned solid-pack or pure pumpkin puree
1/2 teaspoon baking powder
1/2 teaspoon salt
1/4 teaspoon freshly ground black pepper
Green Chile Aioli (recipe follows)
1. Preheat the oven to 375°F. Coat a baking sheet with cooking spray and set aside. Heat the oil or water in a small skillet over medium heat. Add the onion, cover, and cook for 5 minutes to soften. Uncover, stir in the garlic and sage, and cook until all of the liquid is absorbed, about 1 minute longer. Set aside.
2. In a food processor, process the oats to a powder. Add the ground walnuts, pumpkin, baking powder, salt, and pepper. Add the reserved onion mixture and process until well combined.  Add additional oat flour or ground walnuts if the mixture is too wet to hold together. Shape the mixture into 1 1/2-inch balls and transfer to the prepared baking sheet. Bake until firm and the bottoms are golden brown, about 15 minutes. Serve with the aioli.
Green Chile Aioli
This easy and flavorful aioli is fabulous with the pumpkin bites, but can also be slathered onto sandwiches or used as a dipping sauce for vegetables or baked tofu. From Vegan Planet by Robin Robertson (c) 2014.
1/2 cup vegan mayonnaise
2 garlic cloves, crushed
2 tablespoons fresh lemon or lime juice
2 tablespoons finely minced mild canned green chiles
1 teaspoon green Tabasco sauce
Salt and pepper to taste
Combine all of the ingredients in a small bowl and mix well. Taste and adjust the seasonings, if needed. Serve with the pumpkin bites.
Here's one more shot of the gourds we picked — they're so pretty, aren't they?