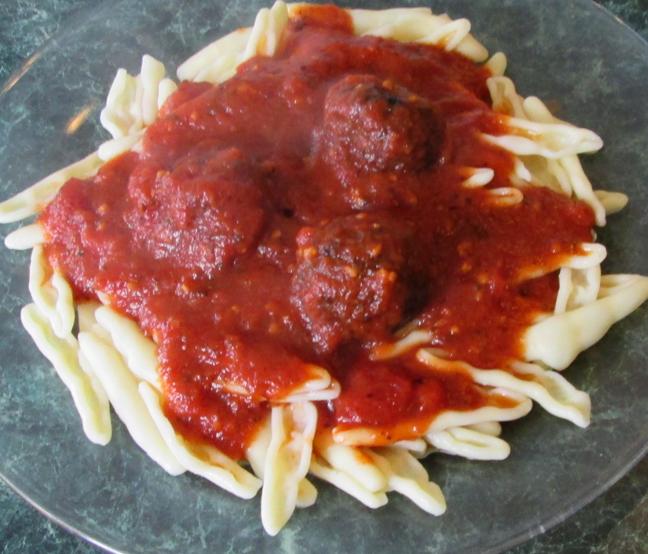 What is it about summer that makes it impossible to get things done?  The days are longer, but they go by lightening quick.  My to-do list continues to grow, yet every minute is packed with "busy-ness."  Take this blog, for example.  Most of the year, I can manage to write a post at least once a week.  In the summer — this summer, at least — it's more like once a month!  So here it is, four weeks after my last post about my birthday and I'm finally getting around to posting about two of my favorite birthday gifts this year.  No surprise, they both happen to be food!
Friends in Pennsylvania sent me a huge box filled with all kinds of Italian pasta — none of which I can find in my part of the universe.  One of the most intriguing to me was the pasta shaped like olive leaves, shown above with homemade tomato sauce and Gardein meatballs.  (Note: this was my first time trying the Gardein meatballs and it won't be my last — they have a terrific flavor and great texture.  They bake up in the oven while you make the sauce and pasta.)  Below is a photo of the pasta label shown with 1 uncooked "olive leaf."  I love the fun shapes and evocative names of Italian pasta.  I'm always intrigued by how the different shapes taste different, too, despite being made with the same ingredients.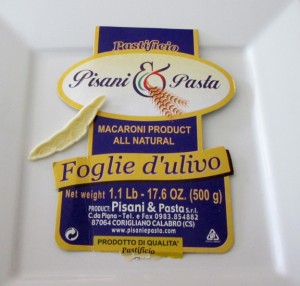 I also received a gift of several containers of fresh-picked local blueberries and black raspberries — making it a "berry"  happy birthday, indeed.  Here's a picture of the blueberry pie I made with some of the berries.  I still have lots more berries waiting in the freezer!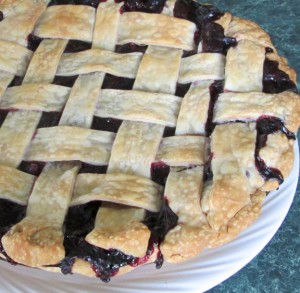 I love how summertime cooking revolves around fresh produce prepared in simple ways that let the vegetables themselves shine.  Lots of grilled vegetable skewers, roasted potatoes, beets, and corn on the cob.  Loads of delicious green beans.  And, of course, zucchini, zucchini, and more zucchini…