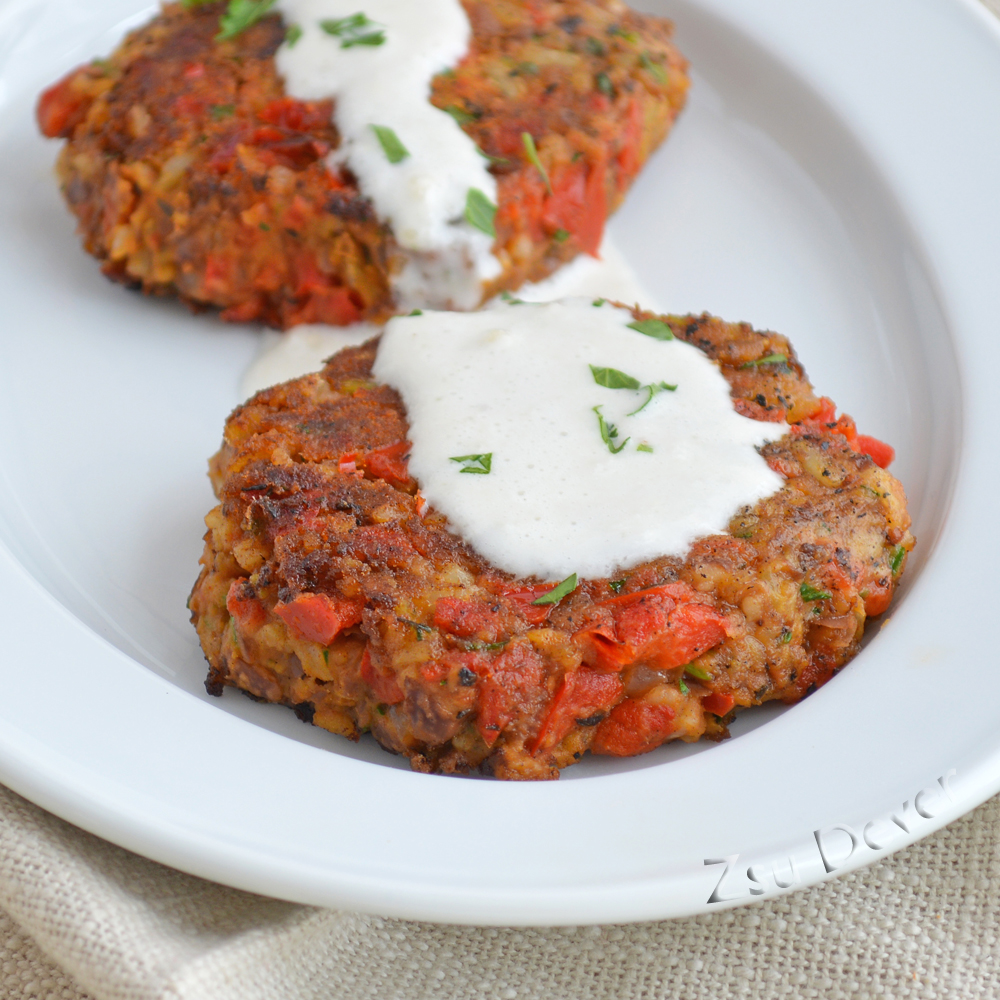 Today's recipe transforms a few common ingredients into a delicious main dish.  Red Bean Cakes with Creamy Coconut Sauce from the Revised Edition of Vegan Planet is simple to make and versatile.  For example,  you can use black beans and quinoa instead of red beans and rice, or change up the seasonings using different herbs and spices.
Red Bean Cakes with Creamy Coconut Sauce
from Vegan Planet by Robin Robertson
Serves 4
Ingredients:
2 tablespoons olive oil, divided
1 small red onion, chopped
1 small red bell pepper, seeded and chopped
1/2 cup chopped celery
1 large garlic clove, minced
1/2 teaspoon sweet paprika
1/2 teaspoon dried thyme
1/4 teaspoon cayenne, or to taste
Salt and freshly ground black pepper
1 1/2 cups cooked pinto, kidney, or other red beans or 1 (15-ounce) can beans, rinsed and drained
1/2 cup cold cooked white or brown rice
2 tablespoons minced fresh parsley
1/3 cup raw cashews, soaked for at least 3 hours or up to overnight, then drained
1/2 to 3/4 cup unsweetened coconut milk
Directions:
1. Heat 1 tablespoon of the olive oil in a large skillet over medium heat. Add the onion, bell pepper, celery, garlic, paprika, thyme, and cayenne. Cover and cook, stirring occasionally, until softened, about 10 minutes. Season to taste with salt and pepper.
2. In a food processor, combine the beans, rice, parsley, salt and pepper to taste, and all but 1/3 cup of the sauteed onion mixture. Set aside the 1/3 cup of onion mixture for the sauce. Pulse the bean and rice mixture to combine well, leaving some texture intact. Shape the mixture into 4 patties. If the mixture is too soft, add a small amount of oats, bread crumbs, or ground nuts.
3. Heat the remaining 1 tablespoon olive oil in a large skillet over medium heat. Add the bean cakes and cook, turning once, until browned on both sides, 7 to 10 minutes total. Reduce the heat to low and keep warm while you prepare the sauce.
4. In a blender or food processor, combine the drained cashews and the reserved 1/3 cup onion mixture and grind into a paste. Add 1/2 cup of the coconut milk and salt and pepper to taste and blend until smooth. If a thinner sauce is desired, add a little more coconut milk. Transfer to a small saucepan over low heat and cook, stirring, until hot. Transfer the hot bean cakes to a platter, pour the sauce over them, and serve.