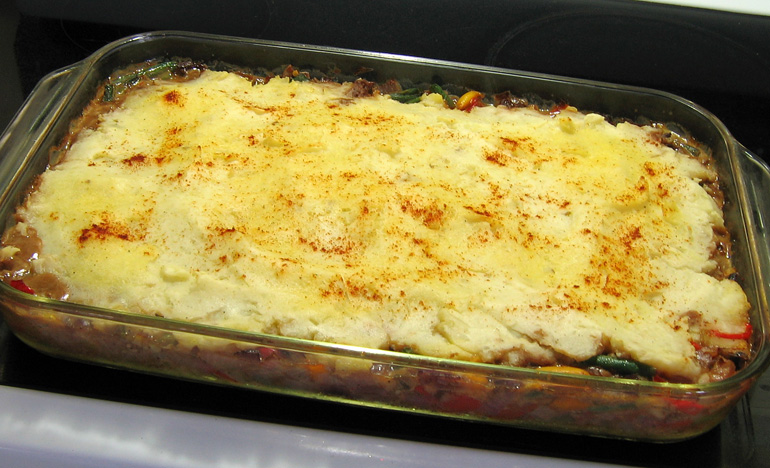 At first glance, this Shepherd's Pie might look like any other.  It's not.  And that's not just because it's vegan.  What makes it even more special is that it's made with roasted vegetables.  The flavor is like a million times more intense than if it had been made with steamed veggies.  Instead of the usual corn, carrots, and green peas, among the vegetables featured in this pan of goodness are red onion, a variety of sweet peppers, green beans, mushrooms, and zucchini.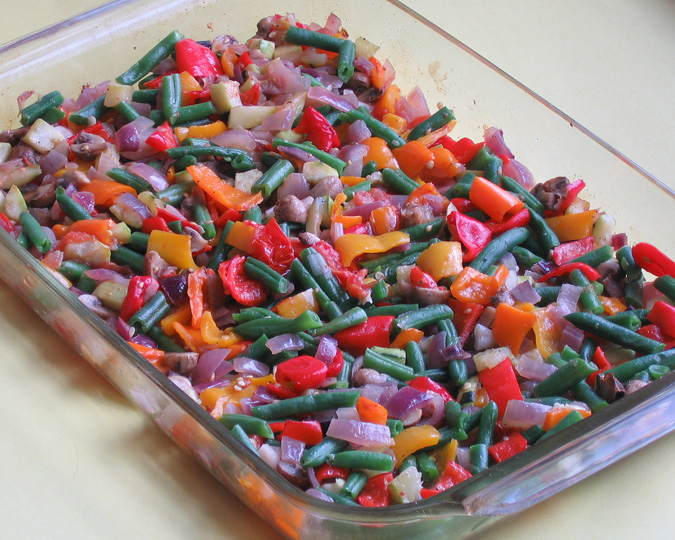 While the vegetables were roasting I made some quick mushroom gravy and added some reconstituted soy curls, which I then added to the roasted vegetables.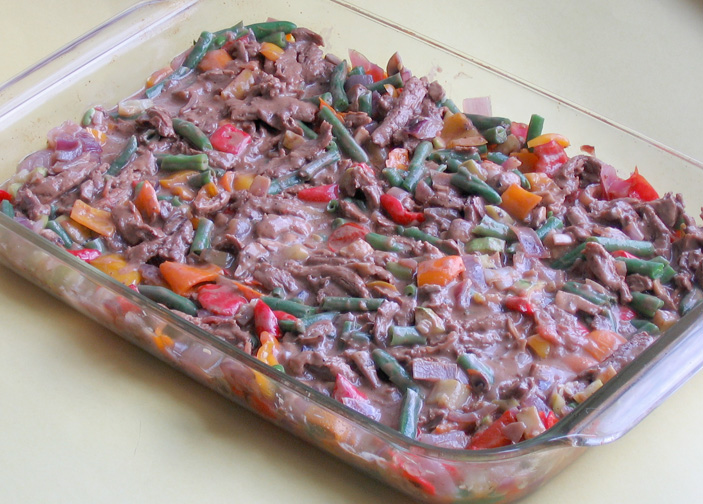 I then topped it with a batch of mashers and sprinkled it with a little smoked paprika and nutritional yeast and a very light mist of olive oil.  As it was baking, the fragrance was driving us mad, so I served it soon after it came out of the oven (as shown at the top of this post).  I had wanted to take a photo of a portion on a plate, but once we started eating, I totally forgot about taking pictures.  It was THAT good!
Because you asked for it…. I wrote up a recipe for this Shepherd's Pie, even though when I made it, I didn't use a recipe.  Feel free to mix and match the vegetables (I would have added corn kernels and peas, for example, if I had them on hand, so I included them in the recipe).  The bell peppers were a spur of the moment addition — if you don't like them, don't use them.  Same goes for soy curls:  use cooked lentils or chopped seitan instead, if you prefer.  This is a very versatile recipe, so have fun with it!
Roasted Shepherd's Pie
2 tablespoons olive oil, divided
1 large yellow onion, chopped
1 carrot, chopped
1 or 2 red or yellow bell pepper, chopped (optional)
1 1/2 cups chopped white mushrooms or zucchini (or both)
Salt and freshly ground black pepper
1 cup cooked green beans, cut into 1-inch pieces
1 cup fresh or thawed frozen corn kernels
1 cup thawed frozen peas
3 to 4 large Yukon Gold or russet potatoes, peeled and diced
1 tablespoon vegan butter
3 tablespoons all-purpose flour
2 1/2 cups vegetable broth
2 tablespoons soy sauce
1 teaspoon minced fresh thyme or 1/2 teaspoon dried
1 teaspoon minced fresh marjoram or 1/2 teaspoon dried
2 cups reconstituted chopped soy curls, chopped seitan, or cooked lentils
Preheat the oven to 425°F. Lightly oil a 9- x 13-baking dish.
Spread the onion, carrot, bell peppers (if using), and mushrooms in the prepared baking dish. Drizzle with 1 tablespoon of olive oil and season with salt and pepper to taste. Roast until the vegetables are just tender, stirring to cook evenly, about 30 minutes. During the last 5 minutes or so of roasting, add the cooked green beans, corn, and peas. Reduce the oven temperature to 375 degrees F.
While the vegetables are roasting, cook the potatoes in a pot of  boiling salted water until tender.  Drain well, then return to the pot.  Add the butter and season with salt and pepper to taste. Mash well, then set aside.
Heat the remaining 1 tablespoon of  oil in a saucepan over medium heat.  Add the flour and cook, stirring for 30 seconds.  Stir in the broth, soy sauce, thyme, marjoram, and salt and pepper to taste. Continue to cook, stirring, until the sauce thickens, about 3 minutes.  Stir in the soy curls and set aside.
When the roasted vegetables are cooked, remove the pan from the oven and add the soy curls and gravy, mixing gently to combine. Spread the mashed potatoes evenly over the filling. Bake until hot and bubbly,  about 30 minutes.
Serves 8