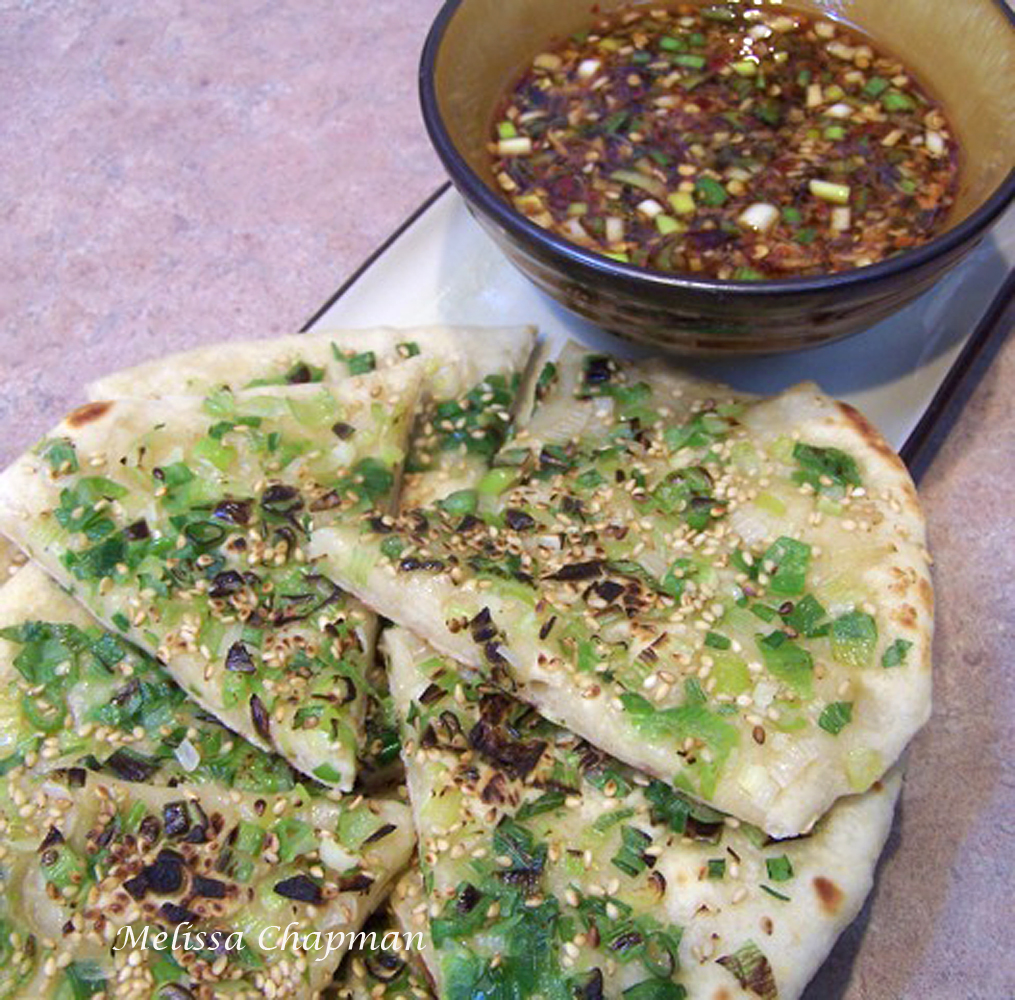 Lucky #7 recipe of the day in my 30 Days of Vegan cooking is Scallion Pancakes with Sesame Seeds.  You can make these as two large pancakes and cut them into wedges to serve, or make lots of little pancakes — it's up to you.  These are so easy to make and so delicious!
Here's the recipe from the Revised Edition of Vegan Planet — due out in January, but available for pre-order now on Amazon.)
Scallion Pancakes with Sesame Seeds
from Vegan Planet by Robin Robertson
Makes 2 large pancakes (or several smaller ones)
Ingredients
2 cups unbleached all-purpose flour
¾ teaspoon salt
1 cup boiling water, or more as needed
1 tablespoon toasted sesame oil
¾ cup minced scallions
2 tablespoons sesame seeds
1 tablespoon neutral vegetable oil
Ginger-Lime Dipping Sauce (below)
Directions
1. Place the flour and salt in a food processor. With the machine running, slowly add the water through the feed tube, adding a little more water, if necessary, until a dough ball forms. Remove from the food processor, cover with plastic wrap or a damp cloth, and let rest for 30 minutes.
2. Divide the dough into 2 pieces. Set one aside and cover. On a floured work surface, roll out the other piece of dough into a circle about ¼ inch thick. Brush on half of the sesame oil and press half of the scallions and half of the sesame seeds into the dough. Set aside and repeat with the remaining dough ball, sesame oil, scallions, and sesame seeds.
3. Heat half of the vegetable oil in a large nonstick skillet over medium heat. Place one of the pancakes in the pan and cook until golden brown on both sides, turning once, 5 to 7 minutes total. Repeat with the remaining oil and pancake.
4. Cut the pancakes into wedges and serve hot with the dipping sauce on the side.
Ginger-Lime Dipping Sauce
from Vegan Planet by Robin Robertson
Makes about ½ cup
 Ingredients
1 scallion, finely chopped
1 garlic clove, minced
2 teaspoons grated fresh ginger
¼ cup low-sodium tamari
2 tablespoons fresh lime juice
1 tablespoon rice vinegar
1 tablespoon toasted sesame oil
½ teaspoon red pepper flakes
½ teaspoon natural sugar
Directions
1. In a small bowl, combine the scallion, garlic, and ginger. Stir in the tamari, lime juice, vinegar, sesame oil, red pepper flakes, and sugar. Blend well.
 2. Cover tightly and refrigerate until ready to use. This sauce will keep for several days, but the flavors will intensify the longer it is kept.