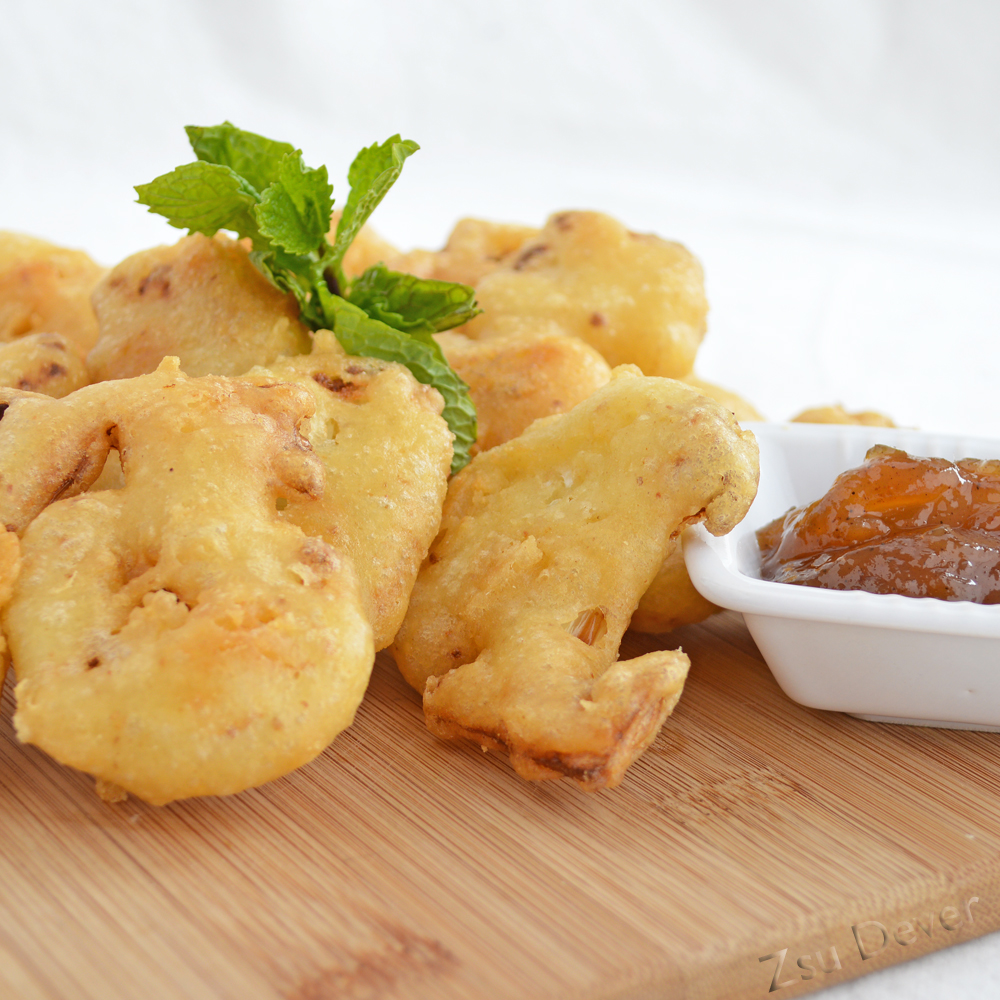 30 Days of Vegan Cooking continues with Recipe # 6: Curried Cauliflower Pakoras. Much like the tempura of Japan or fritto misto of Italy, these classic batter-dipped fritters of India lend themselves to almost any vegetable. Try the cauliflower as suggested here, or use sliced zucchini, bell pepper, broccoli, or onion—or any combination. Serve with your favorite chutney or a tamarind dipping sauce.
Curried Cauliflower Pakoras
from Vegan Planet by Robin Robertson
Serves 4
Ingredients:
1 small head cauliflower, trimmed and cored
½ cup unbleached all-purpose flour
½ cup chickpea flour
1 teaspoon salt
¾ teaspoon baking powder
½ teaspoon ground cumin
½ teaspoon ground coriander
1 cup water or club soda, as needed
Neutral vegetable oil, for frying
Chaat masala (optional; see Note)
Chutney, to serve
Directions:
1. Preheat the oven to 275°F. Cut the cauliflower into slices about ¼ inch thick. You will end up with cross sections of the florets and some of them will fall apart—that's okay. Set aside.
2. In a large bowl, combine the flours, salt, baking powder, cumin, coriander, and enough water to make a smooth batter. Mix well.
3. Heat about 1 inch of oil in a large, deep skillet over medium-high heat. It's hot enough when a small piece of bread dropped in the oil turns golden brown in about 1 minute. Place the cauliflower slices and pieces in the batter to coat, letting any excess drip off, then place them in the hot oil. Do not crowd. Cook until golden brown on both sides, turning once, about 3 minutes per side. Transfer to paper towels to drain and sprinkle with chaat masala, if using. Place in a baking pan and keep warm in the oven until all of the slices are fried. Serve hot with your favorite chutney.
NOTE: Chaat masala is a spice blend used as a condiment to sprinkle on Indian appetizers such as pakoras. This seasoning usually contains powdered mango and dried pomegranate seed.
I hope you're enjoying this recipe feature from the Revised Edition of Vegan Planet!