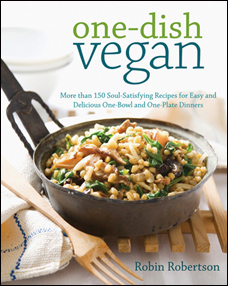 Today is the beginning of the One-Dish Vegan Blog Tour!  During the next few weeks I will be "traveling" to various blogs with recipes from my new book, One-Dish Vegan. 
The first stop on the tour is Veggie Girl.  Check out all the great photos of the recipes Dianne has made from the book and pick up the recipe for Mac and Thai – you'll be glad you did!  While you're there, be sure to enter the giveaway to win a copy of One-Dish Vegan.  Even if you already have your copy, it makes a great gift!
Here is a list of the participants in the One-Dish Vegan Blog Tour — not all of the dates have been pinned down yet, so check back for updates and links to take you to each post.
ONE-DISH VEGAN BLOG TOUR
Veggie Girl – November 5
Olives for Dinner – November 10
Veg Kitchen  – November 11
Plant-Based Dietician – November 12
Pickles & Honey – November 12
Chic Vegan – November 14
Keepin' It Kind – November 15
Cathe's Kitchen – November 16
Vegan Appetite – November 18
Positively Vegan – November 18

Kim Cooks Veg 4U – November 18
Vegan Richa – November 19
Julie's Kitchen – November 20

Healthy Slow-Cooking – November 22
also participating: date TBA:
Allison's Gourmet
Hungry Vegan
Ugly Food Tastes Better
Veg-in-Training
Glue and Glitter
Cupcakes and Kale