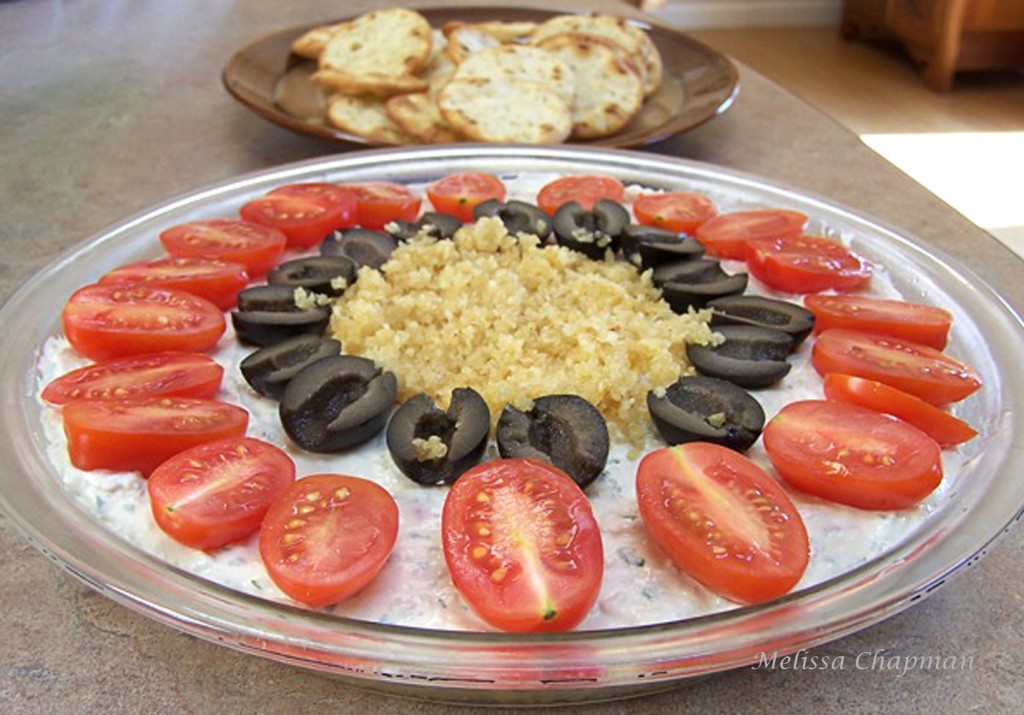 Recipe #5 of 30 Days of Vegan Cooking is a fresh take on the old-fashioned onion dip made with dehydrated soup mix and gobs of dairy.  My version uses three types of fresh onions combined with vegan cream cheese and mayo.  For fun, I've made the dip into a "pie" with a potato chip crust, but you can skip that part if you like and just put the dip in a bowl. If you want to save time, you can use storebought mayo and cream cheese such as Vegenaise and Tofutti, or make them yourself with the recipes that are featured here.
Three-Onion Appetizer Pie
from Vegan Planet by Robin Robertson
Serves 8
 Onion lovers will enjoy this fresh take on the ever-popular onion dip, turned into an appetizer pie with a potato chip crust. Although it looks like a pie, it is essentially still a dip and should be served with raw vegetables or more chips.
Ingredients
1 (6-ounce) bag potato chips
1/4 cup coarsely chopped red onion
1 large shallot, quartered
2 scallions, coarsely chopped
8 ounces vegan cream cheese, homemade (below) or purchased, at room temperature
3/4 cup vegan sour cream
1/4 cup minced fresh parsley
2 tablespoons vegan mayonnaise, homemade (below) or purchased
1 teaspoon Dijon mustard
1/2 teaspoon Tabasco sauce
1/2 teaspoon salt
Cherry tomatoes, halved or sliced, for garnish
Black olives, pitted and halved or sliced, for garnish
Directions
1. Lightly oil a 9-inch pie plate, tart pan, or an 8-inch springform pan. Grind the chips in a food processor until they are fine crumbs. Reserve 2 tablespoons of the crumbs and press the remaining crumbs into the bottom of the prepared pan. Set aside.
2. Place the onion, shallot, and scallions in a food processor and process until minced. Add the cream cheese, sour cream, parsley, mayonnaise, mustard, Tabasco, and salt and process until well combined. Spread the onion mixture evenly over the crumb crust and smooth the top. Cover and refrigerate for at least 2 hours or overnight.
 3. Just before serving, arrange a border of cherry tomato halves or slices along the edge of the pie. Then arrange a ring of olive halves or slices inside the tomatoes. Sprinkle the reserved chip crumbs in the center and serve.
Vegan Cream Cheese
Makes about 2 cups (about 10 ounces)
 Easy to make at home, this vegan cream cheese is more economical than buying it readymade. You can use this in any recipe calling for vegan cream cheese.
 Ingredients
1 cup raw cashews, soaked for at least 3 hours or up to overnight, then drained
1½ tablespoons fresh lemon juice
1½ tablespoons apple cider vinegar
1 teaspoon mellow white miso paste
1 teaspoon agave nectar
6 ounces firm silken tofu, drained and blotted dry
½ teaspoon salt
 Directions
Combine the drained cashews, lemon juice, vinegar, miso, and agave in a food processor or high-speed blender and process until smooth. Add the tofu and salt and process until completely smooth and well blended. Transfer to a container with a tight-fitting lid, cover, and refrigerate until needed. Properly stored, it will keep well for up to 4 days.
Vegan Mayonnaise
 This is a low-fat, cholesterol-free version of the versatile condiment. Use it in any way you'd use the original—from sandwich spread to salad dressing.
 Makes about 1 cup
 Ingredients
6 ounces soft silken tofu, drained
2 tablespoons rice vinegar
2 tablespoons neutral vegetable oil
1 teaspoon agave nectar
1 teaspoon salt
¼ teaspoon dry mustard powder
 Directions
1. Combine all of the ingredients in a food processor or blender and process until smooth. Taste and adjust the seasonings, if needed.
 2. Transfer to a glass jar or other container with a tight-fitting lid. Cover and refrigerate until ready to use, up to 5 days.