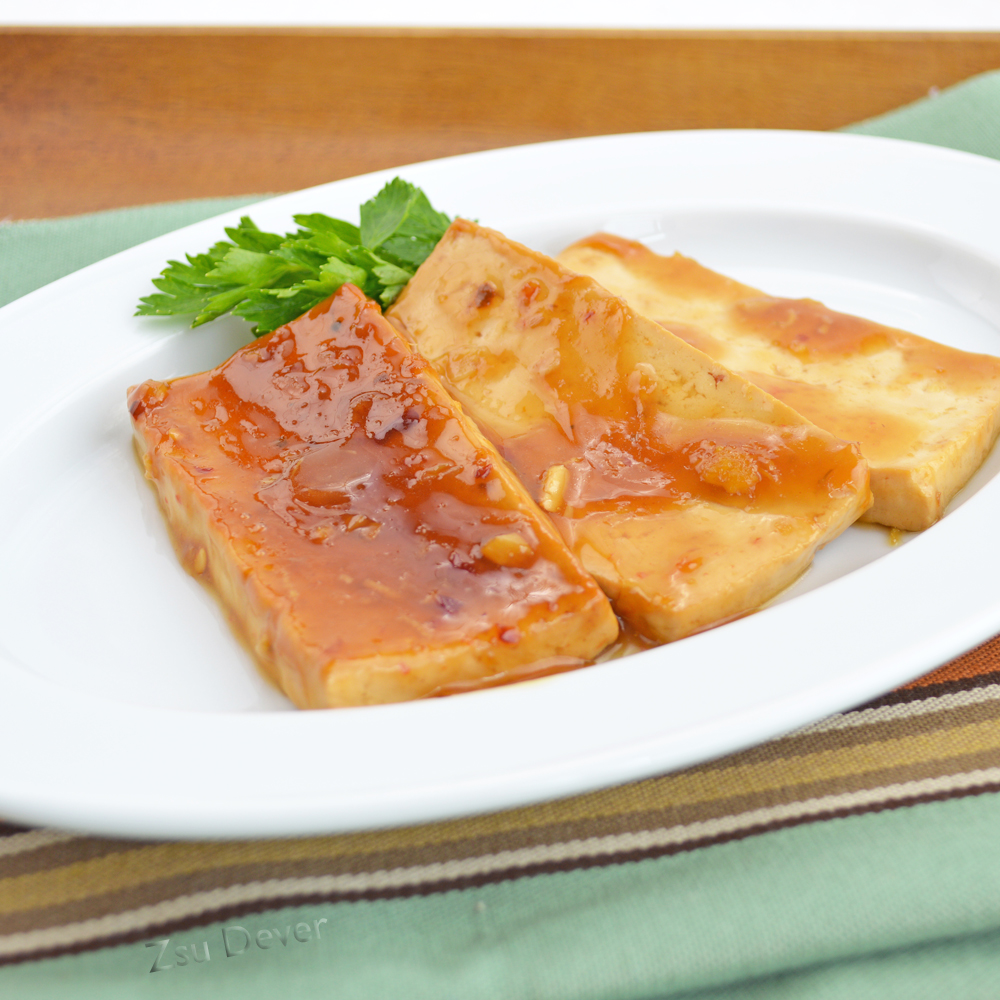 Today's recipe, Lemon-Ginger Tofu, is an easy way to add flavor to tofu. Just slice it, sauce it, and bake it!  (If your tofu isn't (extremely) extra-firm (all brands are different) then you may want to take the extra step of pressing the water out of the tofu slices before baking.
I hope you're loving this 30 Days of Vegan Cooking feature so far!  Here's today's recipe:
Lemon-Ginger Tofu
from Vegan Planet by Robin Robertson
Serves 4
This basic recipe for baked tofu doesn't require marinating, but gets its flavor from a sprightly lemon-ginger sauce.
Ingredients
1 (12- to 16-ounce) package extra-firm tofu, drained
1 teaspoon toasted sesame oil
1 garlic clove, minced
2 teaspoons grated fresh ginger
½ cup fresh lemon juice
2 tablespoons natural sugar
2 tablespoons agave nectar
2 tablespoons low-sodium tamari
1 teaspoon Asian chili sauce
2 teaspoons cornstarch
½ cup vegetable broth or water
Directions
1. Cut the tofu into ½-inch-thick slices (press if needed).  Arrange the slices  in a single layer in a large oiled baking pan. Set aside. Preheat the oven to 350°F.
2. Heat the sesame oil in a small saucepan over medium heat. Add the garlic and ginger and cook, stirring, for about 2 minutes. Add all of the remaining ingredients except the cornstarch and broth and heat until boiling. Mix the cornstarch with the vegetable broth until smooth and stir it into the sauce. Cook, stirring, until the mixture thickens slightly.
3. Pour some of the hot lemon-ginger sauce over the tofu and bake for 30 minutes. Flip the tofu in the pan and spoon any remaining sauce over the top. Drizzle with a little sesame oil or broth if the tofu is becoming too dry. Bake for 15 minutes longer. Serve hot or allow to cool. Store leftovers in a tightly covered container in the refrigerator for up to 3 days.